Top 10 Local Dreamy Venues
By Andrea Scarlatelli and J.L. Bibb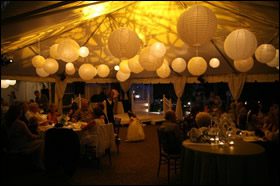 Like everything else these days, weddings are all about location, location, location.
Where you exchange your vows sets the tone of the entire day. It also gives you a chance to let your personality, both as an individual and as a couple, shine through. Franklin and Williamson County have many unique and diverse places. No matter what you're looking for in a wedding venue, you're sure to find it here!
Steeped in history, this area offers something that many other cities can't. Historic homes, such as the Carnton Plantation and Lillie Belle's, provide couples the chance to become a part of a larger history. These elegant affairs bring back a taste of the old South, complete with white columns and carriage lanterns.
It was difficult, but we've compiled a list of the top 10 local dreamy venues, with the help of several area wedding professionals from TWESA and Weddings the Bridal Show. They are listed below in no certain order. Some of them you've heard about before, some of them you haven't, but be assured – all of them are marriage material!
Carnton Plantation
Franklin
615.794.0903

Monell's at Historic Lillie Belle's
Franklin
615.790.2300

Brentwood Suites
Brentwood
615.277.4000


Bridal Gallery & Chapel of Franklin
Franklin
615.794.1398

CJ's Off the Square
Franklin
615.216.7576

The Factory at Franklin
Franklin
615.791.1777

Mere Bulles
Brentwood
615.467.1945
The Governor's Club
Brentwood
615.776.4348
Vanderbilt Legends Club
Franklin
615.791.8100

Photographs provided by CJ's Off the Square.