Things To Do This Weekend in Franklin & Williamson County, Tennessee (Sept. 29 – Oct. 1)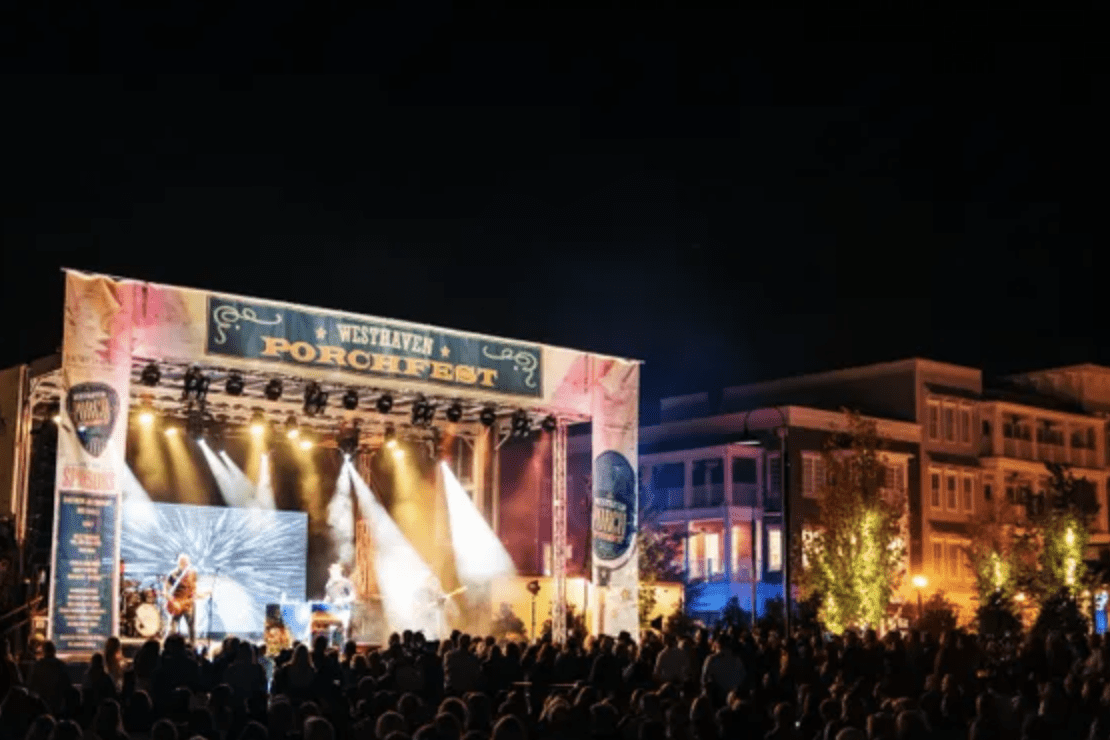 Celebrate the last weekend of September in Franklin and Williamson County, Tennessee with a variety of fun fall events! From enjoying an evening in nature and experiencing live music to learning a new skill and supporting local non-profits, there is something for everyone this weekend!
Learn about local dining experiences, entertainment, shopping, and more at FranklinIs.com.
Westhaven Porchfest will take place this Saturday in Franklin at the Magli Green in Westhaven Town Center, with The Frontmen performing at 7 p.m. This annual event celebrates Middle Tennessee's musical talents with live music, food, drinks, and more!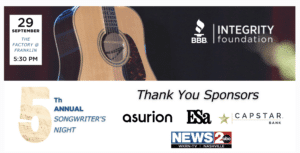 BBB's 5th Annual Songwriter's Night will take place in The Factory at Franklin this Friday evening at 5:30 p.m. This yearly event showcases some of Nashville's talented songwriters and their award-winning songs in support of BBB's Integrity Foundation and the Small Business Grants that benefit local businesses. 
Owl's Hill Nature Sanctuary will be hosting an Autumn Lantern Hike this Friday evening from 7-9 p.m. This outdoor adventure in Brentwood invites you to explore the woods of Owl's Hill at night, as you listen for nocturnal animals and learn about this local nature sanctuary! Bring dinner and arrive early to picnic before the 1.5 mile hike!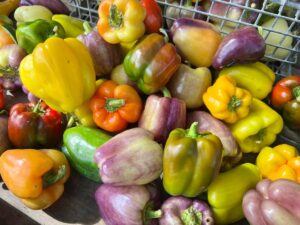 Farmers Markets (Sept. 30th)
These weekly farmers markets provide the perfect opportunity to support local farmers, kitchens, and artisans! 
You can find

The Franklin Farmers Market

every Saturday morning from 8 am- 1 pm behind The Factory at Franklin with numerous vendors offering fresh produce, baked goods, handcrafted items, and local art.

The

Nolensville Farmers Market

will be taking place every Saturday from 8 a.m.-12 p.m. at the Historic Nolensville School. Local farmers and artisans will offer fresh, seasonal foods and unique crafts!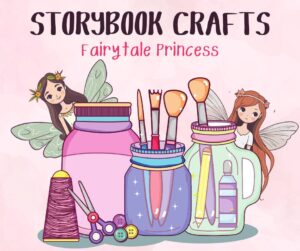 Kids ages 6-10 are invited to attend Williamson County Parks & Recreation's monthly Storybook Crafts class this Saturday from 9- 11:30 a.m. October's theme will be Fairytale Princess and will include a story time session followed by crafts inspired by the book! 
Join Stoney Creek Farm in learning about the Goldenrod plant and its benefits this Saturday morning from 10- 11:30 a.m. This plant belongs to the Sunflower family and can be used to make tea or an herbal salve for medicinal purposes. Join this fun and educational 1.5 hour class for all ages to learn more about this useful plant!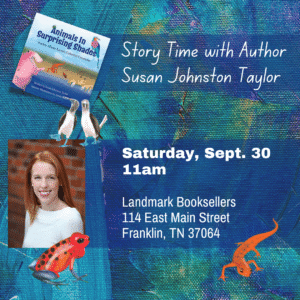 Author Susan Johnston Taylor will be at Landmark Booksellers to read from her new collection of STEM poetry this Saturday at 11 a.m. Animals in Surprising Shades: Poems about Earth's Colorful Creatures teaches a variety of fun facts, including bits about the poison dart frog, the blue-footed booby, and many other fascinating creatures! This is a free event for all ages with signed books available for purchase. 
The Porsche Club of America Musik-Stadt Region will be hosting their 2nd Annual Oktoberfest in Brentwood this Saturday from 4-9 p.m. This event at the Global Motorsports Performance Center features live music, kids' activities, friendly competitions, festive German attire, German food, drinks, and more!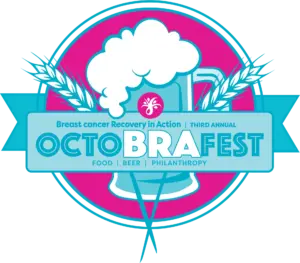 The 3rd Annual OctoBRAfest will be held this Saturday evening from 6-8 pm. This Nashville event features food, craft beer, a silent auction, and more in support of BRA (Breast cancer Recovery in Action) and their mission to support breast cancer survivors.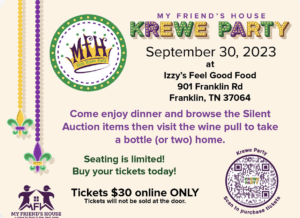 My Friend's House will be throwing a Krewe Party in Franklin this Saturday from 6- 9 pm at Izzy's Feel Good Food. This fun event will support My Friend's House and their mission to serve Middle Tennessee's at-risk youth with dinner, a silent auction, and more!
The 2023 Music City Sports Card, Collectibles & Autograph Show is coming to the Williamson County Ag Expo Park this Saturday and Sunday. This weekend event features over 200 tables for buying and selling sports cards and collectibles as well as over 40 superstar guests available for autographs and photo opportunities! Guests include the Sandlot cast, Ryne Sandberg, Roger Clemens, Ozzie Smith, and many more!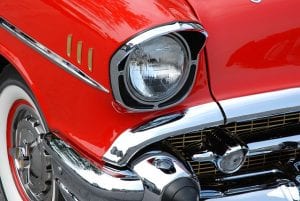 The 34th Annual Antique & Classic Car Show will be held in downtown Franklin at The Factory at Franklin this Sunday, benefiting local charities and nonprofits in Williamson County. This event welcomes the participation of all cars, trucks, and motorcycles! 
Williamson County Parks & Recreation invites you to participate in an Oil Painting Workshop this Sunday from 1:30- 4 p.m. Teens and adults will join certified instructor Quintin Burlingame to create an Alien Landscape with a Bob Ross technique!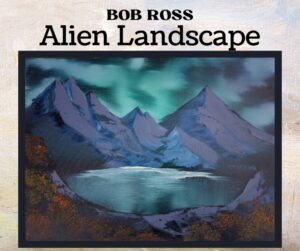 Live Performances 
Sanctus Real (Sept. 29th): Sanctus Real will be playing at The Franklin Theatre this Friday at 8 p.m.!
Cabaret On Stage (Sept. 30th): Studio Tenn and Tennessee Performing Arts Center will co-present Cabaret On Stage this Saturday at 8 pm!
Much Ado About Nothing (Sept. 29- Oct. 1): The Nashville Shakespeare Festival will perform Much Ado About Nothing at the Williamson County Performing Arts Center this weekend! 
One Flew Over the Cuckoo's Nest (Sept. 29- Oct. 1): Pull-Tight Players Theatre will perform their rendition of One Flew Over the Cuckoo's Nest this weekend! 
Looking for something fun to do this weekend? Shopping for antiques or curious about a
restaurant? Wanting to volunteer your time with a non-profit, or just stopping by
downtown Franklin, TN for the day? Access it all on FranklinIs.com. We encourage you
to browse through the Living, News, Entertainment, Family & Kids, Real Estate, Visit,
Resources and Events Calendar sections. There is something for everyone!
FranklinIs a website dedicated to all things Franklin, TN and Williamson County!
Supporting local non-profits, businesses, residents and visitors, FranklinIs the go-to
place for all your Franklin and Williamson County needs.