Things To Do This Weekend in Franklin & Williamson County, Tennessee (March 17-19)
Ready to celebrate St. Patrick's Day weekend or just excited for some spring weather? We want to keep that excitement going with a few recommendations in Franklin and Williamson County, TN (March 17-19)! Whether you're looking forward to partying with some green beers or admiring the blooming flora, you will want to add these selections to your agenda. 
Learn more about local dining experiences, entertainment, shopping, and more at FranklinIs.com.
St. Patrick's Day Festivities (March 17-18)
There are plenty of ways to celebrate St. Patrick's Day in Williamson County – don't forget to wear green! 
Puckett's Boys & Girls Club Giveback Breakfast (March 17th)
Puckett's CEO Andy Marshall is a Boys & Girls Club alumnus and board member for local chapters, so in celebration of the non-profit's 120-year anniversary, Puckett's will be donating 25% of all breakfast sales to the Boys & Girls Club of Tennessee this Friday! Make sure to stop by their Franklin or Nashville location any time from 7am-11am to show your support.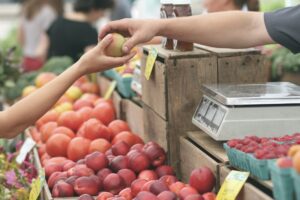 Farmers Markets (March 18th)
These local farmers markets prove the importance of contributing to your community and provide the perfect opportunity to support your local farmers, kitchens, and artisans! 
You can find

The Franklin Farmers Market

every Saturday morning behind The Factory at Franklin with numerous vendors offering fresh produce, baked goods, handcrafted items, and local art. 

The Nolensville Winter Farmers Market

will be taking place every Saturday until April from 10am-1pm at the Mill Creek Church of Christ. Local farmers and artisans will offer fresh, seasonal foods and unique crafts! 
Owl's Hill Nature Sanctuary is celebrating the Spring season with Wildflower Hikes from 9:30am- 11:30am! Teens and adults are invited on a hike to admire all of the blooming trees and wildflowers like the Blue-Eyed Mary, Dutchman's Britches, and Spring Beauty. 
The Brentwood Library (March 18th)
Bingo & Bagels

: From 10am- 11am, you can enjoy Bingo & Bagels alongside old and new friends. The winner will be taking home a prize! 

Easter Egg Wreaths

: From 2pm- 3:30pm, you are invited to an arts and crafts session where you will create an easter egg wreath in celebration of Spring! 
Looking for something fun to do this weekend? Shopping for antiques or curious about a
restaurant? Wanting to volunteer your time with a non-profit, or just stopping by
downtown Franklin, TN for the day? Access it all on FranklinIs.com. We encourage you
to browse through the Living, News, Entertainment, Family & Kids, Real Estate, Visit,
Resources and Events Calendar sections. There is something for everyone! 
FranklinIs a website dedicated to all things Franklin, TN and Williamson County!
Supporting local non-profits, businesses, residents and visitors, FranklinIs the go-to
place for all your Franklin and Williamson County needs.