The Best Kicks for Winter
By Sarah Carlos
What you wear on you feet says a lot about your style, not to mention the rest of your outfit! I have outlined some of the hottest trends of the season, so go ahead – take your time picking out what's right for you, but remember, don't be afraid to take risks. Happy shopping!
Mary Janes or ballet flats – Last season it was all the rage to wear moccasins or driving loafers, this year Mary Janes and ballet flats are the better option. They look great with jeans but can add a hint of sophistication when paired with a dress. Heck, Target even has some great affordable styles! But please remember: Just because you go flat doesn't mean you have to look dowdy – sport some that are metallic or have a pattern for extra oomph.
Boots with a little fur – You can get these just about anywhere for nothing. I bought a pair last year at American Eagle that are fabulous. The boot should hit five inches below your knee and they look their best in shades of tan or brown. You choose whether to tuck your jeans in to show off the shearling, or simply leave them out. Enjoy the comfort and the warmth!
Black calf boots – These can flip an ordinary outfit into something special. You can wear them under jeans or go a little bolder and pair them with a geometric skirt or retro print dress. Be as daring as possible – you will love the results!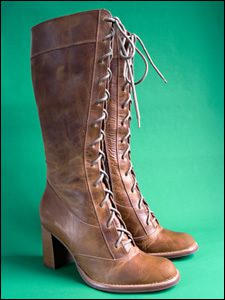 Black and brown knee-highs – Believe me, you need this boot in both colors. They will go with EVERYTHING. Wear them to work with a conservative pencil skirt and turtleneck. Tuck your cords and jeans into them on the weekend. Pair them with a stunning black dress that needs just a little bit of edginess – when those black boring heals simply won't do. (Make sure that these hit three inches below the knee.)
Patent peep-toe pumps – Chic alternative to an old classic – the peep-toe. Pair these with jeans and a T-shirt for a glamorous rock star look or with a pencil skirt and button down as a sexy office-friendly alternative.
Going out glam sandals – There is nothing wrong with strappy sandals in the winter time – jewel embellishment and shades of metallic are in, but bold colors work well too – in fact, it should be a rule that if you are wearing a classy dress, always go with a strappy shoe. (That is of course if you want to exhibit more of an edgy look, in which case, by all means throw on knee-highs or calf boots!)
I hope this helps you in your winter shoe quest. Don't ever be afraid to pack on the height with these boots and heels as well. Make sure you can walk in them of course, but don't be afraid to be the tallest hottie in the room. I know I never am!