Battle of Franklin
The Nov. 30 Battle of Franklin Commemorative Illumination will take place in downtown Franklin and is sponsored by the City of Franklin Battlefield Task Force.
It is the first-ever event in recent history that commemorates the Battle of Franklin. It is free and open to the public. The official point person for this event is Shanon Wasielewski, Historic Preservation Officer.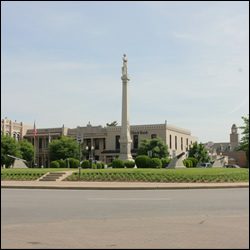 The event will take place on the square beginning at 4 p.m. and will feature period bands and 10,000 luminaries lit on the square representing the number of casualties on both sides. Period bands, one Confederate and one Union, will approach from each end of Main Street and play period songs. They will then come together and play patriotic songs symbolizing the reconciliation after the war.
"This is a wonderful volunteer opportunity for individuals, families and groups," says Wasielewski.
---

IMPORTANT FUNDRAISER ANNOUNCEMENT!!!
In conjunction with the Battle Commemoration, Alderman Dennis Phillips will be hosting a Pancreatic Cancer fundraiser. The fundraiser will take place in Chico's on Main Street from 5-8 p.m.
Donations will be accepted and go directly to PanCAN, a national organization that raises funds for
treatment and research of pancreatic cancer. In addition, Chico's will be donating 10 percent of all sales to PanCAN.
"We will be there to accept direct donations," Phillips says. "We will be selling pancreatic cancer items ( pens, pins, wrist bands, etc) as well."
For more information, please contact Dennis Phillips by e-mail, dennisphillips@comcast.net, or visit his Web site, dennisjphillips.com.