St. Patrick's Day
Check out everything that is going on around Franklin, Tennessee for St. Patrick's Day! Grab some Irish grub, take a hike or catch some live music. And don't forget to wear green!
Historic Downtown Franklin celebrates St. Patrick's Day early on Saturday, March 14 with the annual Feile Franklin. To see party pics from the Feile Franklin beer tasting, Click Here!
ST. PATRICK'S DAY!! Tuesday, March 17
this holiday means plenty of special events, activities and sales
5th Annual Breakfast for Babies at Noshville Deli
6 a.m.- 10 a.m.
Breakfast for Babies presented by WJXA Mix 92.9 and Noshville Deli runs from 6am-10am on Tuesday in the Cool Springs area. They will have green eggs and ham in addition to all the regular breakfast fare. Half of the purchase price from all breakfast foods will be donated to the March of Dimes.
St. Patrick's Day Storytime
11am at Barnes & Noble, 1701 Mallory Lane, Brentwood
Shop & Save!!
Where to shop for green clothes, jewelry, shoes and more! Shop the St. Patty's sales for all the best deals in town. For details, Click Here!
Whole Foods in Cool Springs
Stop by the Specialty department and ask for a sample of one of our Irish chesses and don't forget to pick up some stout on the way home!
St. Patrick's Day Go Green Hike
4:00 pm – 5:30 pm at Owl's Hill Nature Sanctuary, $5
Wear your green while hiking the trails looking for early emerging plants and other signs of spring. Prizes will be awarded to the person wearing the most green, the person wearing the most unusual green and the person wearing the most shades of green. Reservations are requested to www.owlshill.org/programregistration or 615-370-4672.
Raising your glass
stop by these local pubs for some festive Irish grub and suds
McCreary's Irish Pub and Eatery
Serving Lunch, Dinner and Drinks
Swig by McCreary's for a hearty Irish meal and some pints of your favorite brews.
St. Patty's Day Shindig at Kimbro's Cafe
beginning at 6pm
214 S. Margin Street in Franklin. Erin go braugh! Visit Kimbro's Tuesday for some good ole corn beef and cabbage, drink specials and Irish dancing.

Dan McGuinness Cool Springs
8:30am-close, $10
Live music, Irish food and drink! The celebrations kick off at 8:30 a.m. with Kegs & Eggs. Live music begins at 10:00am with Nosey Flynn and continues throughout the day, with The Willis Family at 3:00pm, J. Prendergrast at 7:00pm and another round of Nosey Flynn from 9:00pm til 1:00am. Cover charge includes shuttle between the Cool Springs location (9200 Carothers Parkway) and Nashville's Demonbreun Street location.
Bunganut Pig Pub & Eatery
6pm-close
1143 Columbia Avenue. Don't miss their annual St Patty's Day party! Jenna Leigh Band will be belting out the tunes starting at 8 pm. Corned Beef and Cabbage and green jello shots to get you in the mood! Reservations recommended if you want to guarantee a seat. Call 794-4777.
About St. Patrick's Day

On March 17, many people around the world celebrate the feast day of St. Patrick, one of Ireland's patron saints. In the United States and around the world, St. Patrick's Day has become a popular day to celebrate. Celebrations often include Irish food and drinks, shamrocks, leprechauns and lots of green! Special festivals, parades and pub crawls in honor of the holiday are common around country.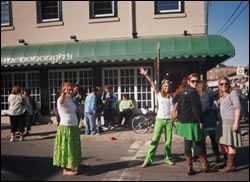 Shamrocks
Shamrocks are one of the symbols of Ireland. They are associated with St. Patrick's Day because Saint Patrick used shamrocks as a representation of the Holy Trinity. According to Wikipedia clovers became "shamrocks" because, "the diminutive version of the Irish word for "clover" ("seamair") is "seamróg", which was anglicised as "shamrock", representing a close approximation of the original Irish pronunciation".

Leprechauns
Leprechauns are a character often cited in Irish folklore. They are mischievous men that don't actually cause any trouble. Some legends describe them as wealthy people, hoarding their money. And some say that waiting at the end of a rainbow will be a leprechaun and his pot of gold!
Green
In Ireland it was common to wear a shamrock pinned to your clothing as a sign of nationalism. This was termed "the wearing of the green" and may be whay the modern tradition in the United States is to wear green clothing and accessories on St. Patrick's Day. Some cite leprechauns for pinching people that don't wear green but it is likely a result of children teasing their friends for not wearing green. It is interesting to note that the color for Saint Patrick is actually blue!

Feile Franklin
Franklin has its' very own St. Patrick's Day celebration each year the Saturday on or before St. Patrick's Day. Féile Franklin (pro: "FAY-LA") is a Celtic festival on historic Main Street in Downtown Franklin, Tennessee. Streets are closed to traffic and filled with Irish music, dancing, food and fun. It's a free street festival from noon to 10 p.m. with a ticketed beer and Irish whiskey tasting in the Main Street area shops from 6 to 9 p.m. Feile Franklin 2009 was held Saturday, March 14. To check out Party Pics from the event, Click Here!
Learn how to find your Irish ancestors
March 16, 6:30 pm-8:00 pm
Find out more about Irish genealogy research at a special Irish Genealogy Advice Clinic offered by the Ulster Historical Foundation tonight, Monday, March 16, from 6:30 to 8 p.m. at Franklin's Main Library on Columbia Avenue. The presenters will give practical and useful information about Irish sources and archives, and will try to assist individuals, where possible, by using queries to illuminate a particular point to the benefit of everyone taking part. The event will be relaxed and fun as we try to explore our Irish and Scots-Irish roots.