PLA MEDIA EXPANDS TOURISM PR ROSTER SIGNING PERRY COUNTY TENNESSEE
Attractions Include Charming Towns of Linden and Lobelville and Historic Commodore Hotel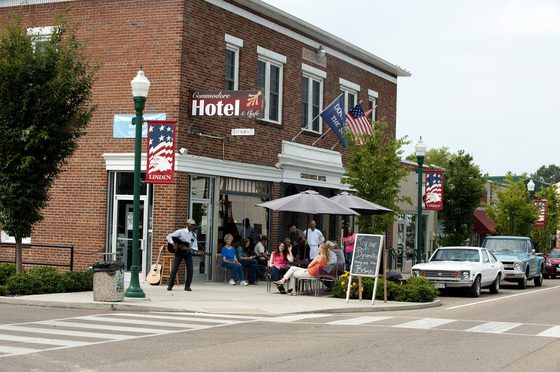 PLA Media is proud to announce the addition of Perry County, Tenn. and the charming towns of Linden and Lobelville to its roster of tourism clients. Home to the scenic Buffalo River and Tennessee's beautiful Mousetail Landing State Park, Perry County is a premiere destination for
the outdoor enthusiast. Tourists seeking an authentic Southern small-town experience can find
it in Linden and Lobelville.
"I first heard about the restored Commodore Hotel and historic downtown Linden in beautiful Perry County from Tennessee Tourism. I finally got to visit this year and can honestly say the experience fed my soul," said
Pam Lewis, president/CEO, PLA Media. "
We at PLA are delighted to be representing the towns of Linden and Lobelville and Perry County, helping to get the word out about this must-visit, unique Tennessee treasure."
Led by a visionary mayor and a group of dedicated residents, Linden, Tenn., the county seat, experienced a tourism renaissance with the renovation and opening of Main Street's historic Commodore Hotel, charming boutique shops, along with the beautification of Main Street with art, decorative lighting, and enhanced landscaping. A determined citizenry led the campaign to bury the utility lines, creating an appealing and walkable downtown.
Just 17 miles up the road, Lobelville is a pristine community that invites guests to experience a "small piece of Southern charm." The town's primary tourism sites are along the Buffalo River, including the Buffalo River Resort, Heath's Canoe Rental, and the popular downhome Cane Creek Market. Linden and Lobelville feature "Music on Main Street" during the summer months.
The allure of Linden and Lobelville is their authenticity and genuine Southern appeal.
PLA Media includes a roster of some of the most popular tourism attractions in Tennessee, including The Johnny Cash Museum, The Patsy Cline Museum, both in Nashville, and The Tina Turner Museum in Brownsville. PLA also represents the internationally-acclaimed Americana Music Triangle, traversing five Southern states, including Alabama, Arkansas, Louisiana, Mississippi and Tennessee. Additional tourism campaigns and consultations have been executed for the following: Birthplace of Country Music Museum, Cumberland County Playhouse, Jackson, TN CVB, Tennessee State Museum and Travellers Rest Plantation and Museum.