Nashville Clothing Company
The Nashville Clothing Company is taking Cool Springs by storm. Tiffany and Mike Lewis opened their Cool Springs store in early spring. The boutique speaks for itself with chic designer labels, excellent apparel and unique accessories. Its inviting atmosphere sets Nashville Clothing Company apart from any other boutique.
With an eye for fashion, detail, and customer care, some apparel is custom designed and created by local designers. Nashville Clothing Company is enthusiastic about believing in people's dreams and making them come true! As Tiffany Lewis says,
"Everyone deserves a chance."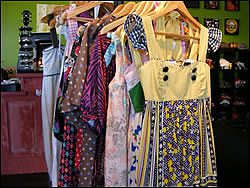 Right now, viewers can go onto the Nashville Clothing Company website and see the featured designer at the store. Currently, Hana Hattori, a local and gifted fashion designer is featured on the website. The spotlight on Hattori is uplifting and supportive. It describes her dresses and her life as a designer. Check out Nashville Clothing Company's website to learn more about the local designers.
Apparel isn't all there is to offer from this corner hot spot! Nashville Clothing Company also supports charities such as Sisters of Rwanda. With many custom designed jewelry from the Sisters of Rwanda, customers are sure to find beautiful accessories to accent their outfits. Profits made in the store by these pieces go back to support the Rwandan women who hand craft these beaded beauties.
Nashville Clothing Company also celebrates creativity. K.art t-shirts embody the artistic imagination that only a child can conjure. K.art asks elementary students in cities like New York to draw a design that is picked and printed on t-shirts and sold at Nashville Clothing Company. Some of the proceeds go back to school systems in need and to the child artists themselves.
With unlimited choices in apparel, shoes, jeans, shirts, belts, hats, sunglasses, socks, bags and accessories customers are sure to find something special. Nashville Clothing Company has affordable prices and a relaxed, friendly atmosphere. Clients can be sure that they leave looking confident and great and always return for more.
New customers will receive a NCC tote bag filled with their purchases. Every time that they shop at Nashville Clothing Company with their bag, they will receive 10% off their final purchase. Not only are the bags a fun way to shop and be environmentally conscience, but give you more incentive to keep coming back!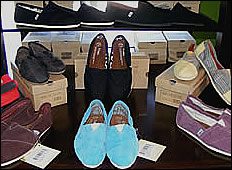 In addition to the great apparel, friendly environment, rare accessories and creative t shirts, Nashville Clothing Company has cool events and store specials happening all of the time. The next big event is Toms for your Soles- Style your Shoes Party!
Customers select and buy a pair of Toms and then paint the pair! The 1st place winner receives $100, 2nd place receives $100 NCC gift card and 3rd place receives $50 NCC gift card. The painting begins at noon on Saturday, October 18, 2008 at the Cool Springs location on 420 Cool Springs Blvd. Every pair of shoes purchased provides shoes for a child in need.
Visit www.NashvilleClothingCo.com to learn more about NCC. Be sure to sign up for special offers, discounts, store specials and more through the Nashville Clothing Company's Newsletter, by clicking here.