MUSIC AND ART PROGRAMS AVAILABLE AT THE NOLENSVILLE RECREATION COMPLEX
The Williamson County Parks and Recreation Department (WCPR) offers affordable music lessons for children, teens, adults and seniors and a new art program at the Nolensville Recreation Complex, 7250 Nolensville Road.
Music Lessons
Instructor Phil Mikel holds private lessons in guitar and piano instruction for ages 9 and up. Students participate in weekly, 30 minute lessons tailored to the individual's skill level and interest that include performance technique and music theory. Cost is only $15 per lesson, and lessons are set up individually. For more information or to register contact Nathan McBeth at Nathan.McBeth@williamsoncounty-tn.gov.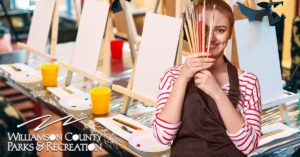 Spring Flowering Tree Landscape – Acrylic or Oil Painting
Teens and adults ages 17 and up, join instructor, Nancy Higgins as she guides you through creating your own outdoor landscape art piece using either acrylic or oil paints. The class is offered on Saturday, April 24, 2021 from 1:00 p.m. to 3:00 p.m. Cost is $30 per participant with a $25 supply fee; or you may bring your own supplies. For more information contact Amber Morris at Amber.Morris@williamsoncounty-tn.gov.
For more information on other department programs, visit our website at www.wcparksandrec.com. Advanced registration is required for all programs, and class sizes are limited to meet social distancing requirements.
#### 
Williamson County Parks and Recreation (WCPR) is a public organization benefitting the community.  Anyone may register for and participate in the department's programs, classes and events. For program registration, pass purchasing or additional information, visit www.wcparksandrec.com. You may also receive department information by "liking" Williamson County Parks and Recreation on Facebook; following us on Twitter at @wc_parksandrec or Instagram at @willcoparksandrec or on Pinterest or YouTube.