MacMedic Pro
Recently, FranklinIs.com had the opportunity to have an e-interview with Patrick Clark, owner of MacMedic Pro. MacMedic Pro is the go to place for all Mac out of warranty repairs and the featured business of the month on FI. Below is the e-interview.
Tell us about MacMedic Pro. How did you get the name?
It was the only cool domain name left!! Seriously, that's how I chose the name. That and the fact that it is similar to MacBook Pro.
Was this something that you always dreamed of doing?
Pretty much. I've been tinkering with electronics, soldering and whatnot, since I was 12. I got my electronics degree in 1996 and went to work for a large concert lighting company in Nashville. They had a fleet of about 30 Macs that I inherited and I was tasked with learning and repairing them. I fell in love with the Mac platform there and have been a Mac tech ever since.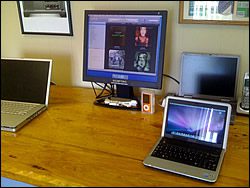 What kind of services do you offer your clients?
I do out-of-warranty repair and support for the entire Apple line. The most frequent jobs I perform are laptop LCD replacement, hard drive replacement and upgrades, and data transfer. Large hard drives are so inexpensive these days that there's no excuse for not having all your data (photos, mp3's, text documents, home movies, etc.) backed up. Because I tell everyone, hard drives fail, period. It's not a matter of "if", it's a matter of "when!"
I also repair all iPods and iPhones, which mostly consists of installing new batteries and replacing broken LCD's. iPods get stepped on, sat on, and run through the washer a lot!
How long has your business been in Williamson County?
I opened here in September 2008. Was it anywhere else before this location? I was a freelance Mac tech, meaning I made house calls and on-site office visits, so I worked out of my home in Murfreesboro. I decided last summer that I could service my clients better if I had an office that they could come to. Here I have my workbench setup the way I like, with all my tools and equipment right at hand. The office also allows me to spend more time talking to my clients, learning how they use their Mac so I can better help them with their workflow or their fun projects.
What do you like about Franklin?
I love being near The Factory and not very far from the square. I like the history and beauty of the area. Franklin is also a thriving musician/artist community and I really enjoy that atmosphere, being a (really bad) songwriter and guitar player myself! But I enjoy the creativity and that, along with my experience in the industry, helps me to speak the language of the artists as well as the non-artists equally well.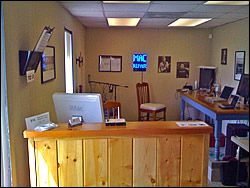 What sets you apart from other businesses?
Personal interaction, as the owner and only tech I am the only person that you talk to when you call, email, or come by. I take the time to get to know my customers and how they use their Macs. I also enjoy teaching people to get more from their technology, I have a gift for breaking the tech stuff down so that anyone can grasp it, and that makes everyone a more powerful Mac user.
What do clients experience when they come into your place?
A small, friendly, comfortable, musical and slightly geeky Mac haven. I usually have a couple of used Macs for sale, and a few small accessories such as iPod USB cables or USB flash drives for sale. If you come late in the day you might find me editing a new How-To video for the website, I love making those, or just playing my old Telecaster guitar.
Do you have any specials or upcoming specials, sales, events, etc?
I do, to celebrate the arrival of Spring I am giving away a bright, shiny new iPod nano right here on the FranklinIs.com website!
We noticed that you went to ITT Tech in Nashville; did you grow up in Nashville, TN? If not, what brought you to Franklin?
I grew up in Bedford County, lived in Murfreesboro for 13 years. I worked as a freelance Mac tech for 3 years during which time I met and did a lot of work for Harpeth Graphics here in Franklin. Over the years we all became friends and they had office space for rent and, well……..here I am!
MacMedic Pro is located at 1125 Harpeth Industrial Court, Suite A, Franklin, Tn and open Monday – Friday 10am-6pm, Saturday- pick ups and appointments only, and closed and Sunday. Patrick Clark can be reached by calling 615.752.3856, to learn more drop by MacMedic Pro or visit www.MacMedicPro.com.