Just in time for National Red Wine Day, Beverage List and Entertainment Line-up Announced for Annual Wine on the River
NASHVILLE — The 17th Annual Wine on the River has released this year's beverage list and entertainment line-up. The event will be hosted in Downtown Nashville on Saturday, September 7th from 3 – 7 PM. Held for the second year in its new location at Riverfront Park, guests will enjoy a souvenir tasting glass sponsored by Pella Windows & Doors, all beverage samples and live music. Proceeds will benefit The DISTRICT, a local non-profit dedicated to community revitalization in downtown Nashville.
This year's "World Tour" theme will highlight beverages from various regions near and far and include wine, beer and spirits. Beverages will be provided by Lipman Brothers Distributing, who is this year's Wine on the River presenting sponsor.
Beverages from the following brands will be available:
071 Prosecco
19 Crimes Wines
Backpack Wine
Ballotin Chocolate Whiskey
Broken Shed Vodka
Capriccio
Cielo Silver Tequila
Constellation
Corsair Distillery
Cupcake Vineyards
Deep Bay
Dogliotti
Dr. Stoner's Herb Infused Spirits
Edwin Dyer
Espiritus Group
Gil Family Wine Estates
Hap & Harry's Tennessee Beer
Heroes Vodka
High West Distillery
Lonely Cow
Nashville Urban Winery
Neon Leon
Neyah Sparkling Wine
Old Hickory Bourbon
Pacific Highway Wines
Possman Cider
Prayers of Sinners & Saints
Quintessential
Recchia
Rivulet Pecan Liquor
Robert Mondavi
RS Lipman
Rumchata
Saturday Night Wines
Scheid Family Vintners
Sierra Nevada Brewery
Simone Capecci
Smirnoff Vodka
Social Sparkling Wine
St. George Spirits
Ste. Michelle Wine Estates
Stonehaus Vineyards
Tanqueray Gin
Templeton Whiskey
Terrapin Brewery
Treasury Wine Estates
Turtle Anarchy
The VIP wine list include wines from the houses of:
Ca'Bolani
Zonin
Castello Del Poggio
Castello Di Albola
Live Music will be featured throughout the event at on the Rock Harbor Marine Stage. The San Rafael Band will perform from 3 – 5 PM and The Aquaducks will perform from 5 – 7 PM.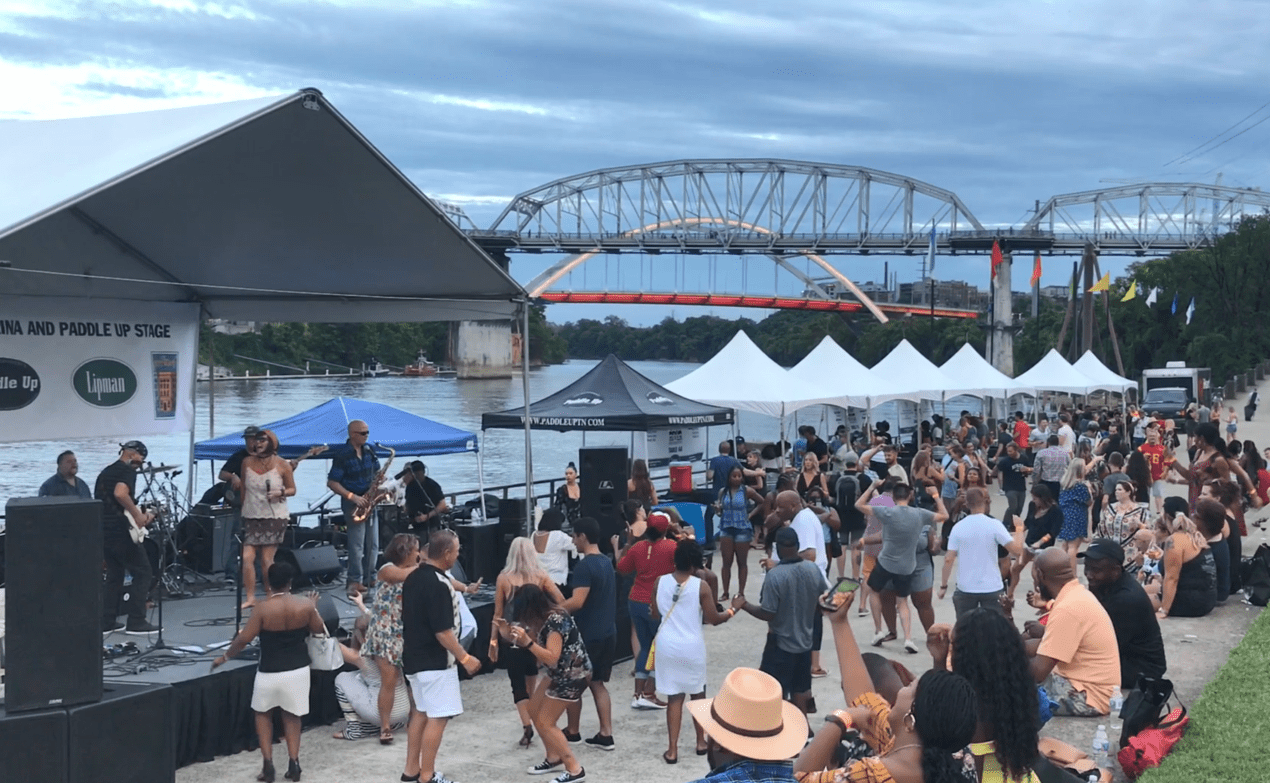 The San Rafael Band is led by Nashville local, Rafael Vasquez, who has lived in Nashville since 1981 where he performs regularly with The San Rafael Band and his trio, The San Rafael Trio. Vasquez is a talented songwriter, vocalist, and guitarist who is comfortable with a variety of instruments and styles ranging from conjunto's bajo sexto to jazz to classical to blues and rock. He is also respected as a bandleader by the local music community. The San Rafael Band has played such local events as Cheekwood's El Dia de los Muertos, Frist Fridays, the 2003 July 4th Celebration at Riverfront Park, Taste of Music City, and the Tennessee State Fair. The Band has opened for Michael McDonald and Kevin Eubanks at the Franklin Jazz Festival and for Los Lobos at the Uptown Mix.
The Aquaducks have been making waves in and around Music City as a high-octane funk and soul band with a live energy that is rarely matched. The Aquaducks' first two singles "Nightlife" and "Bill's Toupée" immediately caught the attention of local radio station Lighting 100 and have continued to receive regular air play. Described by Brooklyn, NY Pancakes and Whiskey blog as "Dripping with enough funk to fill several swimming pools," The Aquaducks have created a new sound with influences ranging from Earth Wind & Fire and Stevie Wonder to Lettuce and James Brown.
In addition to beverage samples and live entertainment which are included in the price of admission, food will be available for purchase from local restaurants such as Trattoria Il Mulino, Ruth's Chris Steak House, Tom + Chee, 4th & Peabody, Southern Spoon, Smackers, Daddy's Dogs, 40° Below Joe and Red Perch.
General admission tickets are $59+ tax, VIP tickets are $89 + tax. In addition, a designated driver ticket, which excludes any access to alcohol sampling, is available for $20 + tax. Day-of tickets increase by $10 at midnight on September 6th and will only be available if advanced tickets have not sold out.
VIP ticket holders will have access to the festival starting at 2:30 PM, a half hour before the general admission tickets are admitted at 3 PM. They will also have access to specialty wines, not available to the general admission ticket holders. The VIP ticket also comes with access to the VIP washrooms, special seating and a shade tent sponsored by Wesley Financial Group.
All tickets are available online at WineOnTheRiverNashville.com. This is a 21 and older event and everyone must have a valid ID for admission.
New this year – Wine on the River ticket buyers can get up to $15 back on their Uber or Lyft ride to the event using the Freebird app. Freebird offers cash back and rewards for all the Uber and Lyft rides consumers are already taking. The free app is available for both Android and iPhone users. Ticket buyers may enter the promo code "WOTR" to access their rewards for rides to and from this event.
For more information about the 17th Annual Wine on the River event, log onto WineOnTheRiverNashville.com, or follow them at Facebook.com/WineOnTheRiver or Instagram @WOTRNash.
Event sponsors include:  Lipman Brother Distributing, Freebirds, Wesley Financial Group, Chicken Salad Chick, Pella Windows & Doors, Rock Harbor Marine, Daddy's Dogs, Barrel & Brews and more.
Event set-up will begin at Riverfront Park on Friday, September 6th at 8:00 AM.  The Northbound lane of 1st Ave. N between Broadway and Church will be closed for load in starting at 12:00PM on Saturday, September 7th and re-open at 3:00PM on Saturday, September 7th, until load out which will be 7:00PM – 10:00PM approximately.
About Lipman Brothers: Established in 1939, Lipman Brothers was the first distributor of wine and spirits in Tennessee. With an extensive wholesale portfolio of wine, spirits, beer, bottled water, mixers, Riedel crystal and cigars; Lipman Brothers has proven leadership in the marketplace for more than 75 years. Lipman Brothers' corporate headquarters is located in Nashville, TN, with additional facilities in East Tennessee. The company services all trade channels including retail, grocery, convenience and bars/restaurants, delivering to 74 of the 96 Tennessee counties, representing over 77% of the state's population. As a family-owned and operated enterprise, Lipman Brothers serves as an educational resource for both trade and consumer markets. Lipman is committed to being the Distributor of Choice to three important constituencies: retailers, suppliers, and consumers. LipmanBrothers.com
About The District: This Nashville non-profit is dedicated to community revitalization of three historic districts and their contiguous areas in downtown Nashville: Broadway, 2nd Ave / Riverfront and Printers Alley, collectively known as The DISTRICT. Its programs seek to foster and stimulate growth of a district identity, community spirit, civic pride and unity while promoting the people in the area and to further retain downtown Nashville's historic character. Learn more about The District at: thedistrictnashville.org
About iHeartMedia: iHeartMedia, Inc. (NASDAQ: IHRT) is the number one audio company in America. The company's leadership position in audio extends across multiple platforms including more than 850 live broadcast stations; its iHeartRadio service available across more than 250 platforms and 2,000 devices including smart speakers, smartphones, TVs and gaming consoles; through its influencers; social; live events; podcasting; and information services for local communities, and uses its unparalleled national reach to target both nationally and locally on behalf of its advertising partners. The company uses the latest technology solutions to transform the company's products and services for the benefit of its consumers, communities, partners and advertisers.
XXXXX