Holiday Events
Updated 2023
The holiday season is in full swing, and if you've been searching for holiday events in Franklin, Tennessee, and Williamson County, then you've come to the right place. From Christmas festivals to larger than life Christmas tree lightings, Santa happenings, and holiday shows and parades, you're bound to find Holiday Cheer to enjoy with your family and friends!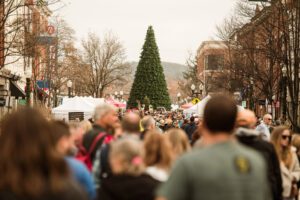 Dickens of a Christmas Festival in Downtown Franklin: December 9-10
Dickens of a Christmas is Middle Tennessee's largest outdoor Christmas festival! Dickens of a Christmas recreates the time of Charles Dickens using historic downtown Franklin's charming architecture as the backdrop. A variety of musicians, dancers and Dickens characters will fill the streets. Expect to see and interact with the nefarious Fagin from Oliver Twist; Jacob Marley, Ebenezer Scrooge, Tiny Tim and the rest of the Cratchit family from A Christmas Carol; and of course, a Victorian Father and Mother Christmas with treats for children. The festival is produced by the Heritage Foundation of Williamson County.
Christmas Tree Lighting on the Square: First Friday in December
The City of Franklin is excited to light up the square for the Christmas Tree Lighting on the Square in downtown Franklin. This Christmas Tree Lighting is one of the best tree lighting events in Middle Tennessee! A spectacular event featuring entertainment by local school children; musicians, performers; and Santa Claus. A Christmas Tree Lighting Ceremony that is fun for all ages! Christmas Tree Lighting on the Square is always on the First Friday in December.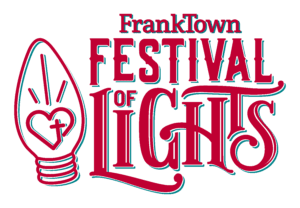 FrankTown Festival of Lights: November 17 to December 31
Come experience FrankTown Festival of Lights for family fun with the annual Williamson County drive-thru holiday light display! FrankTown Festival of Lights will be open nightly from 5 PM to 9 PM, at the Williamson County Agricultural Center in Franklin, rain or shine. The longest drive-through holiday lights spectacular in Williamson County has a half of a mile extension! FrankTown Festival of Lights features over 200 displays that are synchronized to Christmas classics that guests can listen to on the radio as they enjoy the mile and a half long route. They also offer Walking Wednesdays!  EVERY Wednesday from 5 PM to 6:30 PM the route is open to pedestrians only.  You can walk along the lighted route, take photos at the Christmas Tree & make s'mores over the fire!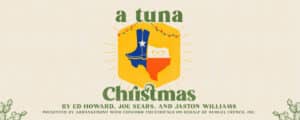 "A Tuna Christmas" at Pull-Tight Players Theatre: December 1-16
This sidesplitting comedy is set in Tuna, Texas – the "third smallest" town in the state. Tuna resident Vera Carp has won the town's annual Christmas Yard Display Contest 14 years in a row. There is a twist this year: an unknown community member has set out to throw the beloved contest into utter turmoil. Could Vera's winning streak be endangered? You'll fall in love with such characters as Arles Struvie and Thurston Wheelis (two well-loved disc jockeys at OKKK, the local radio station), Vera Carp (town snob and acting president of the Smut-Snatchers club), and Inita Goodwin (a waitress at the Tasty Crème). Oh, and there's a catch: two men play the entire cast of over 20 eccentric characters of both genders and various ages. Join us for this holiday classic, and be ready to laugh! Merry Christmas!
Downtown Franklin Christmas Parade:

First Saturday in December

Winding through the streets of Historic Downtown Franklin, Tennessee, the Franklin Christmas Parade is a community celebration of the customs of Christmas and has been a Franklin holiday tradition for over 30 years. The Franklin Christmas Parade was the brainchild of the Kiwanis Club of Franklin which has presented the parade since its inception. The Franklin Christmas Parade has brought thousands of hours of pleasure to both the participants and the community at large as we gather to celebrate Christmas and herald the arrival of Santa Claus to Franklin. In 2023, Downtown Franklin Rotary was entrusted with this legacy event and will be presenting the parade.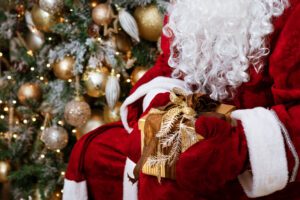 Morning with Santa: First Saturday in December
On the first Saturday in December, from 9 a.m. to 11 a.m., you'll have the opportunity to see Santa Claus and deliver your wish list to him at the Morning with Santa event at the John P. Holt Brentwood Library.  Passes will be available at the Children's Service Desk beginning Monday, November 21.  For more information, please call the library at 615-371-0090 ext. 8380.  For more information and questions about this event, call 615.371.0090 or visit The John P. Holt Brentwood Library.
Brentwood Annual Christmas Tree Lighting Ceremony: First Monday in December
Gather at the Brentwood Library for the Annual Christmas Tree Lighting Ceremony. As the start of the holiday season each year, the Brentwood City Commission looks forward to participating in the tree lighting ceremony held on the first Monday of December each year at 5:30 p.m.  Visit the city's website at www.brentwoodtn.gov and social media channels for event updates and details.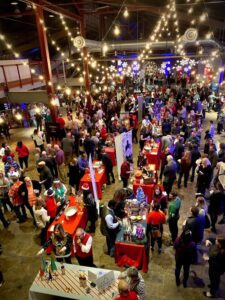 Franklin Holiday Spirits Cocktail Festival: December 8
It's the most wonderful time of the year for a Holly, Jolly Cocktail Festival in Franklin, Tennessee! Stroll through The Factory at Franklin sipping festive cocktails, jingling along to holiday tunes, and visiting the big man in red himself! Your ticket to Holiday Spirits Cocktail Festival includes 12 sample-sized cocktails, photos with Santa at our photo booth, and plenty of yuletide cheer. Food and full sized drinks will be available for purchase as well. This event supports TennGreen, so every sip gets you closer to the nice list! 21+ event only.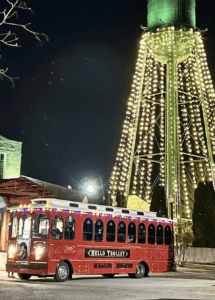 Franklin Holiday Lights Trolley Tours: December 3 – December 23
Take the trolley to see the decorated homes and bright lights this holiday season! A Holiday Lights Tour has become a MUST when you're in the Holiday Spirits, so get ready to sit back, relax, and listen to your favorite holiday music, while enjoying the beautiful lights of Franklin, TN and Williamson County. Complimentary bottled water and candy canes will be available ON BOARD the trolley! Tours Run 1 hour and 30 minutes throughout Franklin & Brentwood. Tickets go on sale for the Public Holiday Lights Tours each year in October. Private Holiday Lights Tours can be booked as far in advance of the Holidays as you wish! Visit Franklin Holiday Lights Trolley Tours to view the schedule and book your tickets! Tours run December 3 – December 23, on select days. Times: Saturday thru Sunday 5:30 p.m. & 7:30 p.m., Wednesday through Friday, 6:15 p.m. & 8:15 p.m.
Studio Tenn Presents: It's A Wonderful Life, A Live Radio Play:
December 7-17
Middle Tennessee's newest holiday tradition is back. Studio Tenn is delighted to revive our critically acclaimed production of It's A Wonderful Life, A Live Radio Play for the second year. It's A Wonderful Life, A Live Radio Play is set on a snowy Christmas Eve inside a local radio station which features a multi-talented ensemble of five actors who bring to life every heartwarming character, the iconic town of Bedford Falls, and the story of an idealistic George Bailey as he considers the course his life has taken up to this one fateful night. A Heaven-sent gift for the entire family.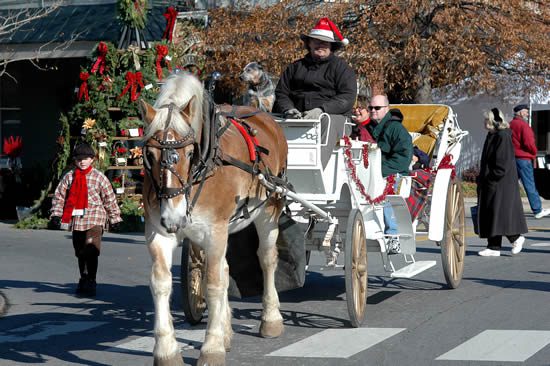 Leipers Fork Christmas Parade and Celebration: December 9
Country-style Christmas Parade in Leiper's Fork, Tennessee, including dueling riding lawnmowers, politicians, local celebrities and more! Free holiday event! Begins at 2 pm! Arrive early as there is only ONE road through the village and it will be closed at 1:50 pm.
Brentwood Neighborhood Luminaries: Second Saturday in December
During the evening of each second Saturday in December, neighborhoods are encouraged to display luminaries from dusk til 9 p.m. Many Brentwood subdivisions light their streets with luminaries! Some of these subdivisions include Brentwood Country Club, Lansdowne, Fountainhead, Brentmeade, Foxboro, Chenoweth, Indian Point, Liberty Downs, Raintree Forest, Saratogo Hills, Twelve Oaks, Somerset, Oakhall, Green Hills Boulevard, McGavock Farms, Belle Rive, Foxland Hall, Beech Grove, Twin Springs, Meadowlake, Halbrook, Carriage Hills, Carondelet, and Woodway. The city sets the date, but each Homeowner Association plans the details.  In the event of rain or inclement weather, the luminary date will be the second Sunday of December. Each neighborhood, usually through its Homeowners Association, makes the final decision on luminary postponement.
Ravenswood Mansion at Christmas
The Ravenswood Mansion, located at 1825 Wilson Pike, Brentwood, will be lit up for the holidays starting the first week of December.  Consider using this City-owned venue for a small holiday gathering or the perfect spot for outdoor photos!