Franklin Synergy Bank Breaks Ground on new Cool Springs Branch
Franklin Synergy Bank broke ground last week on a new office in Cool Springs. The bank's new location is just down the street from the bank's current office at 3301 Aspen Grove Drive, which will close when the new office opens. The bank expects construction to be complete during the third quarter of 2014.
"We opened our bank in Cool Springs in November of 2007," noted Franklin Synergy Bank President Richard Herrington. "Our new Cool Springs location puts us closer to retail and new residential construction along the McEwen corridor."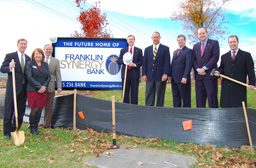 Franklin Synergy is also constructing a new office in Brentwood. The bank recently announced plans to merge with Rutherford County's Mid South Bank. In October 2013, the bank reported that it had become the third largest bank of the 35 banks with offices in Williamson County, based on recently released FDIC market share data.
About Franklin Synergy Bank
Founded in November 2007, Franklin Synergy Bank currently has four offices in Williamson County and provides deposit and loan products, treasury management and financial planning services for consumers and businesses. Franklin Synergy earned its first profit in 2009, after just five quarters of operation. The bank's assets surpassed $500 million in February 2012 and bank deposits surpassed $500 million in December 2012.
Additional information about Franklin Synergy is available at the bank's website: www.franklinsynergybank.com.
---
Photo (l to r) Ashley Hill, Franklin 1st Ward Franklin Alderman Beverly Burger, Hank Brockman (Franklin Synergy Board of Directors), Richard Herrington, Jim Cross (Franklin Synergy Board of Directors), Dan DuBois, William Billington and Derek Cozart