Fall Shoes
It's time again to pack up the flip flops and pull on the boots. Luckily, around Williamson County, we don't have to sludge around in the snow all day and can still sport fancy footwear in the winter.
This fall it is comforting to see that shoe designers have not stopped making ballet flats. Last years styles will still work! But if you are in the market for a new pair, be on the lookout for ballet flats in deep purples and red, and pairs decorated with chains, bows and cutouts. The trend I thought would have faded fast—animal printed shoes are back for another season and ballet flats are the perfect way to show off your wild side.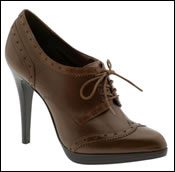 Oxford shoes are one of fall's biggest trends in shoes. Don't think that oxford style shoes means preppy. There are oxfords out this fall in everything from preppy t-strap styles to lace-up heels. Some styles have the classic detailed stitching while others are metallic and have no texture. There is an array of oxford shoes to choose from and all of them have different details down to the lacing or the ankle straps.
Biker boots and knee-high boots are back for another round this fall—phew! But for women that didn't invest in last years boot style or those that just want to be on top of the trend, a new boot style has arisen.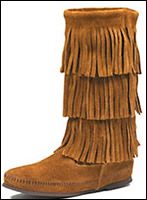 For fall, check out high-heeled, ankle boots also known as shooties! Shooties are a confused shoe, that want to be a boot…but aren't quite there yet. This fall look for runched shooties, oxford-style shooties and shooties with zippers. Try them— they are easier to get on than tall boots (many styles are slip-on!) and they are versatile to wear with any outfit.
This fall, look for fringe. Fringe is sprouting up on traditional moccasin shoes as well as boots and clogs.  Feather details add to the flair of fringe. The way to sport fringe is all up to you, some styles have one sparse layer of fringe while others have 4 or 5 layers of fringe detailing.
Shoes or boots with fringe on them are a simple way to jazz up a white t-shirt and jeans. They are casual yet chic and hopefully a fun style that will stay around.
Whether you choose to hang on to last years trends in hopes of blending in or dare to take on the fashions of today—enjoy fall and dress your feet pretty!