Country Ham Festival
Spring Hill, TN –Come celebrate the beginning ceremonies of the 2008 John Maher Builders Spring Hill Country Ham Festival with a "presentation of the check" by John Maher, of John Maher Builders of Spring Hill. Once again, through the generosity of Mr. John Maher, he will present to the Spring Hill Country Ham Festival Foundation a check as the title sponsor of the event.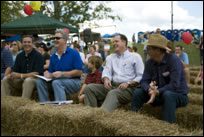 The event will take place on FRIDAY JULY 11th at 2PM at the entrance to Williams Park Subdivision on Port Royal Road in Spring Hill. The foundation invites all media and press to come and celebrate the kick off of this years' Ham festival.
This will be the fifth year that the Spring Hill Country Ham foundation celebrates "Country Ham Day" in Tennessee, the 1st Sat. in October as proclaimed by Governor Bredesen in 2005. And every year, middle Tennessee comes out to see the Hog callers, Ham curing, Music, games and more. This is a family friendly event with Charter Cable's big screen TV on board again this year to show your favorite college games, Loveless Café's own Carol Faye and her famous biscuits, Pig races, a petting zoo and much more Saturday October 4, 2008 at the Tennessee Children's Home in Spring Hill.
Bring your photographers and be the first to celebrate "Country Ham Day" with John Maher Builders and The Spring Hill Country Ham Foundation. For additional information, please contact Alison Harris @ 615-414-9528 or Chris DeBerry @ 615-289-0224. See ya'll there!