Brightstone Receives Contribution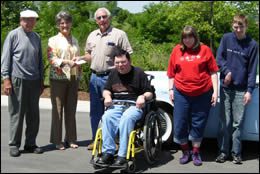 FRANKLIN, TN—Members of the local Battlefield Region Antique Automobile Club of America recently shared not only their prized automobiles with BrightStone students and staff, but also a $1,000 contribution to help further BrightStone's mission.
Interested in supporting and learning more about local charities, several club members recently shared lunch at BrightStone, meeting the students and touring the facility. "We wanted to make a significant impact with our contribution, and are pleased to assist the adult students at BrightStone with their work based learning program," said Gerry Schmidt, club president.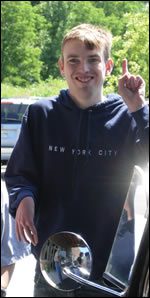 Students were able to view and learn about the restoration of the 1957 Ford Thunderbird, belonging to Mr. Schmidt, as well as Mr. Paul Minor's 1951 Hudson Hornet, affectionately referenced as 'Doc Hudson's Brother' (referring to the popular character from the Disney movie, Cars).
The Antique Automobile Club of America has over 270,000 members nationwide, with 116 members in the local Battlefield Region chapter.  Funds donated are raised through membership dues and other club activities, such as an upcoming car show on Saturday, October 18, at Cool Springs Mall, at which BrightStone plans to have a booth and sell student-made products.  Members also display their cars to the public at the Franklin Back Yard Burger on Saturday evenings, from now through October.
BrightStone provides a comprehensive work, social support, and future residential community for adults with special needs, expanding their potential and helping them develop mentally, physically, socially, emotionally, and spiritually.
If interested in arranging a tour for your organization/corporation, or in making a contribution,
please contact Tina Majors, Director of Fund Development, at 790-4888 or visit www.brightstone.org