Brentwood: Concert Series in Crockett Park
The City of Brentwood announces its 13th Eddy Arnold Amphitheatre Concert Series in Brentwood's Crockett Park. These FREE concerts will be held Sunday evenings at 7 p.m. during the months of May, June and July and are open to the public.
"Brentwood's concert series is the epitome of small town gatherings with families and friends," says Williamson County native and Community Relations Director Linda Lynch. "It reminds me of how wonderful our community is, and how lucky we are to live here."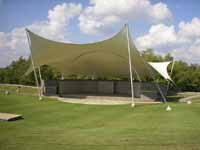 The concert series kicks off on Sunday, May 13 at 7 p.m. with the Nashville Symphony Orchestra. Other musical acts include the sounds of the Brentwood Concert Band on May 20; the jazzy tunes of the Paul Ross Orchestra – Big Band on June 3; Blues rocker, Dean Hall (son of legendary songwriter and country singer, Tom T. Hall) on June 10; Riders in the Sky on June 17; the oldies of The Mills Brothers on June 24; Nashville's own Kadillacs on July 4 (followed by a fireworks show); and the Tams on July 8.
Enjoy live music with your family, Sunday evenings at 7 p.m., in the incredible, state-of-the-art outdoor Eddy Arnold Amphitheatre. With lawn seating that can hold between 2,500-3,500 people, finding a spot won't be a problem, but mark these days on your calendar because this is one Sunday evening treat you won't want to miss! For a list of artists and concert dates, please visit www.brentwood-tn.org or call Brentwood City Hall at 615.371.0060.