Always Document!
By Brooke Shroeder
Today marks our second wedding anniversary, and it's difficult to remember everything. I want to remember the beauty of that day, the people who were there smiling upon us, the sentiments we shared, and the commitment we made.
I grab my wedding box that is tucked away in our closet to help. In it are announcements, invitations, programs, table cards, favors, photos, a CD, gift notes, a silver cake cutter, a ribbon bouquet and lots of planning notes.
While all these reminders help piece together that day, nothing is more helpful than the photo album, video and guestbook. Combined, they provide the vivid and tangible memories of that special day.
I am so thankful that I have them and would have been remiss in my planning if I hadn't given them special attention. They are the living memories that will last a lifetime.
As you continue on your journey to plan your perfect wedding, make sure you make plans to DOCUMENT IT! The planning lasts months, the wedding a few hours, and the memories will sustain you for a lifetime.
There are many ways throughout the process to document your special day and personalize them to suit your style. Before the wedding, there are several pieces of correspondence including invitations, newspaper announcements and possibly a Web site that can document the upcoming wedding. During the wedding, you may not be enjoying photographs, a video or guestbook, but they are in the process of being created and will be your most enduring reminders. Even after the wedding, couples document their honeymoon and share photos with friends on the Web.
Pre-wedding
Announcements: It's traditional to announce the wedding in the bride and groom's local newspaper (after close relatives and friends have been told). Announce the engagement in the newspaper(s) nine to 11 months prior to the wedding date and the wedding the day of the wedding (or the next appropriate paper deadline after).
Contact your local newspaper for specifics including cost, photo, text guidelines and deadline date. If you want your announcement included in the Sunday "Life" Section of The Tennessean, packages start at $75 for a 1/16 of a page ad and have a range of options up to a full page ad for $900. Deadlines are a week before publication date but it never hurts to get it in early.
Web site: A personalized wedding Web site can help guide guests with planning details like directions, accommodations, schedule of events, area attractions and registry information. Sites can also provide a forum for sharing your story. While the Web site is a great planning tool, it's also something that can serve as a reminder of the event. Some couples continue a blog after the wedding and share photos from the wedding and the honeymoon. Work with a company or friend to design your own or utilize one of the many free templates available online.
Wedding Day
Photographs: Photographs are a wonderful reminder of the day and can be used throughout the event itself. Decorate tables at the rehearsal dinner or reception with childhood photos, spread photo confetti on tables, or give out a special photograph to your parents as a small thank you.
In order to document the wedding itself, have guests use disposable cameras to capture candid shots. Of course, you should hire a professional to capture the whole day. There are many photographers to choose from, and the best can get booked a year in advance. Research photographer's work and ask around for recommendations. Make sure to interview several photographers in person and view at least one album in its entirety. Many photographers will put together portfolios of their best work, but you will want to see an entire wedding album to compare style and quality.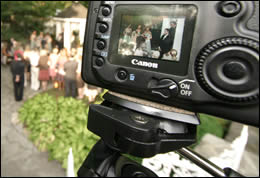 Photographers work in different formats (digital, film); have various styles; and offer a variety of packages based on hours of services, additional sittings (engagement photos or bridal portraits), album types, prints provided and much more. Some digital photographers will be playing shots of the ceremony at the wedding, giving guests a sneak peak of your future album while offering something fun to view at the reception. Most professionals offer black and white and color photographs. Some film photographers give you proofs as actual 3×5 pictures so you will have every photo of the day even if you don't choose to professional print them.
(Tips: Make sure you the person you interview will be the one taking the photos, and if not, be sure it is someone you are comfortable with as larger studios have several staff members. Develop a shot list that you want and go over all the contract points including overtime pay.)
Video: As hard as the photographer works, it's almost impossible for him/her to capture everything so consider having a videographer to record the emotions, conversations even humorous moments which are priceless. Photos provide an image that can evoke a memory, while the video can replay it verbatim.
Two types of videos are often used at weddings, the "photo montage" and the "love story." A "photo montage" is a slideshow or video of photos from childhood to present which is often played at the rehearsal dinner or reception. The "love story" is a short video capturing the couple's story where they are interviewed, which is often shown at a reception or prior to the ceremony.
While hiring a wedding videographer may be perceived as an "extra," I highly recommend it if the budget allows. As Brian Covert, co-owner of Covert Productions (www.covertproductions.com), says, "It is one of the most tangible things to remember the wedding." Like photographers, there are many videographers to choose from and a cornucopia of packages based on hours of service or event coverage (ceremony, reception, rehearsal dinner etc.), number of cameras, number of DVD copies, and extras or a la carte items like equipment rental, wedding montage or a love story.
If you can't hire a professional and want to ask a friend, just remember there is a significant difference between a professional and an amateur. A professional company using two cameras and computer editing software will produce a more polished, fluid and visually appealing final product than a friend carrying around a camera.
(Tips: Check with your ceremony site to see if there are any video stipulations first as some churches have strict rules about camera placement. Make sure your videographer has familiarity with the wedding location and discuss special requests early, like interviewing guests at the reception or including your own music to the final version of the video. Don't forget to ask when the final video will be ready, about additional fees like overtime and how much extra tapes/CDs will cost. Book your videographer nine to 11 months in advance and expect to pay $500-$2,000. As with most vendors, you will probably need to also give a non-refundable security deposit.)
Guest Book: A traditional guestbook is a simple book in which guests sign their names. However, the term "guestbook," can be used loosely to define any item that serves as a reminder of those who witnessed your wedding. There are many creative ways to capture those attendees.
Consider signing a silver tray or a large picture frame with your wedding photo in it. In fact, you can personalize about anything, so choose something that you will utilize. Additional ideas include signing a scroll you could have framed, a wishing tree in which guests pin their good wishes on a paper tree, adding well wishes to ribbons and tying on an outdoor archway as the couple leaves, or similar ideas in which guests fill out a crafty card adding advice or special memories. Check out magazines, Web site and books for new creative and trendy ideas.
We actually created a wedding scrapbook where Polaroid pictures were taken of each guest or couple, and they designed their own pages with stickers and markers. The day after the wedding, we had the best time looking through our guestbook and seeing our guests' creative pages and well wishes.
Post-wedding
When you get back from your honeymoon, you start to see photos taken by friends and not long after your photographer's images and video arrive. All the long hours of planning (and the special people that made your wedding so amazing) are reflected in the images that remain. Share them with friends and family online or give them as gifts. Make sure you take time at least once every year to go through your documents and reflect on your special day – it can be a great family tradition!