Accent Your Outfit With Accessories
By: Candace Hutchins
This summer, bold patterned clothes and bright yellows and greens are dominating the fashion scene. Oftentimes, these overwhelming color palates make it difficult to accessorize. It is simpler to keep jewelry to a minimum in the summer and one way how is to slide on some oversized earrings or colorful bangles.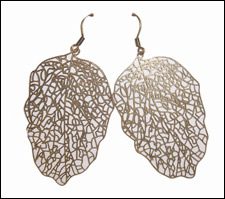 Filigree Earrings can spice up an outfit as well but keeps the look more subdued. The filigree, cut-out style earrings can be found everywhere and fits every budget. They look delicate but because they are typically oversized, they make a strong fashion statement. Gold earrings are the most popular look right now, but many filigree earrings are also available in a tarnished or shiny silver finish. Franklin's own, "What's In Store" has several shapes of these earrings available. Check them out online: Earrings!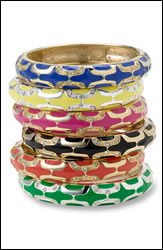 Enameled Bangles are hot right now. They works well for any look—the heaviness of the pieces make them look expensive (even if they're not), and the solid colors make them adaptable to wear with any outfit. The enameled bangles pictured will dress up a simple white dress in the summer or complement a Pucci-inspired patterned skirt. A set of them can be mix and matched, for a new look everyday. Whether you wear one or five at a time, enameled bangles are likely to get a lot of compliments.