2nd Annual Booker Awards
On February 29, a celebration of education, community spirit, deep faith and strong moral conviction took place at Freedom Middle School during the 2nd Annual Monroe and Mary Booker Award Day.
The award day is a collaborative effort between Freedom Middle School and the 12 children of Monroe and Mary Booker, lifelong Williamson County residents who knew that education would take their children to places they could not, and whose children never gave less than their best effort when it came to school.
The Booker Awards honor one student and one community member who are living examples of what the Bookers held so dear – the value of an education and the obligation one has to make their own community a better place.
Monroe (1921-2006) and Mary (1926-2004) Booker's 12 children attended Franklin Special School District schools. Affirming their parents' strong belief in education, all 12 of the Booker children attended college – six of them at Fisk University, two at Vanderbilt, and one each to Harvard University, Spellman College, Tennessee State University and Concordia College. They now lead successful careers in law, social work, civil engineering, banking, teaching and coaching.
This year's recipients were Marcus Hamilton, an 8th grade Freedom Middle School student, and Pearl Bransford, a Franklin alderman and former FSSD Board of Education member.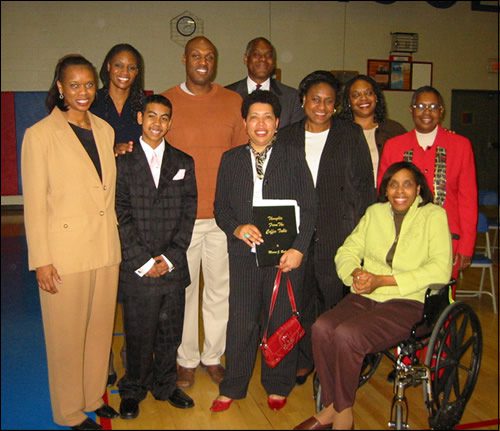 Picture: Freedom Middle student Marcus Hamilton and Franklin Alderman Pearl Bransford (front center) were recognized on Friday, March 1, during Freedom Middle School's 2nd Annual Monroe and Mary Booker Award Day assembly. Eight of the 12 Booker children were on hand to present the awards, which serve to memorializing their parents who understood and celebrated the value of an education. The Booker children on hand include (left to right, First Row): Linda Booker, Claudia Lisenby, Brenda Booker (seated), (2nd Row) Karen Booker, Barry Booker, Cyrus Booker, Janet Booker-Davis, and Freedom Middle School teacher Charlotte Hall.
Booker Children (according to birth order):
Claudia Lisenby, B.A. Fisk University, MSW University of Kentucky, school social worker in the Metro Nashville School System
Charlotte Hall, B.A. Fisk University, M.A. Tennessee State University, teacher Freedom Middle School
Janet Booker-Davis, B.S. Fisk University, Accounting, Butler University, Indianapolis, IN, M.B.A., University of Indianapolis, Indianapolis, IN, Certified Public Accountant, Certified Fraud Examiner, President Booker Business Services
Gwen Jones, B.S. Fisk University, Loan Resolution Specialist, Fremont Investment and Loans in Dallas, Texas
Cyrus Booker, B.A. Harvard University, J.D. Georgetown University, attorney, Baker Donelson Associates, Nashville, TN
Linda Booker, B.A. Spellman College, Atlanta, GA, database analyst for State of Tennessee
Brenda Booker, B.S., Civil Engineering, Tennessee State University, President Booker Engineering, Thompson Station, TN
Robert Booker, B.A. Concordia College, J.D. Brigham Young University, attorney in Salt Lake City, Utah
Joe Booker, B.S. Fisk University, Independent Insurance Agent
Sherry Booker, B.S. Fisk University, B.S. Tennessee State University, Registered Respiratory Therapist with Williamson Medical Center
Karen Booker, B.S., Vanderbilt University, Former WNBA player with Utah Stars and Houston Comets, Fitness Consultant for Gaylord Entertainment. Karen is former Vanderbilt basketball star, and an All-SEC center as a senior in 1987. A member of the Vanderbilt Women's 1,000 club, she is second all-time at Vandy in rebounds and steals, third in free throws made, sixth in blocked shots and scoring.
Barry Booker, B.S., Vanderbilt University, M.B.A., Owens School of Management, Vanderbilt University, Client Manager with Wells Fargo in Nashville, TN, Color Commentator for Lincoln Financial (formerly Jefferson Pilot). Barry was a standout basketball player helping the Vanderbilt Commodores to the only back-to-back NCAA Tournament appearances in school history in 1988 and 1989. He earned Academic All-SEC Honors in 1988 and was named the University's Most Outstanding Student-Athlete in 1989. He still holds the all-time career three-point shooting percentage record in the SEC of 46%.