2006 Parade of Homes at Annandale
The Home Builders Association of Middle Tennessee (HBAMT) celebrates 35 years of its "Parade of Homes" set for Oct. 14-29. This year the parade is sponsored by Bank of America and will take place in the Annandale neighborhood of Brentwood.
(* NEWS: Click here to learn about the FREE TRIP opportunity!*)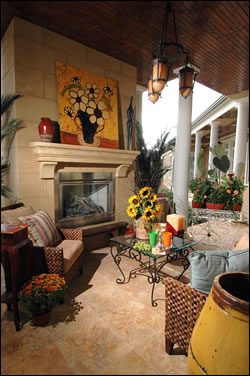 The Annandale Parade teams include the following: Fedrick, Harris Estate Homes with Sara Gillum Interiors; Mike Ford Custom Builders with Lee Shacklock Interior Design; Palladian Custom Homes with Savage Gallery; Atkinson Construction & Associates with European Gallery; Castle Contractors with Anderson Design Studio; and Calvin W. Bivings Builders working with Teena Bivings, design team coordinator.
"Every year our builders and designers continue to amaze us with creative new ideas," said Peggy Krebs, parade chairman. From gourmet kitchens and high-tech home theaters to outdoor living rooms, there are plenty of ideas in design and building to inspire visitors. Some of this year's features include new GE Monogram Wine Vault, Renaissance Spatula Stuhhi Venetian Plaster, Shirestone concrete counters, stunning Robert Allen/Beacon Hill wine country inspired fabrics, a red onyx countertop, Kaleidescape media manager, Peruvian stone and a Titantic inspired high-tech Home Theater.

They expect more than 20,000 people to traipse through the six open homes and view the 24 exhibits that line the walkways. Nancy McNulty, from McNulty Communications, advises visitors to "Bring your pad, pencil and camera to capture and collect ideas of ways to transform their castle into magic."

Visitors will also get a parade guide book as a long-term reference tool on builders, designers, paint and products. Homes will be open from 11 a.m. until 8 p.m. with the last ticket sold at 7 p.m. Tickets are available at the gate $14 for adults and children under 12 are free. Weekday $2-off coupons are available at all area Bank of America Banking Centers beginning Oct. 9. A portion of the Parade benefits Cumberland Crisis Pregnancy Center.
For directions or more information, visit www.hbamt.net or call 615.377.1055, ext. 13.
The six, new, fully decorated homes range in price from $1.6 million to more than $2 million and range in style from Mediterranean and Tudor to Neo Classic. The six builders coupled with the six designers will showcase the latest ideas in what they describe as "what is cool, new and different in home building, architecture, interior design, furnishings and landscape."