10 Great Game Day Spots in Franklin & Nashville, TN
There are plenty of sports bars in the Franklin and Nashville, Tennessee area equipped with great food, beers on tap, handcrafted drinks, big screen TVs, and community! Whether you are looking for a more low-key environment or a game watching experience full of activity, keep reading to discover some of our suggestions on where to spend game day! 
Learn about local dining experiences, entertainment, shopping, and more at FranklinIs.com.
Overlooking Franklin's historic Main Street, Americana Taphouse is a perfect place to enjoy some games! With a full-service bar featuring 24 curated beers on tap, two TVs dedicated to sports viewing, and southern-inspired takes on traditional menu items, this unique eatery has everything you need to enjoy dinner and drinks on game day! Also, Americana Taphouse has an amazing patio, overlooking water and Main St., and often has live music, if you're looking to get some fresh air!
Brewhouse South is a local sports bar in Franklin, complete with craft beer, game rooms, and over 30 big-screen TVs! Watch a game or two while enjoying their signature Bushwacker and All-American menu at this laid-back neighborhood bar. With 70 beers on tap, a variety of foods, and daily drink specials, Brewhouse South is a great option when it comes to local sports bars! Looking to catch the game in Nashville? Check out Brewhouse 100 and Brewhouse West!
Five Points Pizza in Nashville offers carry out options for those who prefer to catch the game at home. They have TVs as well as local and craft beers from 16 rotating taps at the bar so you can keep up with the game and enjoy a refreshing drink while you wait for your delicious pizza!
Serving as a restaurant, bar, and market in Nashville's West End neighborhood, Jasper's has it all! Their all-day menu features classic bar food as well as frozen slushie drinks, hand-crafted cocktails and more! This local spot is ready to make your acquaintance on game day with TVs, a game room, shuffleboard, a market, and specials including happy hours, 2 for 1 beers on Sundays, and $25 beer buckets. 
Jonathan's Grille is a family-owned sports bar and grill with quality food, drinks, and over 45 screens to watch a game! This local eatery features a variety of All-American food as well as daily specials. Jonathan's Grille is the place to be for a watch party, so stop by and get in on the fun! 
Kings Dining & Entertainment in Franklin is the ultimate stop for watching a game with friends! With a full menu of All-American favorites, drinks, and big screen TVs, this is a great choice for dinner and a game. You can even play a few rounds of bowling, billiards, arcade games, and more while rooting for your favorite team!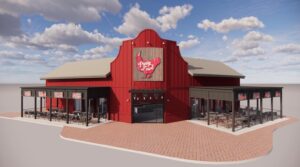 Specializing in Nashville hot chicken, local brews, and boozy slushies, Party Fowl features TV-covered walls, a creative menu full of classics and originals, and a ton of sports fans. Enjoy one of their signature dishes and get ready to enjoy a game surrounded by community at Party Fowl in Franklin or Nashville!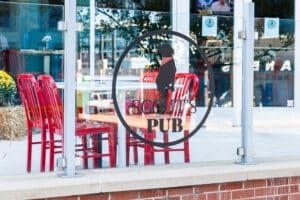 Scout's Pub is located in Nashville's Midtown neighborhood and features hand-crafted cocktails, delicious food, and televisions across the bar! Scout's Pub is a great spot for game days this fall season, whether you are an avid sports fan or just love getting caught up in all the excitement with new and old friends! Scout's Pub has a second location in Franklin's Westhaven neighborhood!
Tony's Eat & Drink is the place for locals to eat delicious food, enjoy draft beer and specialty cocktails, and have a good time with new and old friends! With 18 TVs and games including Skee-Ball, Hoop Fever, and Golden Tee, this Franklin restaurant and bar is a great option when it comes to a lively place to watch a game! 
All Waldo's Chicken & Beer locations have bars with large tv's to watch your favorite team play any day, anytime. Waldo's beer menu changes weekly but always includes an array of cold beers on draft, in a can or bottle as well as wine, seltzers and cocktails. Happy hour is 3 – 6 p.m. and it's 2-for-1 draft beers and all day Tuesday/Sunday. Unwind and have a good time keeping up with your favorite team at this laid-back eatery!
Looking for something fun to do this weekend? Shopping for antiques or curious about a
restaurant? Wanting to volunteer your time with a non-profit, or just stopping by
downtown Franklin, TN for the day? Access it all on FranklinIs.com. We encourage you
to browse through the Living, News, Entertainment, Family & Kids, Real Estate, Visit,
Resources and Events Calendar sections. There is something for everyone!
FranklinIs a website dedicated to all things Franklin, TN and Williamson County!
Supporting local non-profits, businesses, residents and visitors, FranklinIs the go-to
place for all your Franklin and Williamson County needs.