Your Reception Style
By Sarah Carlos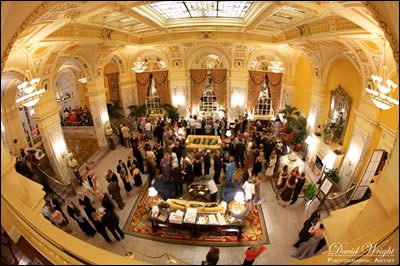 What is the first thing you should do when beginning to plan your wedding reception? Choose your style. You may already have some aspects nailed down, little details that you've always wanted. But before anything else can materialize, you have to decide how you want the evening to flow, and that all begins with your reception style. Here are the two most popular reception styles:
Seated Reception
Seated dinner receptions start between 6 p.m. and 9 p.m. Keep in mind that you will need to choose a venue with enough room for everyone to have a seat at the table; banquet halls are a common favorite. Typically, guests' plates are prepared in the kitchen and carried to the table. While seated dinners in the past have been more prevalent for Northern brides, Southern brides have started following suite, opting for the merge of elegance and ease.
"I find that the majority of my brides in Williamson County and Nashville are more concerned with making their guests happy than anything else," says Alice Hendry, owner of Alice Hendry Wedding and Event Planning. "And for many, that involves having a seated dinner, catering to their guests' needs."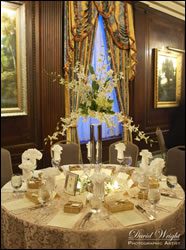 There are also numerous benefits to the seated sit-down wedding reception. For one, you control the evening; therefore, you dictate the first dance, when the cake is cut, etc. And guests feel like they can sit down, relax and follow the flow of an evening that has been carefully planned out. It can also be a wiser choice when it comes to your budget.
"Overall, the seated dinner is more calculated," says Hendry. "You have once piece of meat, one salad, one piece of cake. There is no room for surprises – everything has already been accounted for."
And when the night comes to an end, you can be sure that your guests have enjoyed themselves.
"You always want your guests to be like, 'We don't want this to be over!' and you can do that by offering them food and drinks, their own seat with an escort card; really making them feel like you made a special place just for them," says Hendry.
Buffet

While guests will feel accommodated by the sit-down affair, the buffet pushes them up on their feet back to wait in line. While they wait in line, at least they are given the opportunity to enjoy the station and/or table decorations and wide variety of food at their fingertips. Buffets are typically recommended for weddings with more than 150 guests in attendance, so they have the option to move about and mingle. But then there's the cost factor. People tend to eat more because, after all, it is a buffet.
"The cost per guest in attendance can end up being around the same as it would to have a seated dinner," says Hendry. "It makes more sense to offer your guests a lovely evening where they feel like you are taking care of them. Keep things fresh and happening. Planning is key."

Whatever style you choose, just remember that while these are the basics, there are no rules. You can make a seated dinner casual, and a buffet fancy. It's your choice and up to you to make the most special day of your life your own! Congratulations!
Contact Alice Hendry if you are interested in learning more about her wedding and event planning services. Call 615.423.2325, or email her at alice@alicehendry.com.
Photographs by David Wright Photography