VARIETY OF FITNESS PROGRAMS AVAILABLE AT COUNTY REC. CENTERS
The Williamson County Parks and Recreation Department (WCPR) offers a wide variety of fitness programs, including group fitness classes, small group training programs, personal training options and health coaching at recreation centers in Brentwood, Fairview, Franklin and Spring Hill!
Group Fitness class styles vary, with land-based options including cardio athletic, indoor cycling, strength training, dance and mind and body classes; as well as aqua fitness programs. Class sizes are limited to meet social distancing requirements; and advanced registration is preferred. Group Fitness fees are only $8 per class or included with any premium department pass.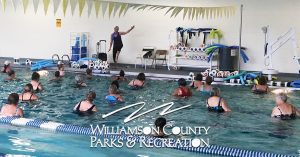 Small-Group Training returns in October with a new program, Prenatal Yoga. Research suggests that prenatal yoga is safe and can have many benefits for pregnant women and their babies. The program features a multifaceted approach to exercise that encourages stretching, mental centering and focused breathing. The next session will be held on Wednesdays, October 14 – November 18, from 10:45 a.m. to 11:45 a.m. at the Indoor Sports Complex in Brentwood, 920 Heritage Way. Cost is $90 per person for the six-week session.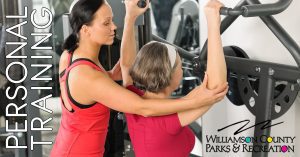 Personal Training services are also offered at all main recreation facilities. WCPR has a diverse team of certified Personal Trainers available to challenge and motivate clients of all fitness levels to maximize their body's potential! Traditional Personal Training; plus Yoga Personal Training are available.
And now WCPR offers a Health Coaching program providing one-on-one health and wellness coaching designed to get individuals the results they want to see in their life. Whether your goals are related to weight, nutrition, stress management, work/life balance or general health; our staff will partner with you to meet your goals!
For additional information on Williamson County Parks and Recreation's fitness programs; to view a list of classes; and to register log onto www.wcparksandrec.com and click on the "Fitness and Wellness" tab.
####
Williamson County Parks and Recreation (WCPR) is a public organization benefitting the community. For additional information, visit www.wcparksandrec.com. You may also receive department information by "liking" Williamson County Parks and Recreation on Facebook; following us on Twitter at @wc_parksandrec or Instagram at @willcoparksandrec or on Pinterest or YouTube.