TRI STAR ENERGY LAUNCHES EXPANSION PLAN WITH INAUGURAL NASHVILLE STORE CONVERSION
NASHVILLE, Tenn. (Feb. 14, 2023)—Today, Nashville-based Tri Star Energy celebrated the ribbon-cutting of a Twice Daily convenience store located at 6029 Nolensville Road in Nashville, Tenn. This opening kicks off a three-year plan for Tri Star Energy to convert all Sudden Service and Southern Traders convenience stores to Twice Daily convenience stores throughout Tennessee and Alabama.
"This is a monumental moment for us," said Steve Hostetter, CEO of Tri Star Energy. "As we navigate these store conversions, our priority will continue to rest in our guests and store teams. Providing the highest quality service and offerings has always been top of mind for us and will continue to stay a constant throughout this transition."
In addition to traditional convenience items, Twice Daily's premium offerings range from grab-and-go snacks, including organic brands, to a selection of staple groceries. A fresh deli case provides handmade and healthy options featuring fruits, sandwiches, salads and snacks. Additional offerings include donuts and pastries, freshly prepared breakfast and lunch sandwiches and an extensive beer cave featuring local and craft beers. Guests can also enjoy discounted items and limited time offers exclusively available through the brand's loyalty program, Twice Daily Rewards.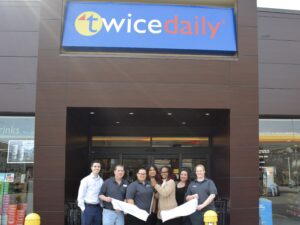 While the converted stores will be rebranded under the Twice Daily name, returning guests can expect the same teams and trusted guest service the brands are known for. Hostetter states, "The Sudden Service and Southern Traders families that people have grown to know and love will stay the same, just with a new, elevated storefront and expanded product offerings to enjoy."
Tri Star Energy, the parent company of Twice Daily, Sudden Service and Southern Traders convenience stores, acquired Tenn.-based Hollingsworth Oil and its convenience retail brand Sudden Service in July 2020. Tri Star Energy later acquired Abbeville, Alabama-based Herndon Oil Corporation and its retail brand Southern Traders in September 2021.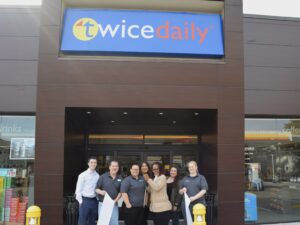 The store conversions will launch throughout Middle Tennessee with the expansions moving further south as Tri Star Energy prepares to convert its nine Dothan, Ala.-area Southern Traders convenience stores into updated Twice Daily locations. This will note the company's most significant expansion plans to date.
For more information and ongoing updates for Twice Daily, visit www.twicedaily.com and follow them on Facebook and Instagram.
About Tri Star Energy:
Nashville, Tenn.-based Tri Star Energy is one of the South's premier convenience retailers. Founded in 2000, the company owns and operates Twice Daily, Sudden Service and Southern Traders convenience stores and supplies fuel to wholesale trade channels in 17 states. The company also owns premium coffee brand White Bison Coffee, including locations throughout Middle Tennessee and North Alabama. Tri Star Energy has been recognized as one of Nashville's Top Workplaces by The Tennessean in 2018, 2019, 2020 and 2021, and was named one of the Top 25 Largest Private Companies in Nashville in 2021 by the Nashville Business Journal.
About Twice Daily:
Twice Daily is dedicated to delivering fast, friendly service, a fresh all-day menu and quality convenience products to busy people on the go. Locally owned and operated by Tri Star Energy, Twice Daily has been serving Middle Tennessee communities since 2011 and expanded to the North Alabama market in 2019.
###