Top Places to Shop for Antiques in Franklin & Williamson County, Tennessee
The Franklin and Williamson County community loves vintage and antique items, as you will find a wide range of shops lining downtown Franklin and beyond! Keep reading to learn more about our local antique scene – you may even discover your new favorite thing!
Learn more about local dining experiences, entertainment, shopping, and more at FranklinIs.com.
Located in downtown Franklin, City Farmhouse can be found inside of a historic home built in 1815. This local shop features curated antiques to decorate your home with! As you walk through the store, something is sure to catch your eye, whether it's a quirky trinket or a beautiful new centerpiece!
The Franklin Antique Mall is located in historic downtown Franklin and has repeatedly won the award for Best Antiques in Williamson County at The Sizzle Awards! This award-winning family business has been around for over 30 years, offering antique furniture, accessories, collectibles, and much more. Next time you find yourself browsing through downtown Franklin, stop by this breathtaking 12,000-square-foot antique mall! 
Scarlett Scales Antiques is located behind the Winchester Antique Mall in Franklin and carries a vast assortment of antiques! Whether you're in the market for antique furniture, signs, auto parts, or decorative items, you are sure to find some unique pieces at this shop! While their other Franklin location on West Main operates as a pop-up shop, you can shop at their Winchester location every day of the week!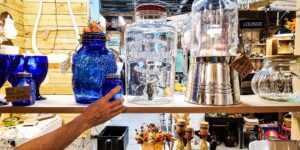 Landmark Booksellers is a bookstore on Franklin's Main Street that specializes in curating new, old, and rare books. This local gem carries over 35,000 books and over 2,000 collectables, with prices ranging from $10-10,000! Take some time to visit this local bookstore inside a historic antebellum home from 1808! 
Mercantile 1858 has two Williamson County locations in Arrington and Franklin. This locally-owned business sells a variety of vintage pieces including books, dishes, photos, pottery, and architectural salvage, and more! They even sell beauty products, clothing, decor, and accessories, among other things. Stop by one of their locations to search their handmade items and vintage pieces!
Nesbitt & Co. is located in a historic house in downtown Franklin and offers an eclectic assortment of antiques. With items from the 1800s through the 1940s as well as present day, there is so much history in this shop. Browse their 30s, 40s, and 50s inspired clothing articles or search their inventory of antique household items next time you're downtown!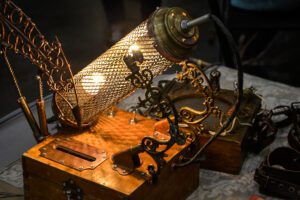 Found in the heart of Franklin, the Winchester Antique Mall is overflowing with unique antiques! Walk inside their store and you will encounter a plethora of items covering the walls, propped against tables, and even hung from the ceiling! While they specialize in European artifacts, you will also find a variety of styles including repurposed furniture, art, and statement pieces!
Props Antiques finds its home in Leipers Fork, less than half an hour outside of Franklin! This quaint shop can be found in a historic home and carries a variety of goods. Featuring antiques, furniture, and artisan goods as well as unique candies and trinkets, this is the perfect place to stop by after a day in Leipers Fork, Tennessee!
Rare Prints Gallery in downtown Franklin preserves, curates, and sells vintage prints, original maps, and other artifacts. Their prints include limited edition and handmade pieces dating back to the 1400s! If you're interested in experiencing preserved vintage prints in a historically preserved building, Rare Prints Gallery may be the place for you!
The Spring Hill Antique Mall is open 7 days a week and is filled with unique antique items. This store has taken an old gymnasium and dressed it from head to toe in antiques including fine china, furniture items, toys, books, and more! Stop by Spring Hill sometime and check out this gem in a gym!
Avec Moi can be found on downtown Franklin's Main Street and carries plenty of vintage items. It is known for being a great spot to purchase unique gifts for loved ones or even for yourself! Their specialty is vintage gifts and home accessories, so consider stopping by Avec Moi next time you're looking to add something new to your living space! 
Three French Hens in Arrington has everything you could want in an antique store. From decorated bookshelves and hand carved statues to intricate home decor items and fine china, you could spend hours just looking around at their acquisitions! This antique store restocks on a regular basis, so there is always something new to see!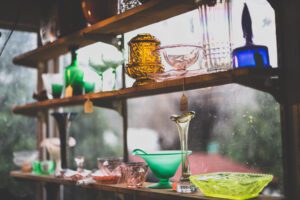 The Village Antiques & Gifts in Nolensville has quite the selection of antiques! While this shop specializes in sports memorabilia and furniture knobs, they also have a wide range of furniture, fine china, collectables, and more! If you're trying to find a gift for a sports fan, this would be the perfect place to look!
Old Towne Antiques can be found in Fairview and offers a variety of unique items. Whether you are shopping for antiques, collectables, handmade items, or one-of-a-kind creations, this antique mall is sure to have something for everyone! If you are ever in the mood for a treasure hunt, this is a great place to visit!
Looking for something fun to do this weekend? Shopping for antiques or curious about a
restaurant? Wanting to volunteer your time with a non-profit, or just stopping by
downtown Franklin, TN for the day? Access it all on FranklinIs.com. We encourage you
to browse through the Living, News, Entertainment, Family & Kids, Real Estate, Visit,
Resources and Events Calendar sections. There is something for everyone!
FranklinIs a website dedicated to all things Franklin, TN and Williamson County!
Supporting local non-profits, businesses, residents and visitors, FranklinIs the go-to
place for all your Franklin and Williamson County needs.