THE HERITAGE FOUNDATION'S PUMPKINFEST™ ANNOUNCES PRESENTING SPONSOR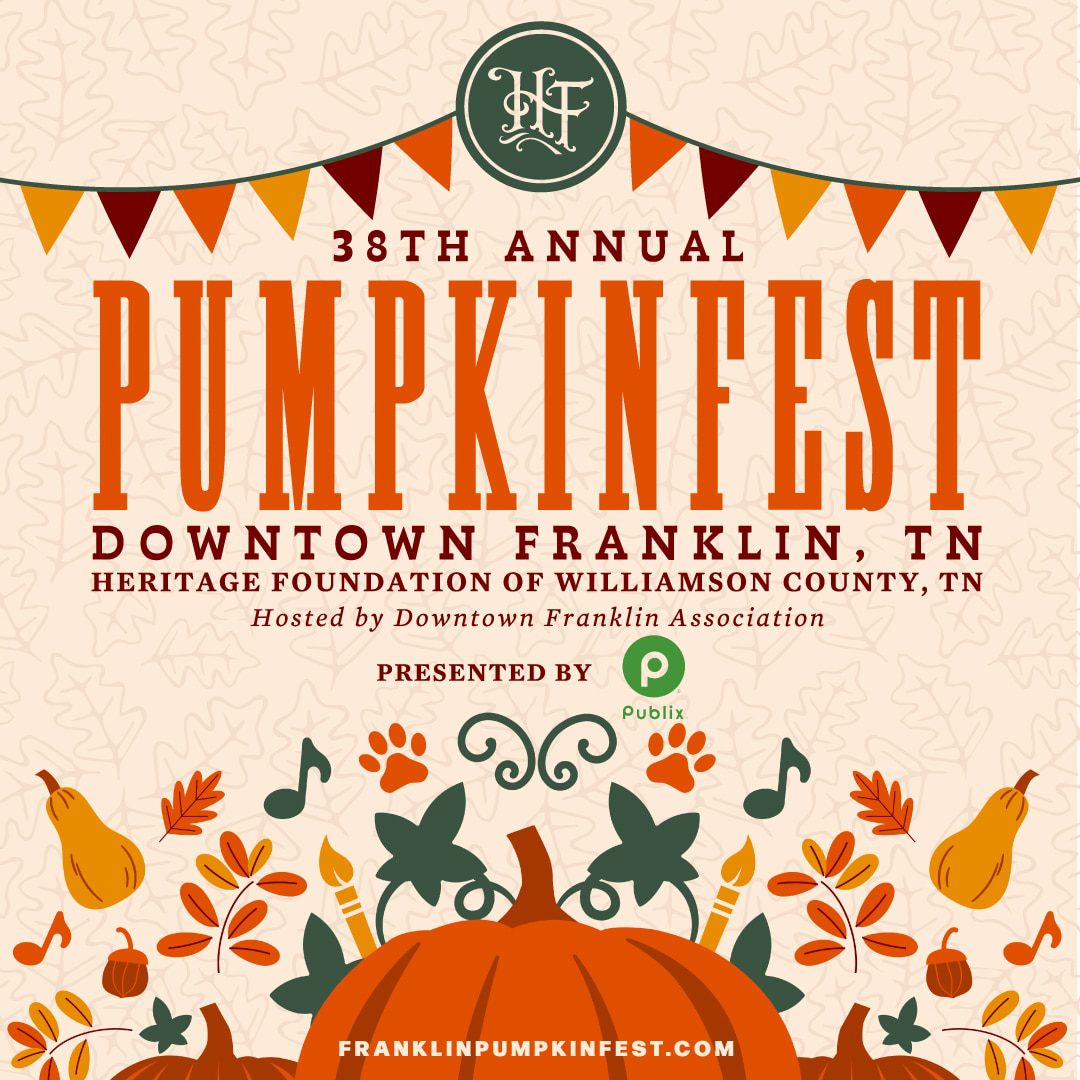 Publix Super Markets will sponsor the largest Fall festival in Middle Tennessee that draws more than 100,000 to Main Street District
FRANKLIN, Tenn. (September 26, 2023) – The Heritage Foundation of Williamson County, TN announces Publix Super Markets as the presenting sponsor of the 38th Annual PumpkinFest™ hosted by the Downtown Franklin Association. The signature event returns to downtown Franklin on Saturday, Oct. 28 from 10 a.m. – 6 p.m. As the largest fall festival in Middle Tennessee and attracting a record 112,000 attendees last year, PumpkinFest™ is open to visitors of all ages to Main Street, which annually produces more than $1.5 million dollars in local economic impact.
Publix, the largest employee-owned company in the U.S. with more than 250,000 associates, currently operates 1,350 stores across the Southeast, 58 of which are in Tennessee.
"Publix Super Markets is proud to be the presenting sponsor of the 38th Annual Pumpkinfest. At Publix we are committed to providing premier customer service and that commitment extends beyond our stores to community events like this one. For over 90 years Publix has believed in fostering strong ties and creating memorable experiences with our neighbors and that includes  Williamson County. Thanks for allowing us to be a part of your kickoff to fall!" said Michelle Mandley, Publix Regional Marketing Manager.
"PumpkinFest is one of the most highly anticipated events in Williamson County and is hosted by the Downtown Franklin Association, a division of the Heritage Foundation," said Heritage Foundation CEO Bari Beasley. "This family-friendly event helps support the local community and allows us to continue to protect and preserve Williamson County's historic, architectural and geographic resources. Community involvement has grown over the years, and the Heritage Foundation's three festivals continue to positively impact the region with the help from sponsors like Publix Super Markets."
PumpkinFest™ attracts families to enjoy a full day of autumn-inspired food and drink, children's activities, live music, costume contests for pets and families, outstanding arts and crafts and of course, our talented extreme pumpkin-carvers who always draw a crowd.
Additional PumpkinFest™ activities include:
140+ Arts and crafts vendors
30+ Food vendors and street food vendors
Live entertainment with Main Stage sponsored by School of Rock, Acoustic Stage sponsored by Lipscomb University, and Buskers Corner.
Kids Zone sponsored by Grace Chapel featuring carnival activities, inflatable games, and more!
Costume contests for pets and families at the PetZone presented by Petsense by Tractor Supply
Whiskey Lounge by Leiper's Fork Distillery & Beer Garden by Bavarian Bierhaus
The newly introduced Pumpkin Experience presented by Allied Global Marketing
The Franklin Theatre EndZone Football Lounge presented by Mercer Advisors
Costume Contest– presented by JacksonⓇ 
Clubhouse Golf of Tennessee's Mobile Golf Simulator
Autumn Alley presented by HG Hill Realty Company will have:

Old fashioned games
Guess the weight of the "Great Pumpkin"
Extreme pumpkin carving
Photo opportunities around the square
Additional Major Sponsors include: Williamson Health (EMS Sponsor), Craft Health Body Scan, Cumberland Pediatric Dentistry & Orthodontics, FirstBank, Fourth Capital, Guardian Garage, HisWay Roofing, Invigorate Health, Leaf Filter, Malinois Foundation, My 2nd Home Pet Resort, PARKS Real Estate, Power Home Remodel, Quinta Contractors, Renewal by Anderson, Simmons Ridge, Trimlight Nashville & Workout Anytime. For more information visit https://williamsonheritage.org/events/pumpkinfest/.
###
ABOUT THE HERITAGE FOUNDATION OF WILLIAMSON COUNTY 
Since 1967, the Heritage Foundation of Williamson County has been dedicated to preserving Williamson County's architectural, geographic and cultural heritage as well as promoting the ongoing revitalization of downtown Franklin in the context of historic preservation. Notable projects include The Franklin Theatre, Roper's Knob, parts of the Franklin battlefield and the Old, Old Jail. Events and festivals produced by the Heritage Foundation such as Main Street Festival, the Heritage Ball, PumpkinFest and Dickens of a Christmas bring an estimated 300,000+ locals and visitors to downtown Franklin each year that creates more than a $10 million dollar economic impact annually. The Heritage Foundation owns and operates The Franklin Theatre, Downtown Franklin Association, Franklin Grove Estate & Gardens, and its newest historic adaptive reuse project: The History & Culture Center of Williamson County. For more information about the Heritage Foundation, visit www.williamsonheritage.org.
ABOUT THE DOWNTOWN FRANKLIN ASSOCIATION
As a division of the Heritage Foundation of Williamson County, the Downtown Franklin Association is a nationally accredited Main Street America program, invested in supporting the promotion, economic vitality, organization (connection of stakeholders), and design of our special district.  The DFA supports the continued revitalization and purposeful evolution of downtown Franklin, in the context of historic preservation, by maintaining a diverse economic base, promoting a unique local shopping experience, fostering accessible and attractive public spaces, and forging partnerships across all sectors.
ABOUT PUBLIX
Publix, the largest employee-owned company in the U.S. with more than 250,000 associates, currently operates 1,350 stores in Florida, Georgia, Alabama, Tennessee, South Carolina, North Carolina and Virginia. For 26 consecutive years, the company has been recognized by Fortune as a great place to work. In addition, Publix's dedication to superior quality and customer service is recognized among the top in the grocery business. For more information, visit the company's newsroom at corporate.publix.com/newsroom.
Image credit: Kris Rae