The Franklin Theatre Announces New Group Experiences Packages
These experiences include teambuilding exercises, music instruction, and performance opportunities.
FRANKLIN, TN – The Franklin Theatre is excited to announce the launch of its new Group Experience Packages. Designed for local community, student, business or travel groups and tour operators alike, these Group Experience Packages offer several unique opportunities to enjoy The Historic Franklin Theatre.
Group Experience Packages at The Franklin Theatre incorporate local artists, nonprofit organizations, and educators to bring world-class lectures, workshops, and performances to its stage. Groups as small as 10 are welcome to participate. Whether you're stopping by to team-build, learn, or just be entertained, the instructors and staff endeavor to offer groups memorable performing arts experiences at The Franklin Theatre.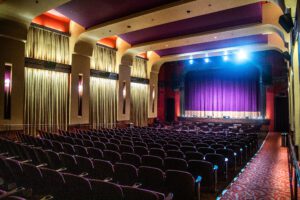 Group Experience Packages include:
Jazz On The Move
Presented by Nashville's top jazz artists and educators of the Nashville Jazz Workshop, this program offers world-class music and opportunities to learn more about the genre and its iconic artists. Each performance is led by an individual jazz artist intimately familiar with the jazz great being profiled with an outstanding group of supporting musicians. Groups may choose which artist is profiled through story and song, including Louis Armstrong, Miles Davis, Duke Ellington or Ella Fitzgerald.
Whose Teambuilding is it Anyway
Improv actor-teachers will create customized programs on any topic including the power of "yes, and," active listening, public speaking, presentations, team building, sales training, ice breakers, brainstorming, group mind, customer service and more. These sessions are high-energy and filled with instantly usable information with the goal that every team member walks out the door with stronger relationships and new skills.
Co-Write a Classic
Groups will work alongside one of Nashville's notable songwriters in this interactive co-writing program. Groups will compose original lyrics of their own and end the session with a performance of the new tune on the iconic Franklin Theatre stage.
Franklin Cinema in Action
Groups will work with a professional dance or music instructor to learn a dance or song from movies like "La La Land," "Grease," or "Singin' in the Rain" as well as watch the movie on the big screen. 
"Name in Lights" Student Showcase
Student performance groups can enjoy performing outside on Franklin's Main Street, under the Theatre's beautiful marquee with their name in lights. Following the performance, students will enjoy a behind-the-scenes tour of The Franklin Theatre.
Additional offerings include:
Behinds-The-Scenes Tour of The Franklin Theatre
Concessions and Bar Services
Group Dining
Bus Parking
For more information about Group Experience Packages at The Franklin Theatre, visit www.franklintheatre.com/grouppackages.
The Franklin Theatre is a division of the nonprofit Heritage Foundation of Williamson County, TN.
# # #
ABOUT THE FRANKLIN THEATRE
Following a complete restoration by the Heritage Foundation of Williamson County in 2011, the historic Franklin Theatre (Est. 1937), re-opened its doors as a state-of-the-art live music venue featuring performances by world-renowned artists. The theatre also honors its heritage by continuing to show movies. The Theatre's mission is to provide world-class, diverse performing arts experiences to residents and visitors alike and to be a platform for local philanthropic engagement and education, all delivered with unparalleled guest service. For more information about The Franklin Theatre, visit www.franklintheatre.com.
ABOUT THE HERITAGE FOUNDATION OF WILLIAMSON COUNTY
Since 1967, the Heritage Foundation of Williamson County has been dedicated to preserving Williamson County's architectural, geographic and cultural heritage as well as promoting the ongoing revitalization of downtown Franklin in the context of historic preservation. Notable projects include The Franklin Theatre, Roper's Knob, parts of the Franklin battlefield and the Old, Old Jail. Events and festivals produced by the Heritage Foundation such as Main Street Festival, the Heritage Ball, PumpkinFest and Dickens of a Christmas bring an estimated 300,000+ locals and visitors to downtown Franklin each year that creates more a $8 million dollar economic impact annually. The Heritage Foundation owns and operates The Franklin Theatre, Downtown Franklin Association, Franklin Grove Estate & Gardens, and its newest entity: The History & Culture Center of Williamson County. For more information about the Heritage Foundation, visit www.williamsonheritage.org.