The Factory at Franklin unveils Grand Hall bar, new dining partners leading to April 15 preview event
FRANKLIN, Tenn. (March 21, 2023) — The Factory at Franklin today unveiled details about its highly awaited Grand Hall bar concept and also announced new tenant partnerships with two iconic restaurants expanding to Williamson County for the very first time.
The Skylight bar will join its newest dining partners, etch and Hattie B's Hot Chicken, along with ten other restaurant tenants to host an exclusive "Sip & Sample" preview party on Saturday, April 15 from 6:00 to 9:00 p.m. A limited quantity of tickets are available for guests 21 and older to purchase at SipAndSample2023.eventbrite.com.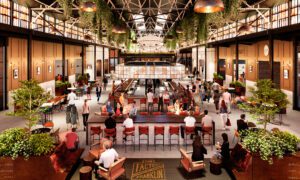 "The Factory is built on and belongs to the community, and we're thrilled to celebrate its progress with our neighbors and friends," said Allen Arender, partner and executive vice president of development at Holladay Properties.
"We're grateful for the opportunity to work with Chef Deb Paquette and her team at etch, to take part in the long-awaited expansion of Hattie B's to Franklin, and for every partnership involved with The Factory's next chapter as a local landmark," added Arender.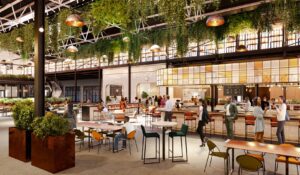 "We are excited to be a part of the reimagination of The Factory; after looking for the perfect spot to grow the etch footprint, we felt this was the right place, the right time, and the right community for us to expand," said Deb Paquette, chef and owner at etch. From the design, the tenants, the events and programming, everything about the new Factory is so creative, and we're looking forward to serving our creative cuisine to guests in Williamson County in the near future as well!"
"We chose The Factory for two reasons: we love the character and soul of the building, a determining factor for most Hattie B's locations, and Franklin is a special place for us," said Nick Bishop, Jr., co-founder of Hattie B's Hot Chicken. "We opened our first restaurant, Bishop's Meat & Three, in Cool Springs 15 years ago so we know and love the Franklin community, and we're honored to be a part of this exciting revitalization project."
The evening will feature eight handcrafted cocktails created by bar manager and local hospitality figure, Kristian Albarran, and more than two dozen small plates created exclusively for the event by the following restaurant partners:
Located in the campus's brand-new Grand Hall, The Skylight's inviting yet distinctly industrial design honors the structure's storied history and distinctive architecture. The bar's focal point—a patchwork ring of glass panes in hues of amber and vellum—reflects the nearly century-old patina of The Factory's original clerestory windows.
Other nods to the site's industrial past are found in The Skylight's signature cocktail list, including Quittin' Thyme, made with artisanal gin infused with its namesake herb, and the smoky, spirit-forward Potbelly made with a Scotch and rye whiskey base.
Built in 1929, The Factory played a significant role in helping Williamson County weather the Great Depression and build a vibrant local economy during the post-war era. Local developer Calvin Lehew purchased the complex in 1996 and reopened it as a mixed-use development.
Holladay Properties purchased the property in 2021 and quickly began major renovations to transform the 20-acre site into a reimagined community landmark offering first-class retail, dining, and live entertainment options.
Follow The Skylight on Instagram and Facebook for regular updates.
# # #
About Holladay Properties
Holladay Properties is a full-scale land development, design/build, and fully integrated real estate company, as well as one of the largest medical office management firms in the country with over 30 offices throughout the eastern half of the United States. Holladay has developed over 20 million square feet of commercial space valued at over $2 billion, and actively manages more than 10.6 million square feet of office, industrial, retail, multi-family, hotel, and healthcare space. To find out more, visit holladayproperties.com.