TENNESSEE RECYCLING COALITION ANNOUNCES 2023 RECYCLER OF THE YEAR AWARDS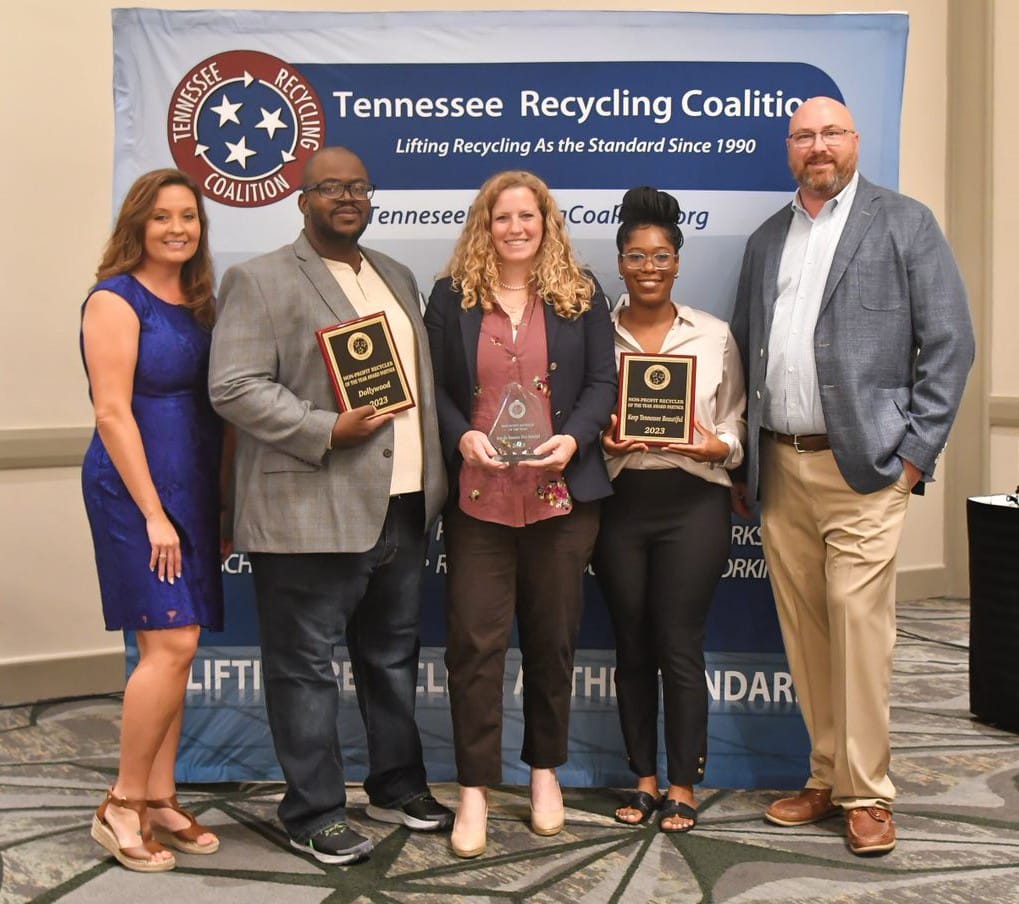 From left TRC Executive Director Amber Greene, Edmond McDavis III (accepting for Dollywood), KTNRB Executive Director Kathleen Gibi, KTnB's Monica Kizer, and TRC President Lincoln Young.
NASHVILLE, Tenn. – The Tennessee Recycling Coalition is pleased to announce the 2023 Recycler of the Year Awards, a program that recognizes individuals, organizations, and businesses in Tennessee that have demonstrated a commitment and outstanding achievement to waste prevention and recycling.
Lincoln Young, president of TRC, announced the 2023 awards during closing ceremonies of a three-day learning and networking conference. The event was a joint event organized by TRC and the TN Chamber of Commerce and Industry, and held at Gatlinburg's Park Vista Hotel.
The award for Nonprofit Recycler of the Year was presented to Keep TN River Beautiful, Dollywood, and Keep TN Beautiful for their massive cigarette litter prevention project. This campaign resulted in Dollywood being the first theme park in the world to recycle the plastic from every cigarette butt collected on its property. The cigarette butts collected are shipped to TerraCycle for the plastic microfibers found in cigarette filters to be recycled into outdoor plastic furniture.
Recycle Aerosol, located in Bells, Tenn., was awarded the Business Recycler of the Year. The company has been in the B2B recycling business since 1989.
In 2021, RA created a new strategic partnership for ongoing production of high purity aluminum scrap going back into aluminum aerosol production. In 2023, RA developed a smelting process which will allow it to produce high purity aluminum ingots in Bells for return to manufacturers to produce more aluminum aerosol cans, creating closed loop recycling.
Blount County Highway Department received the Government Recycler of the Year after facilitating the placement of a glass pulverizer in Maryville, allowing the East TN community to become one of the few places in Tennessee outside the larger metropolitan areas to be able to recycle glass. The facility opened in 2022 and has received multiple awards since opening. Residents can recycle glass and do not have to sort it by color or remove labels.
Bill Anderson, Solid Waste Director in Franklin County, was named TN Top Leader for 2023. Last year the Franklin County Solid Waste Department recycled and diverted over six thousand tons of material from landfills in TN. For the last two years the Department has been cost neutral on landfill material and recycling / diversion savings at a total of $650,000. Anderson operates one of the biggest wood waste operations in southeast TN. He operates a $3.2mm annual budget with 20 sites, a small fleet of commercial trucks and 45 employees.
Larry Wright, director of the Resource Authority of Sumner County, received the Tom Hattle Memorial Award.  Larry joined the Resource Authority in 1984, working his way up to director in 2001. Larry is retiring this fall after serving 42 years at RASCO. During his many years of service Larry has been involved in starting, stopping, and developing waste and recycling programs in his community which include the recycling of wood, tires, transfer stations, MRF, convenience centers, and a host of other duties as the Solid Waste director.
To learn more about TRC and the 2023 Award-recipients, visit TRC.
###