Studio Tenn Sets the Stage for Historic Opening Night at Turner Theater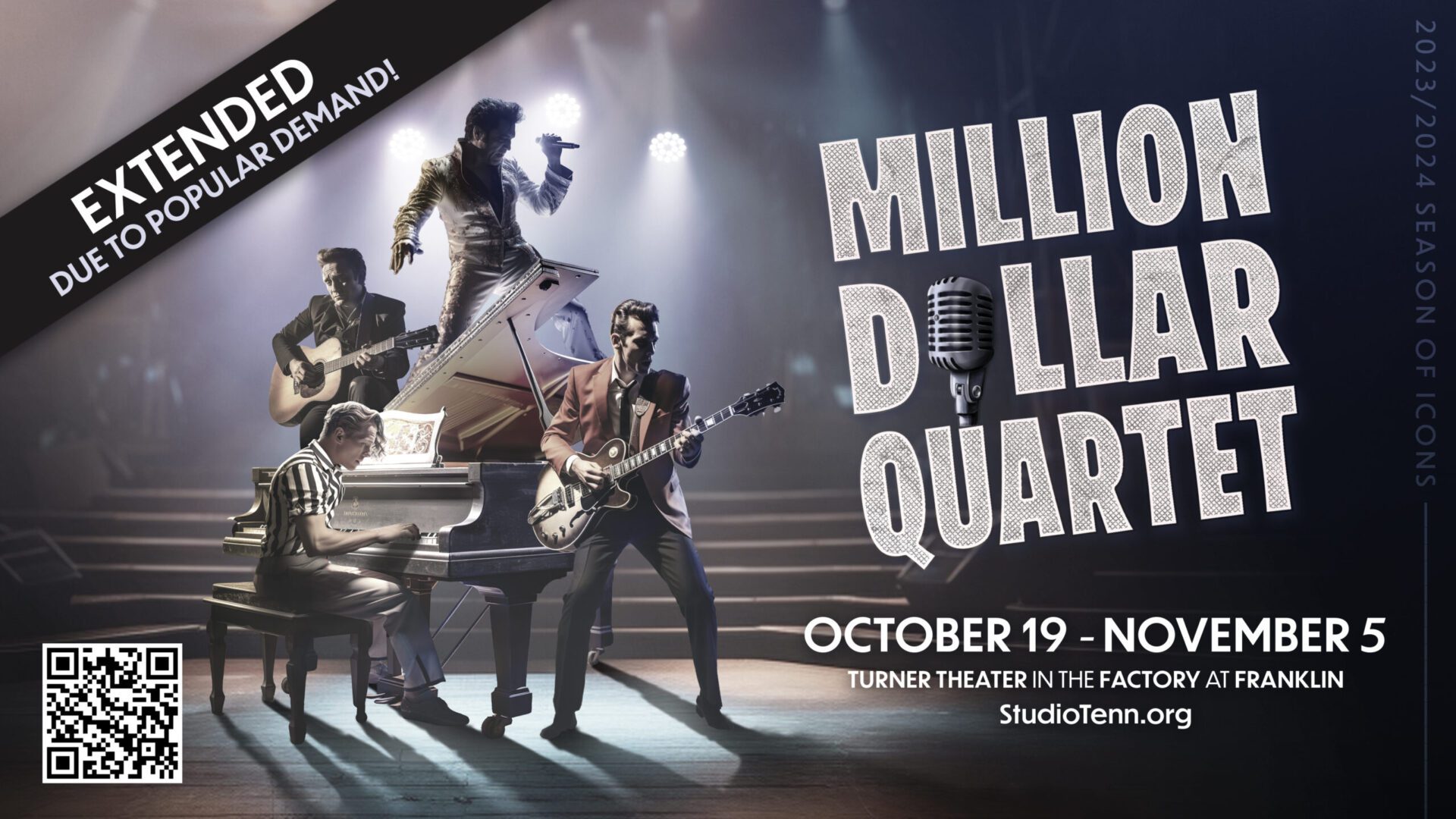 Sold-Out Crowd Expected for Inaugural Performance at The Factory at Franklin
FRANKLIN, TENN. – Studio Tenn will usher in a long-awaited chapter as it rolls out the red carpet for its inaugural production at Turner Theater – its new performance home at the Factory at Franklin – at 7:00 p.m. on October 19, 2023.
The music of Elvis, Johnny Cash, Jerry Lee Lewis, and Carl Perkins will fill the newly constructed theater as Million Dollar Quartet begins its three-week run with a sold-out performance to open the organization's 14th season.
The grand opening of Turner Theater – a multi-million dollar, 319-seat performance venue named in honor of Studio Tenn supporter Cal Turner – is a tangible representation of the groundswell of support the theatre company has received in Middle Tennessee and beyond.
"Turner Theater is a love letter to our neighbors and partners who have joined hands with us over the years to make this vision a reality," said Tony McAlister, chairman of Studio Tenn's board of directors. "Opening night is the culmination of more than a decade of hard work and dedication, and we are thrilled to welcome community members to a theater built for them as we launch a new era for the arts in Middle Tennessee."
The theater is a product of Studio Tenn's "Make.Believe." capital campaign, which continues to raise funds towards its goal of $3.5 million to support the organization in bringing world-class productions and artists to Middle Tennessee while also educating the next generation to create and delight in the experience of live theatre.
Located adjacent to the Grand Hall and Mojo's Tacos, Turner Theater's unveiling comes as The Factory undergoes significant enhancements to further its reputation as a place for community members to gather.
"The grand opening will be a watershed moment in Franklin's arts culture, and we're eager to help raise the curtain on Studio Tenn's new home at Turner Theater — a singular venue that's already emerged as a touchstone for the performing arts in Middle Tennessee," said Allen Arender, Partner & Senior Vice President of Development for Holladay Properties. "As a community-centered landmark, The Factory is an ideal setting for the shared experiences of live theater. We look forward to joining our friends at Studio Tenn for the first of many memorable performances here at The Factory at Franklin."
Turner Theater's first day of operations at The Factory will begin with a ribbon-cutting ceremony at 11:00 a.m. in partnership with Williamson, Inc. The community is invited to witness the moment the former Jamison Theater space becomes a mainstay for the arts in Middle Tennessee. Guests will be able to tour the theater following the ribbon-cutting ceremony.
Ahead of curtains rising, Studio Tenn will host a celebratory reception for opening night ticket holders and media at 5:30 p.m. inside Turner Theater's grand lobby. A special Elvis-themed cocktail will be available for purchase at the Skylight Bar in The Factory's Grand Hall, and opening night ticket holders can even skip the refreshment line during intermission by pre-ordering their beverage selections from The Skylight online.
A pianist will serenade ticket holders down the red carpet as they enter LeHew Lobby, named in honor of Studio Tenn supporters Marilyn and Calvin LeHew. Champagne and hors d'oeuvres will be served to top off the celebration as the doors open to the show at 6:30 p.m.
As the lights dim, ticket holders will be treated to a magical retelling of a real-life moment in music history as "Million Dollar Quartet" takes the stage. On December 4, 1956, Elvis Presley, Johnny Cash, Jerry Lee Lewis, and Carl Perkins gathered for one night to play and sing. A reporter who was there wrote, "This quartet could sell a million." Consequently, they were dubbed the Million Dollar Quartet.
With performances of 20 chart-topping hits like "Blue Suede Shoes," "Great Balls of Fire," "I Walk the Line" and "Hound Dog," audience members will step inside the greatest jam session ever recorded.
Individual tickets for "Million Dollar Quartet" – which runs through November 5 – are now on sale. Season ticket packages for Studio Tenn's historic season at Turner Theater remain available in limited quantities. Visit studiotenn.org or call (615) 541-8200 for more details.
ABOUT THE STUDIO TENN THEATRE COMPANY: Studio Tenn Theatre Company is a professional regional theatre company and a 501(c)3 nonprofit organization based in Middle Tennessee that exists to captivate and inspire with Broadway-quality musicals, plays, and concerts while educating the next generation to create and delight in the experience of live theatre. Learn more at studiotenn.org or by searching for Studio Tenn on Instagram and Facebook.
ABOUT THE FACTORY AT FRANKLIN: Built in 1929, The Factory at Franklin served its surrounding community as a manufacturing hub before transforming into a vibrant mixed dining, retail, and entertainment center. Located just 20 miles south of Nashville in the picturesque city of Franklin, Tennessee, The Factory spans a historic 20-acre campus featuring dozens of locally owned shops, restaurants, and art venues alongside a variety of event spaces available for weddings, conferences, and more. The Factory was added to the National Register of Historic Places in 1997 and has been owned and operated by Holladay Properties since 2021. Plan your visit online at factoryatfranklin.com.