STUDIO TENN PRESENTS THEIR ONE NIGHT ONLY ANNUAL EVENT OCT. 19; Now In Its Sixth Year, 2018's Gala Will Honor Matt Logan
10 October 2018 – Nashville, TN – Jason Bradshaw and Bob Deal will chair Studio Tenn's highly anticipated annual fundraiser, ONE NIGHT ONLY on Friday, October 19th. Now in its sixth year, for the first time the event moves from Franklin, TN to Nashville and will be held at the historic War Memorial Auditorium.
This year's event features a cinematic red carpet theme where guests will experience an unbelievable night of live entertainment, food, drinks and an unparalleled auction. Funds raised will support Studio Tenn, now in its ninth season as middle Tennessee's own world-class professional theater company. Bradshaw and Deal recently served on the auction party committee for this year's Swan Ball Auction Party and previously co-chaired several successful, sold-out galas for Tennessee Performing Arts Center and Dueling Cocktails for Belmont University. Lynne McAlister and Milton White are to co-chair this year's auction committee, while long-time supporters Ellen Martin, along with Linda and Ken Moore, will serve as Honorary Chairs.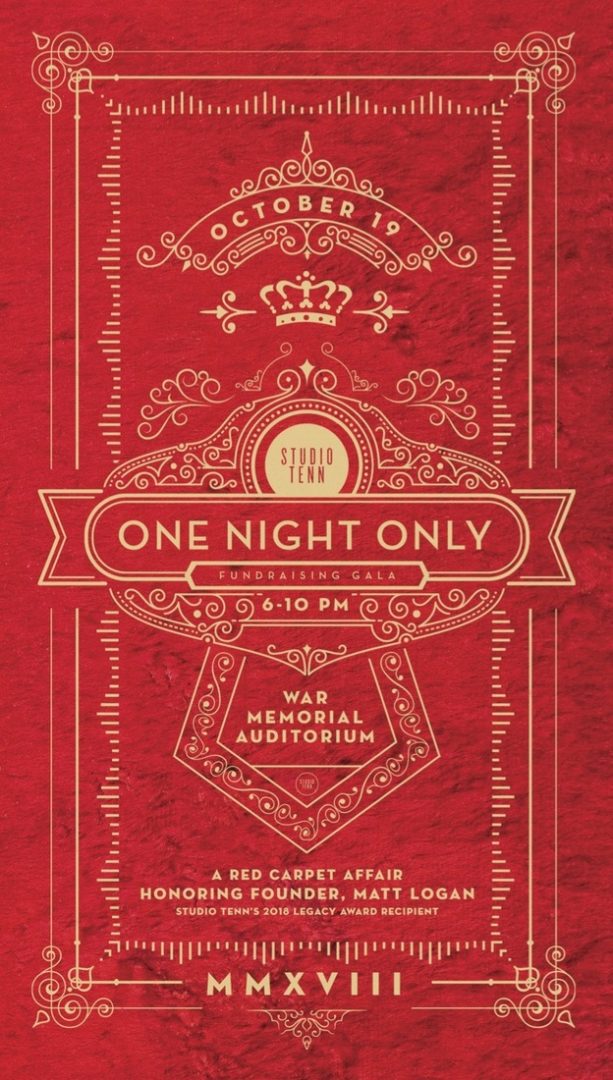 artwork courtesy of MA2LA
Additionally, ONE NIGHT ONLY will celebrate Studio Tenn co-founder and Artistic Director Matt Logan. The evening will highlight Logan's years of vision, talent, and leadership as he departs the theater company by presenting him with the Studio Tenn Legacy Award.

"I've accomplished everything I had hoped and dreamed of doing with Studio Tenn," Mr. Logan said. "With this incredible team, including the Studio Tenn staff, Board of Directors, generous donors and audience, I feel we have done the impossible. Over the past nine years, we built an award-winning professional theatre company of the highest-quality and created nationally-recognized performances."
Including an all-star lineup of amazing talent that will travel far and wide to celebrate Logan's legacy and Studio Tenn, audiences will revel in the talents of names like Broadway star Eden Espinosa, American Idol legends Matt Giraud, Diana Degarmo and Ace Young, along with an outstanding array of local and non-local talent.
Studio Tenn's Managing Director, Todd Morgan, said, "The Studio Tenn Legacy Award has been created to honor a visionary of theatrical work in our industry. Our inaugural recipient and company founder, Matt Logan, exemplifies that persona and we are eternally grateful to him for creating and nurturing this company to where we are today. The body of work Matt crafted at Studio Tenn is a true reflection of his unique talents as a multi-faceted artist. I hope that all of our friends and family in the Arts community will join me at this year's 'One Night Only' as we celebrate the past and future of Studio Tenn."
ONE NIGHT ONLY has won several NFocus Nashville's Best Parties awards including "Most Fun Party," "Best Auction Item," "Best Entertainment" in 2017 as well as "Best Entertainment" and "Best Reminder of Nashville's Talent" in 2016. It has been hailed as the most highly anticipated social and philanthropic events of the season.
Tickets for Studio Tenn's One Night Only can be found at studiotenn.com or by calling (615) 541-8200.
ABOUT STUDIO TENN: Delivering world-class theatre to middle Tennessee, Studio Tenn has served a regional audience of more than 100,000 patrons and has provided 16,000 students and underserved families the opportunity to experience live theatre through education and community outreach initiatives. Studio Tenn has also been listed four times as one of the top five highest attended performing arts organizations in Middle Tennessee, and voted four times as the "Best Local Theatre Company" in the region by the readers of the Nashville Scene. Studio Tenn also marked a milestone as the only local theatre company to be invited by Tennessee Performing Arts Center (TPAC) in its 34-year history to produce "Evita" for the opening of their long-standing HCA/TriStar Health Broadway Series.