Studio Tenn Announces Sold Out Performance of "Million Dollar Quartet" for Opening Night of Turner Theater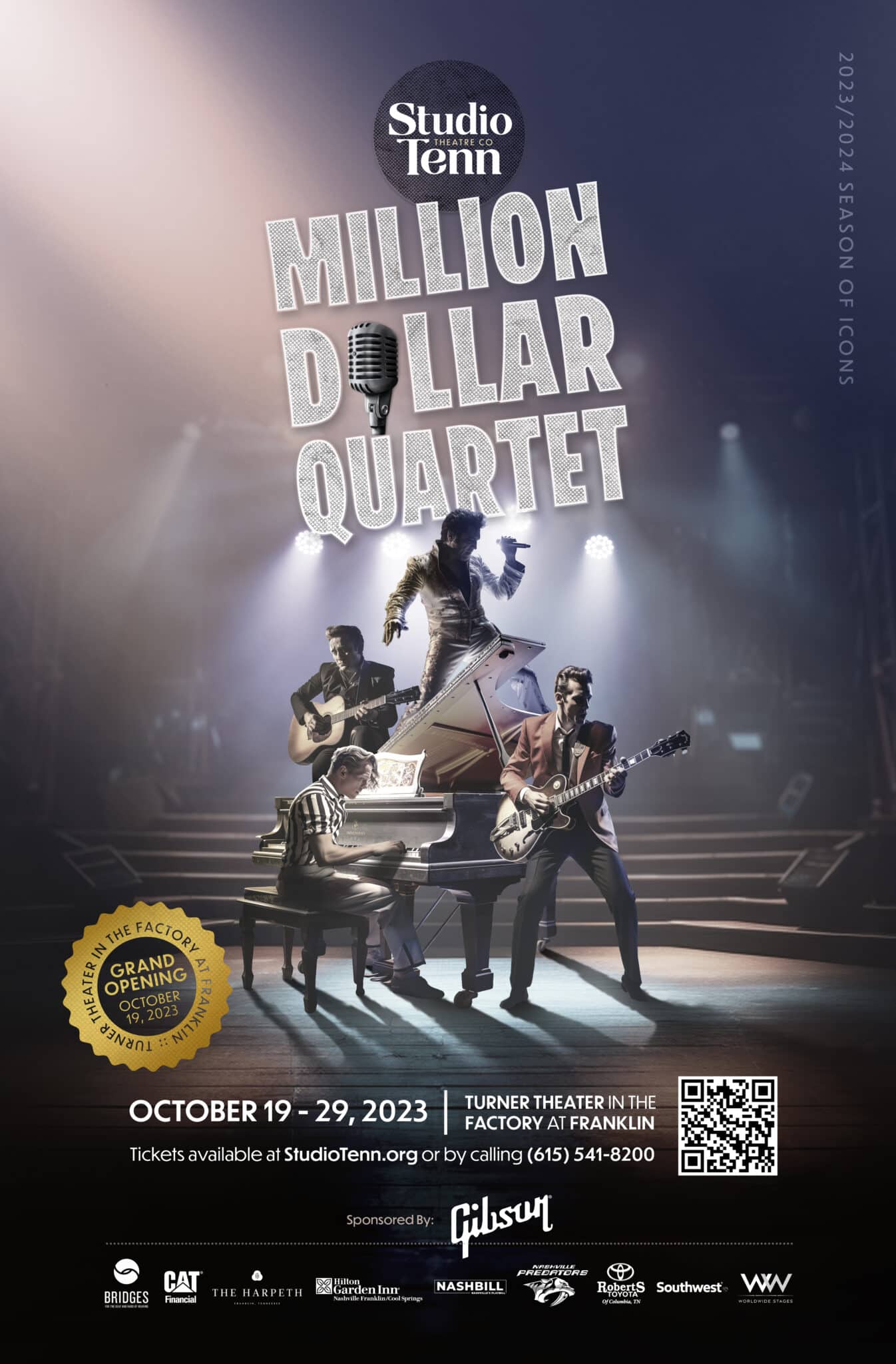 Tickets for Theatre Company's Debut Production at New Theater Home Now On Sale
FRANKLIN, TENN. – The curtain rises on Studio Tenn's inaugural season at Turner Theater – its new and permanent performance home at The Factory at Franklin – with a sold-out performance of "Million Dollar Quartet" on October 19, 2023. Individual tickets for the highly anticipated musical production – set to run through October 29, 2023 – are now on sale.
"Million Dollar Quartet" opens the theatre company's 14th season with an electrifying retelling of a real-life moment in music history. On December 4, 1956, Elvis Presley, Johnny Cash, Jerry Lee Lewis, and Carl Perkins gathered for one night to play and sing. A reporter who was there wrote, "This quartet could sell a million." Consequently, they were dubbed the Million Dollar Quartet. This was their only collaborative performance, a cultural flashpoint that caught rock 'n' roll at the moment of creation.
The grand opening of Turner Theater, a multi-million dollar project named in honor of local philanthropist and longtime Studio Tenn supporter Cal Turner, marks the first time in the organization's 14-year history that all of a season's performances will take place in one location.
The theater – located adjacent to the Grand Hall and Mojo's Tacos in The Factory – will seat 319 patrons. It includes a prominent box office, a spacious lobby named in honor of Studio Tenn supporters Calvin and Marilyn LeHew,  dressing rooms, gathering areas and a balcony.
"Million Dollar Quartet" will be the first production to grace the theater's stage. Audiences will see award-winning actors reprise their roles as four musical icons: Elvis Presley, Jerry Lee Lewis, Johnny Cash and Carl Perkins.
Larry Cole ("Cole") is a Broadway World "Best Actor in A Musical" winner for his portrayal of Elvis in "Million Dollar Quartet." Cole portrayed the iconic crooner during a four-year run at Harrah's Casino followed by productions across the country. A recording artist and songwriter in his own right, Cole is a member of the International Rockabilly Hall of Fame.
Jefferson McDonald, a three-time Broadway World Award winner and recipient of the Cincy Beat Award for Best Musical-Actor, will step back into the role of legendary pianist, singer, and songwriter Jerry Lee Lewis. Jefferson performs with big bands across the country with his fresh arrangements of rock 'n' roll classics.
Christopher J. Essex will star as Johnny Cash, a role he performed for nearly two years in more than 20 countries. A country music artist and songwriter, his music has been featured in "Taste of Country," "Entertainment Tonight" and "Medium."
Christopher Wren has portrayed Carl Perkins in 11 previous productions, including the 2015-2016 North American tour. Christopher has originated roles in several off-Broadway new works and was a resident company member of the interactive theatre company Playing With Reality. When not on the theatrical stage, Wren can be found on the concert stage performing with rockabilly tribute acts.
Moot Davis will portray legendary music producer Sam Phillips, who serves as the show's narrator. A recording artist and songwriter, Davis has over 26 song placements in film and television, including "Crash," "The Dukes of Hazzard," "Nashville" and most recently HBO's "Doom Patrol."
With performances of 20 chart-topping hits like "Blue Suede Shoes," "Great Balls of Fire," "I Walk the Line" and "Hound Dog," audience members are invited to step inside the greatest jam session ever recorded with four of music's most iconic names doing what they loved most: expressing life's joy and sadness through song.
Individual tickets for "Million Dollar Quartet" and season ticket packages for Studio Tenn's historic 14th season at Turner Theater are now on sale. Student, military, and educator discounts are available. Visit studiotenn.org or call (615) 541-8200 for more details.
ABOUT THE STUDIO TENN THEATRE COMPANY: Studio Tenn Theatre Company is a professional regional theatre company and a 501(c)3 nonprofit organization based in Middle Tennessee that exists to captivate and inspire with Broadway-quality musicals, plays, and concerts while educating the next generation to create and delight in the experience of live theatre. Learn more at studiotenn.org or by searching for Studio Tenn on Instagram and Facebook.
###