State-of-the-Art Fitness Studio to Open Second Location in Hill Center Brentwood
Manduu Revolutionized Exercise through Electrical Muscle Stimulation (EMS) Technology
BRENTWOOD, Tennessee – When Manduu opened its first Nashville-area location last July, few people in America were familiar with the concept of electrical muscle stimulation (EMS), an ultra-low-impact strength fitness program that compresses a comprehensive, full-body workout into just 15 minutes. Now the demand at the Cool Springs location has prompted owner Jason Ritzen to open a second studio, in Hill Center Brentwood.
"Manduu has attracted a lot of attention because it leverages technology to provide a highly efficient and effective weekly fitness option for people at different stages of life," Ritzen says. "On any given day, our trainers may be tailoring programs for professional athletes and for people who haven't exercised in years, and are simply focused on regaining their health. We believe this will soon become the way everyone exercises, because it delivers muscle toning and growth results that otherwise might not be possible."
Manduu takes advantage of EMS technology that has been used in orthopedic rehabilitation and other medical applications for years. Low-voltage electrical pulses not only stimulate healing, but they can activate muscle fibers not typically engaged during normal exercise, and boost fat-burning metabolism. Manduu's FDA-certified trainers work privately with clients to customize a workout routine of basic movements enhanced by small electrical pulses that reach deep into more than 90 percent of the fibers within over 80 percent body's muscles – as much as 50 percent more effective than typical exercise.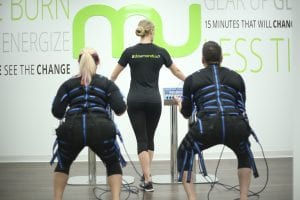 Even more impressive: a 15-minute session can replace six to eight hours of time spent in a traditional gym, and progress is tracked and analyzed through a state-of-the-art precision body composition scan prior to each session. Clients and trainers review key metrics ranging from overall body fat and skeletal muscle mass to hydration, basal metabolic rate and the critically important visceral fat that surrounds organs and can cause serious health problems.
From beginner to advanced, most anyone can participate. More than 50 million EMS sessions were logged in Europe as of 2018, and Ritzen expects to see similar utilization in the U.S. in the near future.
"What we've learned is that all of the things we hate about the gym or high-impact exercise can be eliminated, while achieving better results," Ritzen says. "Manduu is quick, it's discreet, and the data takes the guesswork out of determining what works. Our trainers are passionate about educating clients on their health and fitness, and developing programs to achieve individual goals.
"So often people end up hurting themselves at the gym, and Manduu is specifically designed to avoid that hard impact on joints, ligaments and tendons. You will sweat, and your muscles will be sore, but all of the fear and negativity around the outdated 'caveman style' workout and the latest box-gym trend is eliminated. Strength conditioning is a science, and knowledge is everything.
"We welcome Manduu to Hill Center Brentwood," said H.G. Hill Realty Company Chairman and CEO Jimmy Granbery. "Their innovative concept expands the center's health and wellness offerings and provides another fitness option to the center's employees and to the Brentwood community."
Manduu's Brentwood, TN studio is set to open on April 4, and both locations offer sessions seven days a week, from early mornings through evenings. New clients are encouraged to try Manduu at no cost, and ongoing sessions can be booked for as little as $39 each. To learn more or to schedule a complimentary introductory appointment, go to Manduu.com to register or call (615) 716-2404.
About Manduu America
The Manduu studio was developed in Austria and today the company operates nearly 100 studios between Austria and Germany. Electrical muscle stimulation (EMS) training was approved by the U.S. Food & Drug Administration for non-medical use in 2014. Manduu uses the only FDA-cleared EMS device approved for commercial use, and all Manduu personal trainers maintain FDA-level certifications. More than 1,700 EMS systems are currently operating in Europe, comprising 20% of the fitness industry in Austria and Germany alone. Manduu studios are now located in the Miami, Santa Monica and Nashville metropolitan areas, with more scheduled to open across America in 2018. For more information, visit Manduu.com.
For more than 30 years, Hill Center Brentwood has been a Williamson County shopping destination, offering a mix of local and national retailers including The Fresh Market, The Puffy Muffin, Hot Pink, Pear Tree Avenue, REI, Starbucks, Chipotle and more. H.G. Hill Realty Company, a family-owned company for six generations, added to the property's footprint with a $211 million mixed-use development spanning 17-acres at the intersection of Franklin Road and Maryland Way. As the company's largest project in its 120-year history, the development will consist of 600,000 square feet of office, retail, and restaurant space in 10 buildings once fully developed. Restaurants and retail stores currently open at the expanded center include Del Frisco's Grille, Holler & Dash, Nama Sushi, Uncle Julio's, Alumni Hall, Core Power Yoga, The Cosmetic Market, Dress Up, Francesca's, Sur La Table and more. The mix of restaurants, shops, office and amenities create a true town center for the city of Brentwood as well as a sense of place to be enjoyed by the entire community. Visit hillcenterbrentwood.com for tenant and leasing information.
###