Smart preparation, smart future
Franklin Tomorrow is a non-profit civic and citizen participation initiative, that began in early 2000 in response to concern by citizens, business leaders, preservation groups and local government officials who wanted to maintain the charm, cultural history, landscape and unique attributes of Franklin in the face of tremendous growth and development.
These leaders organized themselves into a board of directors and invited the Franklin community to participate in shaping Franklin's future. Members of the community were selected to guide the visioning process. These volunteers assisted in holding seven public idea gathering meetings to work in small groups brainstorming to identify Franklin's attributes. Priority areas identified include: Business, Community Character, Education, Environment, Housing, Government, Growth and Development, Recreation and Transportation.
Through a community summit, vision fair, and focused workshops, these areas were fine-tuned into goals with prioritized strategies. Several hundred Franklin residents participated in this broad-based planning process that provided the board of directors with a plan for shaping Franklin across the next 20 years. These goals and strategies were updated by the community in 2005. Franklin Tomorrow strives to represent the people of Franklin and invites all members of the community to be involved.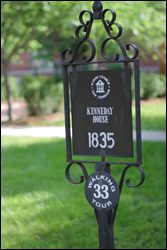 Community Character Task Force
Chairpersons: Mary Mills, Darlene Morton
Current task: Natchez Street task force
Accomplishments: currently underway
Chairpersons: TBA
Current task: e-government task force
Accomplishments: currently underway
Chairpersons: Bo Butler, Fred Reynolds
Current task: open space preservation task force
Accomplishments: currently underway
Growth and Development Task Force
Chairpersons: Bob Bolen, Howard Nixon
Current task: working to identify next goal
Accomplishments: published a Green Building Report to the City of Franklin and Williamson County
Business Task Force
Chairpersons: Scott Black, Ed Cagle
Current task: working to identify next goal
Accomplishments: published a report containing detailed information regarding Columbia Avenue between 5 points and the County Library

Education Task Force
Chairpersons: Cherry Clark
Current task: parent information resource center
Accomplishments: currently underway
Chairpersons: Doug Langston, Jeff Bivins
Current task: working to identify next goal
Accomplishments: published the Housing Report on report regarding affordable/moderately priced housing

Recreation Task Force
Chairpersons: Matt Ligon
Current task: working to identify next goal
Accomplishments: currently underway
Chairpersons: TBA
Current task: working to identify next goal
Accomplishments: currently underway
CONTACT:
PO Box 383
Franklin, Tennessee 37065-0383
Phone: 615-794-0998
Fax: 615-790-4077
contact@franklintomorrow.org