Sights Unseen Tour
Update: A record 828 bikers participated in the 11th Annual Harpeth River Ride.
The 11th Annual Harpeth River Ride, sponsored by the Harpeth Bike Club, will be held Saturday, June 23rd. Included in this year's event will be special guest Samantha Gilley, a blind, nine time cancer survivor who plans to ride across the state in October to raise money for St. Jude Children's Hospital in Memphis.
The Harpeth River Ride will start at 7:30am from the Thompson Station Church at 2604 Thompson Station Road (just off US-31 south, outside of the Franklin city limits). Routes will include 24, 42, 62 or 100 mile options and will meander through the many shaded and scenic back roads in Middle Tennessee. Visit www.harpethbikeclub.com for more information.
Samantha Gilley, the ride's special guest, was diagnosed with bilateral retinoblastoma at only 6-weeks of age. At that time she was given less than a 10% chance of reaching her first birthday. But, Samantha has proven the doctors wrong and now she has set her sights on a bigger goal: Giving back to the hospital that has given her life. She calls it the "Sights Unseen" tour.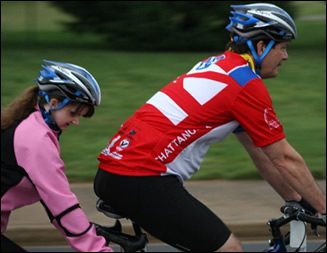 In October, Samantha, and a sighted co-pilot, will begin the journey to Memphis on a tandem bicycle. Heading north from Chattanooga, the planned route goes over Monteagle Mountain to Nashville and then west to Memphis. Each day, a new co-pilot will take over, but Samantha will ride the 'stoker' position all the way to the end, the front door of St. Jude. Actual depart dates are being worked out now and will depend mainly on Samantha's endurance, however her arrival in Memphis is slated to be October 12, the date of St. Jude's "Survivor Weekend," an annual celebration held by the hospital.
A web site has been set up to at samsride.org. It features a more extensive biography, pictures, blog and soon will contain video clips of Samantha riding and training for her trip.