Romantic Things to do in Downtown Franklin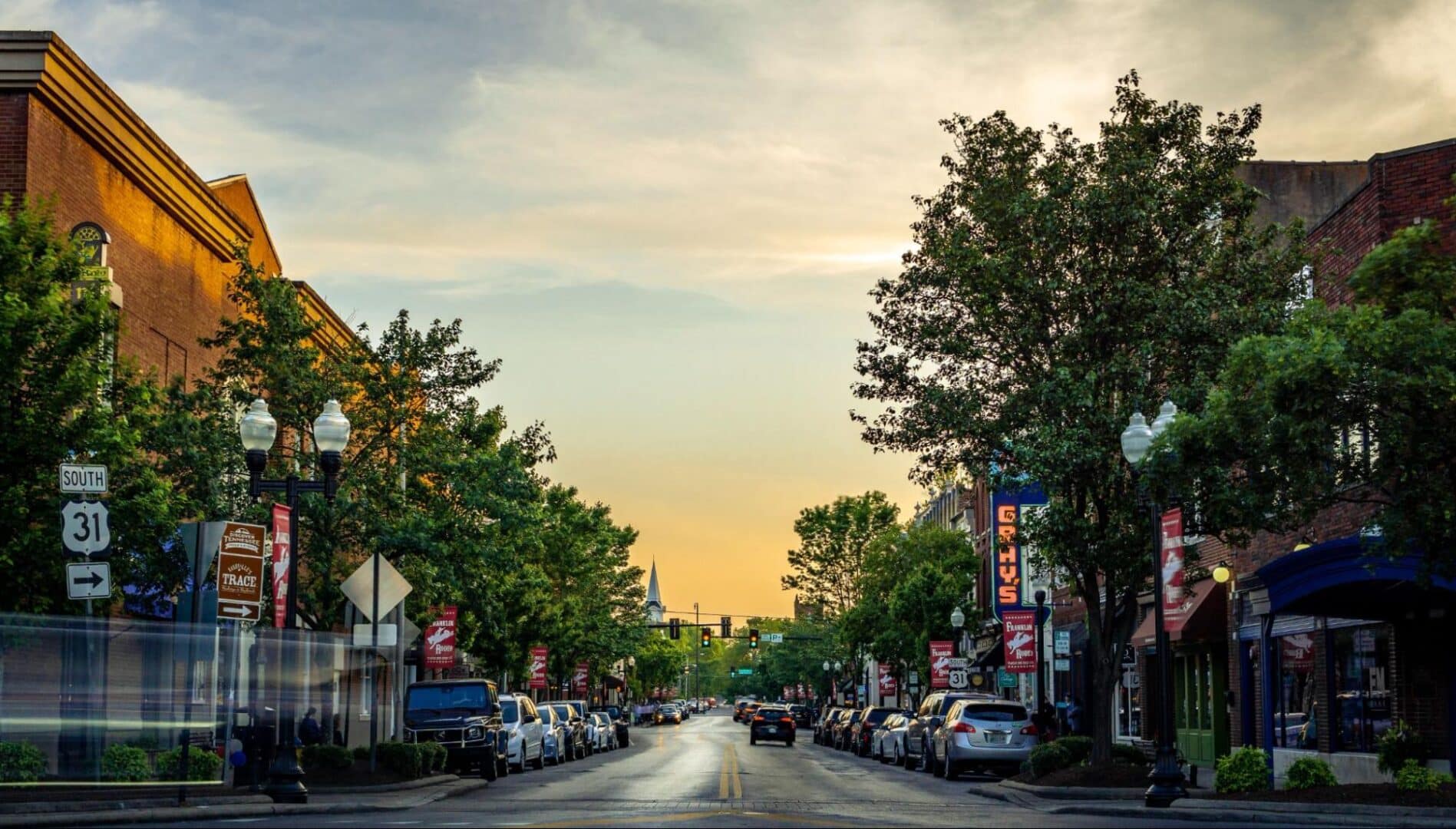 Whether this is your first time meeting one another or you've been together for fifty years — Franklin, Tennessee has some of the best romantic date night spots in Middle Tennessee.
If you've been looking for a new adventure to go on with your significant other, then you've come to the right place. 
With a plethora of local restaurants, bars, live entertainment, and other exciting attractions, Franklin, TN is one of the perfect places to take your romantic interest. With a wide variety of romantic options, you won't have to worry about setting the mood.
Here are some of the most romantic things to do in Franklin, Tennessee:
The Franklin Theatre

Wine Down Main Street

Dining

The Factory at Franklin

Franklin on Foot

The Carter House

Lotz House

Arrington Vineyards

JJ's Wine Bar

Pull-Tight Players Theatre

Stonebridge Art Gallery

Pedego Electric Bikes

Leiper's Fork

Leiper's Fork Distillery
The Franklin Theatre, located on Main Street in Downtown Franklin, first opened their doors in 1937. A hub for live theatre, dance performances, music performances, movies and more, this local theatre has become a Main Street icon. If you're in the mood for a movie date night that speaks to the history of our town, then The Franklin Theatre is your spot to go! Enjoy a night on the town with your partner at The Franklin Theatre.
Wine Down Main Street takes place every year on the first Saturday of November on Franklin's Main Street. This event invites you to taste wines from all over the world, sample foods, browse charming shops, and enjoy live music from local musicians while strolling down Main Street hand-in-hand with the one you love! Proceeds from Wine Down Main Street benefit the Boys & Girls Clubs of Middle Tennessee, so consider taking your date to this romantic evening for a great cause!
Dining
If you are looking for a great restaurant to enjoy on date night, downtown Franklin has quite a few options! Cork & Cow offers a high-end dining experience with seasonal menus of classic and experimental dishes, Culaccino Italian Restaurant + Bar serves authentic Italian cuisine as well as a global wine list, and Red Pony features unique twists on southern favorites in a cozy, eclectic environment!
The Factory at Franklin is a great spot for date night. This historic factory-turned-shopping center features a variety of boutiques, activities, restaurants, and venues! With stores like Amelia's Flowers and Tala Jewelers, as well as other shops full of unique trinkets, it's easy to find a romantic gift for your partner! Stop by Third Coast Clay to paint a piece of pottery together before having dinner for two at one of The Factory's many eateries or grabbing a cocktail at The Skylight! 
Franklin on Foot offers a variety of walking tours throughout this historic city! The tours they offer include their Civil War Tour, Haunted Franklin, Food Tour, Classic Franklin, private tours for just the two of you, and more! This is the perfect way to learn something new together while exploring Franklin's rich history and fascinating past! 
A historic home and museum located in Franklin, Williamson County, Tennessee, The Carter House and Carnton Plantation offers sights of sprawling farmland and its historical architecture. Having played an important role in the Battle of Franklin during the American Civil War, this little piece of history has continued to live on! If you and your significant other are big on local history, The Carter House could be perfect for your next romantic adventure.
The Lotz House is another historical site from the Battle of Franklin, built in 1858 by German immigrant Johann Lotz. With ghost tours, women's history tours, cellar tours, and battlefield tours as well as a museum full of Civil War era relics and an antique store with American Victorian antiques from the 1820's to 1950's and more, this is a captivating and educational date destination! 
Learn more about all things Franklin, TN and Williamson County!
Are you a couple who enjoys drinks with a view? If so, look no further than Arrington Vineyards for your next romantic date adventure. Although it is not located in Franklin, Arrington Vineyards is only half an hour away and provides the perfect spot for an amazing date! A wine tasting lodge, adorned with picnic tables, Arrington overlooks rolling, vineyard-covered hills that provide complementary spaces to have a picnic and drink wine purchased from the vineyard. This local Vineyard is a perfectly magical place to whisk your romantic partner away, and it doesn't require you to go out of the country. 
Are you looking for the perfect outdoor wine bar to unwind with your romantic partner? If so, JJ's Wine Bar is the place for your next date night! Offering over 25 bottles of wine by the glass, JJ's Wine Bar also has a full bar and selection of food offerings that pair perfectly with their wine options. Located on the corner of Main Street and 2nd Avenue in beautiful downtown Franklin, JJ's provides a fun, relaxed, and comfortable atmosphere for any couple to enjoy.
Pull-Tight Players Theatre has been apart of the Franklin community for over 50 years, with its current location being in a historic building that served as a church, grocery store, restaurant, and antique shop in its lively past. This local theatre offers a wide range of theatrics, with six main stage shows per season! Consider taking your partner to attend a night at the theatre for a cultural and community-centered date night!
Stonebridge Art Gallery is a unique and unpretentious gallery and framing studio located in the historic and hip "The Factory" in Franklin, TN. They collect, curate, frame, and sell art from around the world and next door. Carefully selecting quality pieces in a wide variety of styles and sizes, they have something for everyone. Whether you are seeking art for your home, office, commercial or institutional decorating needs, they have an incredible selection of original art from which to choose.
Pedego Electric Bikes offers a selection of electric bikes including cruisers, mountain bikes, and more! Pedego in Franklin is locally-owned and encourages exploration of the city, so if you and your partner are interested in cruising through Franklin together, consider renting these electric bikes!
Leiper's Fork
Leiper's Fork is a small village in Williamson County, just 20 minutes from downtown Franklin! While this community may be quaint, it is packed with unique romantic experiences! Art galleries in Leiper's Fork include The Copper Fox Gallery, David Arms Gallery, and Leiper's Creek Gallery, where you and your date can browse through an assortment of original pieces! Once you finish admiring the art, you could go shopping for antiques, decor, and more at Creekside Trading Co., The Pick-It Fence, or Textile Revival! After a long day of walking around this eclectic village with your loved one, you can enjoy the 1892 Restaurant's rotating menu and catch a live musical performance at Fox & Locke!
A charming village in rural Williamstown County, Leiper's Fork is home to just 650 people. For a quaint, romantic night on the town, the Leiper's Fork Distillery might be a good choice for you and your partner! 
The Leiper's Fork Distillery has been partnering with the community to bring back the history and heritage of small batch whiskey production to Williamson County, Tennessee. Crafting premium spirits using local ingredients and limestone filtered water to create a superior product with a signature taste, the Leiper's Fork Distillery joined an emerging niche of artisan distilleries who will never compromise quality or taste. Take on some tasty, local brews on your next date night!
Visit FranklinIs for all Things Franklin, TN!
FranklinIs a website dedicated to all things Franklin, TN and Williamson County!  FranklinIs launched in the summer of 2006.  Since its inception, the website has grown to a thriving webtropolis. Supporting local non-profits, businesses, residents and visitors, FranklinIs the go-to place for your Franklin and Williamson County needs.
Looking for something fun to do this weekend, shopping for antiques or curious about a restaurant, wanting to volunteer your time with a non-profit, stopping by downtown Franklin, TN for the day? Access it all on FranklinIs. We encourage you to browse through the Living, News, Entertainment, Family & Kids, Real Estate, Visit, Resources and Events Calendar sections. There is something for everyone on FranklinIs. 
Visit our site to learn more about Franklin, TN and surrounding areas, or send us some of your writing submissions on the town!