Road to Emancipation
In honor of Black History Month, Carnton Plantation and The McLemore House will offer tours to educate visitors about the role of African-Americans in Williamson County during the Civil War and the Reconstruction period.  Eric Jacobson, Carnton historian and noted Civil War speaker and Tom Murdic from the McLemore House will lead the hour-long tours and answer questions.
On each Saturday during the month of February the once-a-day tour will begin at 1:00 p.m. at Carnton.  The McLemore House will offer the tour between the hours of 11:00 a.m. – 4:00 p.m.  A $15.00 ticket buys an hour-long tour at both sites. Reservations are recommended.
Carnton is the home of The Widow of the South, by Robert Hicks, the New York Times bestselling novel, which centers on the life of Carrie McGavock and her role in the Battle of Franklin and the aftermath. Hundreds of men were treated at Carnton, the largest Confederate field hospital during the November 30, 1864 battle. Carnton is also part of the new Tennessee Civil War Trails program which directs visitors to important Battle of Franklin and Civil War sites.
The McLemore House Museum was the home of ex-slave Harvey McLemore. The home served as a model of community development in Hard Bargain, the first subdivision of its kind in Franklin. Hard Bargain was a black middle class neighborhood of teachers, carpenters, masons and farmers.  Today The McLemore House, a project of the African-American Heritage Society, is one of a very few homes purchased by former slaves that still remains in existence.  A member of the McLemore family maintained ownership of the homestead from 1880 until 1997.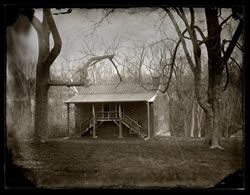 Tom Murdic believes the tours will be an opportunity to highlight the aftermath of the Civil War and show how the community began to heal.   "Williamson County took on a new persona after the turbulent years of war and reconstruction," he says.  "There is a strong lineage of folks among the African American families of Williamson County.  This will be a chance for people to reach back and spark an interest in their heritage and understand the part their families played in this community."
Margie Thessin, Carnton's Interim Executive Director says, "We at Carnton are thrilled to have a joint partnership with the McLemore House.  There is a rich history among the African-Americans in Williamson County and the public has much to learn about their vital role in the community."
Carnton is open for regular tours Monday – Saturday from 9:00 a.m. until 5:00 p.m. and Sundays from 1:00 p.m. – 5:00 p.m. The McLemore house is open by appointment only. Call 615-794-2270 for a guided house tour.