Pull-Tight Theatre's One Flew Over the Cuckoo's Nest Opening September 29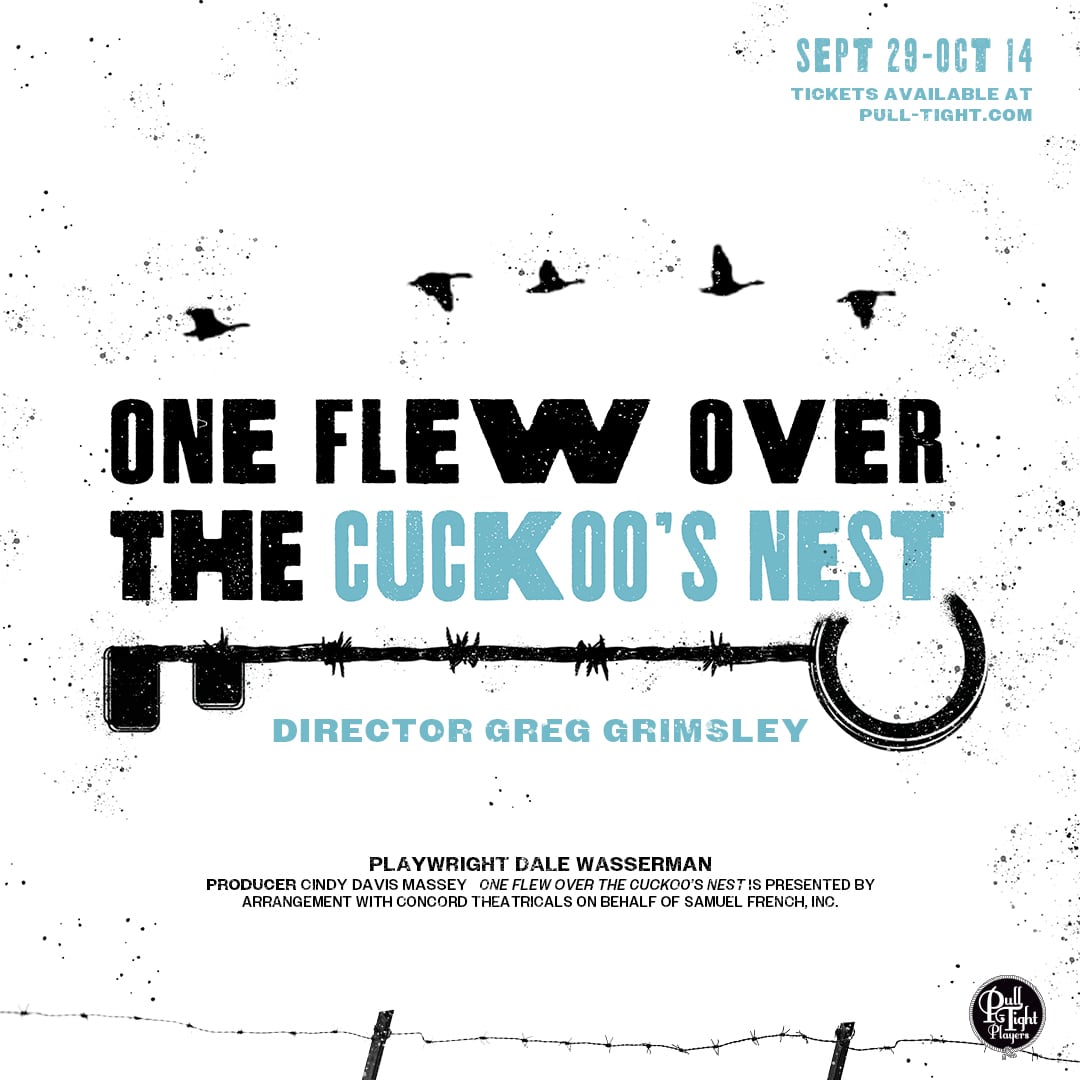 Pull-Tight Players Theatre at 112 2nd Avenue South in historic downtown Franklin presents One Flew Over the Cuckoo's Nest. The show opens September 29 with additional performances on September 30, October 1, 4, 5, 6, 7, 8, 11, 12, 13, and 14.
First performed during Pull-Tight's 1985-86 season, One Flew Over the Cuckoo's Nest was written by Dale Wasserman, based on the novel by Ken Kesey. This production is set in 1969 and takes place in the Day Room of a State Mental Hospital in the Pacific Northwest. The play is directed by Greg Grimsley, who played R.P. McMurphy in the 1986 production.
Daily life for patients in the hospital day room is a continuing cycle of painful examination, manipulation, and constant boredom. Their very surroundings are oppressive. They are overlooked and forgotten by those on the outside. In their world, Nurse Ratched rules with complete authority, and everyone and everything must bend to her sense of right and wrong. Into this enters Randle P. McMurphy. He is a gambler, a con man, a brawler, and a "rogue" messiah. The sheer force of his presence upends the order Ratched's world and sets the stage for a battle for the hearts and minds of the patients.
When writing about the play, the director says, "This is not an easy story to tell. It can be uncomfortable to watch. We do not like our human foibles being exposed. We do not want to be seen as weak. This reality exists for many, and we tend to forget them. We do not see the invisible battles that those around us face. However, what we do see is the resilience and triumph of the human spirit, in whatever situation we may find our ourselves in."
The sixteen-member cast includes familiar faces and several newcomers to the Pull-Tight stage. Portraying the lead characters of R.P. McMurphy and Nurse Ratched will be played by Phil FitzGerald and Stephanie Dillard, respectively.
Ticket prices are $22 for adults, $20 for seniors, and $18 for children and students and can be purchased at www.pull-tight.com. Pull-Tight's current season opened with sold out audiences for all 12 performances of Guys and Dolls.  Free parking is available in the Second Avenue Parking Garage adjacent to the theatre.
One Flew Over the Cuckoo's Nest contains mature themes and adult language.
# # #