New Option to Raise Money and Win Prizes Added to GraceWorks' 24th Annual Turkey Trot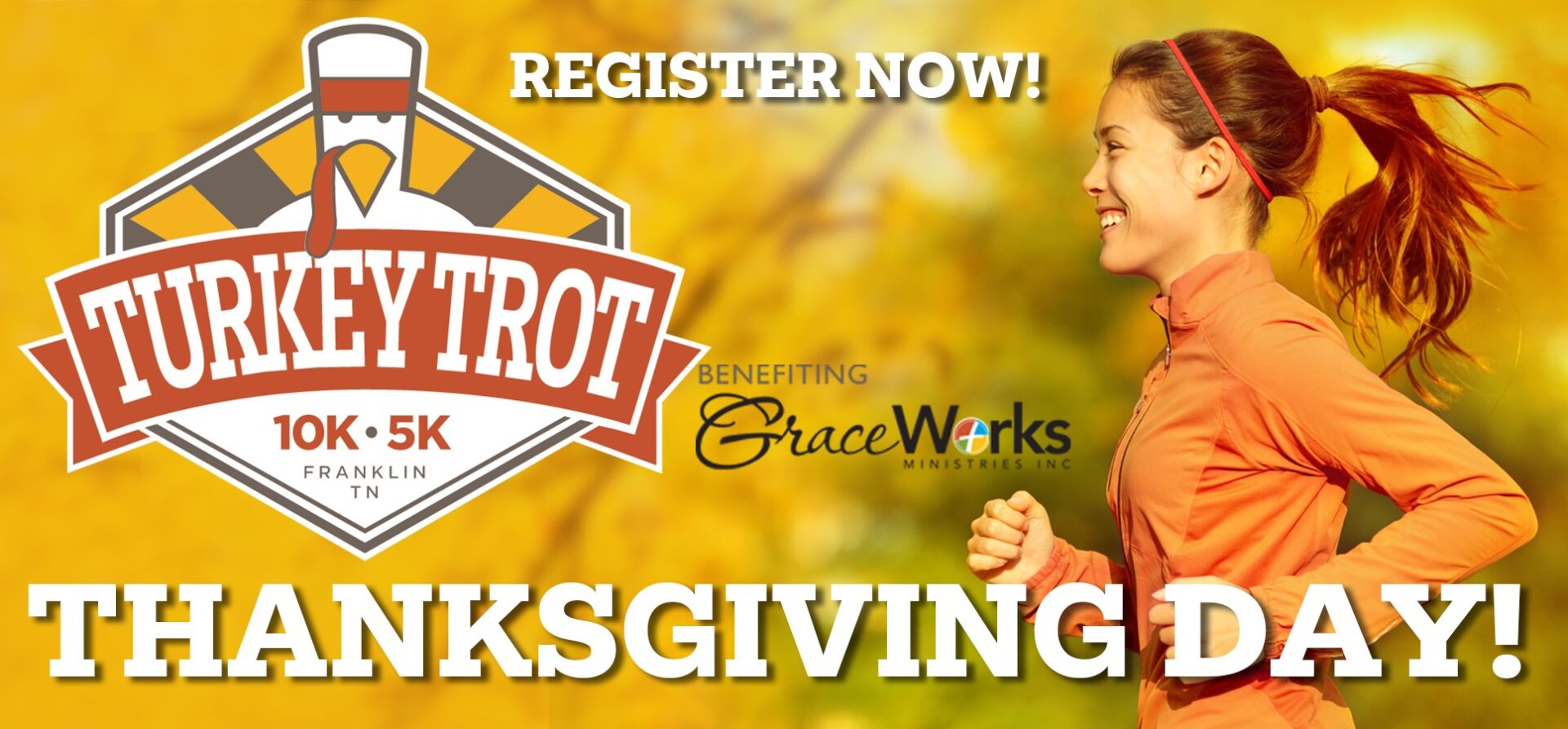 A brand-new option to raise money and win prizes has been added to the 24th annual Turkey Trot benefiting GraceWorks Ministries.  Additional funds raised by runners will help local Neighbors who are struggling to make ends meet during these trying times.
Runners in the Thanksgiving morning 10K and 5K runs can choose a fundraising option on their registration to ask friends, neighbors, co-workers, relatives and utter strangers to donate to GraceWorks programs of Food, Shelter and Support.
Prizes will be awarded to fundraising participants on eight levels. Those raising $150 in addition to registration fees will receive a Turkey Trot cap.  Other prizes include sweatshirts, Yeti products and JBL headphones. Those raising to the top level of $8,000 will receive a $600 Solo Stove gift card as well as all other prizes!
The fundraising feature is a response to GraceWorks' extra needs this year. As is the case with nonprofits across the country, GraceWorks requests are increasing while donations are going down. Currently, GraceWorks is seeing a 29% increase in demand for their Food, Shelter, and Support services over this time last year. And, last year saw a large increase as well.
The Turkey Trot is a family feel-good, do-good time, attracting about 3,000 runners/walkers each year. In addition to the 10K and 5K, the event includes a 1K Kids Turkey Chase in the heart of Cool Springs. Proceeds enable GraceWorks to make a difference in our Neighbors' lives. In 2022-23, GraceWorks served 14,474 unduplicated people.
The event begins with the opening of registration at 6:15 a.m. Nov. 23 at 3000 Meridian Blvd., Franklin. The 10K starts at 7 a.m., the 5K at 8 am and the Kids Turkey Chase at 9 a.m.
Registration is $50 per person for the 10K, $45 for the 5K and $15 for the Kids Turkey Chase for children 9 and younger. Forming a team gives $5 off each adult member.
Registration, information, a course map and an extensive list of fundraising prizes are available at www.turkeytrotfranklin.com.
This year's sponsors include Platinum Level: Atmos Energy, Nelson Mazda of Cool Springs, Pella Window and Doors of Nashville and Dale and Associates; Gold Level: Avenue Construction, Boyle Investment Company (also Bib Sponsor), Cultural Apparel, Jackson Life, S&H Systems, Superior Exterior Cleaning Company, The Neighborhood Church of the Nazarene, Timberland Cabinetry Company and Tito's Handmade Vodka; Silver Level: Kroger, Let It Shine and Williamson Health.