Mercy Children's Hearts for Mercy Campaign
Throughout the month of February, customers at several area retailers will have the opportunity to support Mercy Children's Clinic through the purchase of paper hearts. The Hearts for Mercy campaign, sponsored by Southern Exposure Magazine and BancorpSouth, is a new fundraising initiative being launched this week.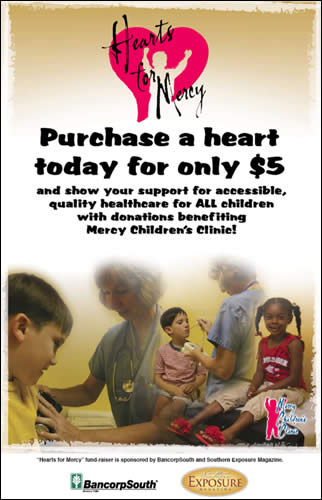 The hearts, emblematic of the hundreds of area children served by the Clinic each month, may be purchased for $5 each and will include a space for customers to write their name or the names of their own children. The hearts will be prominently displayed at participating businesses and on the front windows at the Clinic.
Proceeds raised from the campaign will be used to deliver quality healthcare to children that may have otherwise gone without needed care. "The number of uninsured children in our community is soaring," said Kelly Spalding, development chair and board member for Mercy Children's Clinic. "The Clinic was founded on the belief that all children deserve first-rate medical care regardless of their families income level or socioeconomic status. And with 100 new patients being seen each month, the need is greater than ever."
The hearts may be purchased at:
· BancorpSouth, 914 Murfreesboro Rd, Franklin
· BancorpSouth, 1101 Wilson Pike, Brentwood
· BancorpSouth, 5217 Maryland Way, Brentwood
· Blue Coast Burrito, 4091 Mallory Ln., Franklin
· Harpeth True Value, 203 Downs Blvd., Franklin
· The Listening Room Cafe, 500 W Main St., Franklin
· Redo Home & Rug, 300 Public Sq. Franklin
· Redo Warehouse, 300 Eddy Ct., Franklin
For additional information about the Hearts for Mercy campaign or to become a participating retailer, please contact Amanda Coleman at 615.790.0567.

About Mercy Children's Clinic
Mercy Children's Clinic is a Franklin-based nonprofit organization that provides primary pediatric healthcare to children from all socio-economic backgrounds including children without health insurance or enrolled in TennCare. Since 1999 more than 7,700 children from 24 Middle Tennessee counties have called Mercy Children's Clinic their medical home. For additional information visit www.MercyChildrensClinic.org or call 615.790.0567.