Local Non-Profit to host 19th Annual "A Vintage Affair" Wine-Centered Series of Events
FRANKLIN – A Vintage Affair's (AVA) annual, three-day series of wine events returns this April for its nineteenth anniversary in Williamson County. The popular fundraising sequence is one of many ways the Franklin-based non-profit supports local charities and programs. AVA centers its efforts around organizations that benefit women and children in Williamson County.
On Wednesday, April 10th, A Vintage Affair will host its annual, five-course dinner known as "The Vintner's Dinner" at Sperry'sRestaurant in Cool Springs. Each course will be delectibly paired with a hand selected wine, and guests will have the opportunity to meet and hear from the vintner. This year, AVA is honored to have Patland Estate Vineyards from Napa, California as the featured vintner for the evening. With the intimate setting of the event, there are only a select number of tickets available for sale; however, there are a limited amount available for individual purchase. Tickets are $250 per person,and we are grateful to the evening's sponsors Franklin Synergy Bank and Sperry's Restaurant.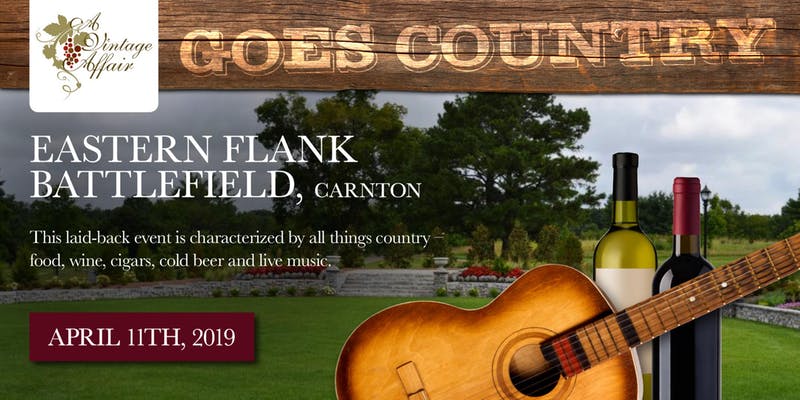 On Thursday, April 11th, patrons will gather at The Eastern Flank Battlefield for "A Vintage Affair Goes Country". This bootsand blue jeans event has been a favorite among guests for many years, and this year will be no different. Guest will have the opportunity to taste various wines provided by our featured vendor Franklin Wine & Spirits and signature cocktails crafted byLeiper's Fork Distillery. Amazing BBQ with all the fixin's will be smoked fresh by the Moe's Original BBQ team, and cold beerand cigars will available as well. Entertainment will be provided by the Michael & Black band. Come join presenting sponsor First Citizens Bank under the Tennessee sky for a night of country fun. Tickets are $75 per person.
To round out the series of events, join A Vintage Affair at The Factory in Franklin on April 12th. Guests will gather outside Liberty Hall at The Blockhouse from 5:30 p.m. to 7:00 p.m. for A VIP Preview Party, featuring fine cigars and wine tastings fromthe featured vintner Patland Estate Vineyards. Catering & Events by Suzette will be serving up divine hors d'oeuvres, andsignature cocktails will be shaken and stirred by Gray's on Main. Tie that together with music provided by Thom Ellis, and the VIP Preview Party is a great way to kickoff the evening. Tickets are $125 per person and include entry to Main Event.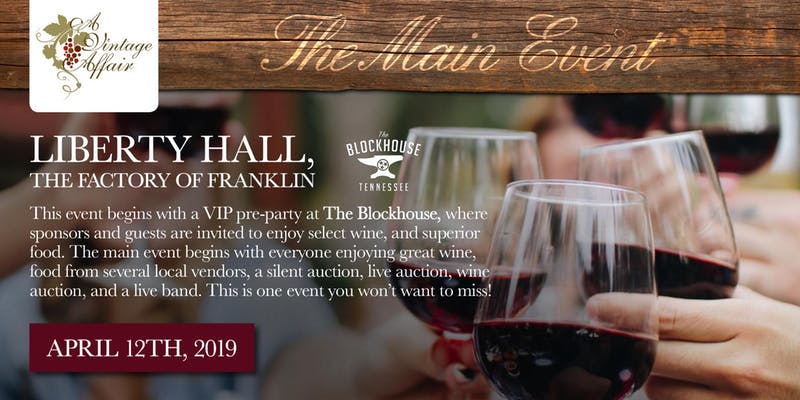 Immediately following the VIP Preview Party, doors will open at 7:00p.m. for "A Vintage Affair's Main Event". The evening willfeature a silent auction, wine auction and a live auction. Patrons will be treated to tastings from restaurants including FranklinChop House, Granite City Food and Brewery, Buca Di Beppo, Taziki's, Pueblo Real, Puckett's Boat House, A Black DiamondCatered Affair, and others. Also, there will be wine from Moon Wine & Spirits, Harvest Beverage Company, Robledo Family Vineyards, Franklin Wine & Spirits, and Scotto Cellars. Join A Vintage Affair as Chip Holback hosts a fun evening of entertainment and dancing the night away along with the fabulous Top Tier Band! Tickets for the Main Event are $75 per person.
Tickets for all events may be purchased online at www.avintageaffair.org/events or at the door.
About A Vintage Affair
A Vintage Affair (AVA) is a 501(c)3 non-profit whose mission is to provide meaningful financial contributions to various non- profit organizations throughout Williamson County whose services benefit women and children in the community. With nearly two million dollars being donated since its inception in 2001, AVA is honored to enter into its 19th year. A Vintage Affair has identified seven worthy beneficiaries to support throughout 2019. These organizations include: Bridges Domestic ViolenceCenter, David House Child Advocacy Center, High Hopes, My Friend's House, Williamson County Foster & Adoption Care Association, and The Williamson Medical Foundation.