Robert Hicks Local Book-signing
Local author Robert Hicks was on-hand at Davis-Kidd Booksellers in the Mall at Green Hills in Nashville on Tuesday, Sept. 26 for the Launch of the PAPERBACK of New York Times Bestseller THE WIDOW OF THE SOUTH.
What it's all about…
National exposure. New York Times Bestseller. International accolades.
The Widow of the South, written by local author Robert Hicks, has brought ranging attention to Williamson County and Franklin, Tenn.
Between the covers…
She was known as "the Widow of the South" and "the Keeper of the Dead." Her name was Carrie McGavock, and when she died in 1905, newspapers all over the country paid tribute to the mistress of Carnton.
Now, 100 years later, her story is being told again by middle Tennessean Robert Hicks, in his highly acclaimed first novel.
The Widow of the South centers on the life of Carrie McGavock, the mistress of Carnton before, during and after the Civil War.
Want to visit Historic Carnton Plantation, where the novel takes place?
Call 615-794-0903 or email Carnton for more information and/or to purchase a signed copy of The Widow of the South. You may pick up your copy at Carnton or it can be shipped for a nominal charge.
Is your book club interested in reading The Widow of the South? If his schedule permits, Mr. Hicks is on occasion available to speak to book groups both at Carnton and away. Contact Margie or call 615-794-0903 for more information and scheduling.
Widow of the South Tours
Interested in visiting and learning more about the places in the book?
Take a Widow of the South tour of Historic Carnton Plantation and downtown Franklin, a joint offering of Carnton and Franklin on Foot, the guided walking tour company in Historic Downtown Franklin. Call Margie at 615-794-0903 or email. The cost of the tour is $18, which includes guided tours of Carnton and of downtown Franklin.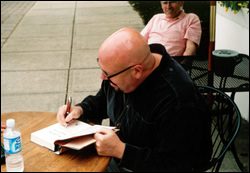 More to do locally for Widow
The Brentwood, a deluxe bed and breakfast is offering a special three-night, two-day package that includes a tour of the Carnton Plantation, downtown Franklin and an autographed copy of The Widow of the South.
With your reservation, The Brentwood will send you a signed hardcover copy of the book so that you may read it before your trip. Call 615-373-4627 for information or reservations. The Brentwood is a member of Select Registry, Distinguished Inn of North America. Click on www.brentwoodbandb.com for more information.
* Listen to Robert Hicks speak on WPLN about his novel…