Late Summer Styles
As July begins, many stores begin discounting summer clothes and bringing in the new fall styles. There are still many warm days left to look forward to in Williamson County this summer so luckily local boutiques in downtown Franklin have plenty of fabulous new summer clothes. Summer is far from over and late summer looks make an easy transition into fall fashion.
Below we will show you hot looks for late summer recommended by five boutiques in Downtown Franklin:
Emmaline is offering great looks that can be layered to carry you through cooler fall evenings. They keep the colors restrained and make it easy to transition clothing through the seasons. Classic summer fabrics such as white jeans, seersucker, and gauzy blouses keep the looks fresh and fashionable on hot days.
Featured on the left is a lighthearted zigzag Plenty by Tracy Reese dress. The mannequin on the right is wearing a delicate Plenty by Tracy Reese Blouse and classic white Seven jeans.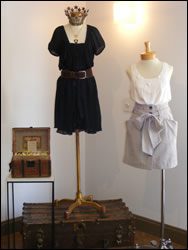 In the second photograph the mannequin on the left is wearing a versatile navy Graham and Spencer navy dress. The dress is cinched with a Shanllee brown belt for a more casual look, and Gorgona gold necklace completes the outfit. The mannequin on the right is wearing an airy white Mint blouse and a blue Dolan seersucker skirt.
To get a full list of designers that Emmaline carries Click Here.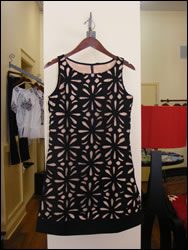 Enjoue recommends sticking with fun summer dresses to get through the hot days. Both dresses pictured can be worn out during the day but are nice enough to take you well through the evening. The dresses are traditional shift shapes that will stay looking trendy for years.
The first dress is a flattering sleeveless shift Kas Designs black and beige cut-out dress.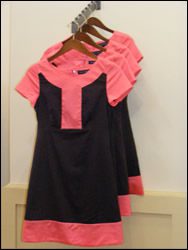 The second dress is a classic French Connection short sleeved shift. The brown and coral of the dress give it a modern look and is a vibrant dress for the summer.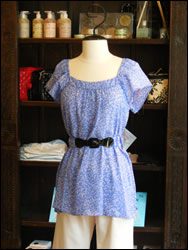 Gin-o Boutique keeps styles easy and comfortable for warm summer days. Pieces are easy to layer for new looks on cooler days. The colors are easy to transition through seasons and blue jeans can stretch out the life of their fun patterned tops.
The first outfit is white pants by Ben Sherman and a great blue and white SuperLuckyCat peasant top that is self-belted for a fitted look.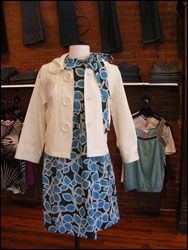 The second outfit is a blue-printed, tie neck dress by Soda Blu layered with a white jacket by Angie with Love for a fashionable look.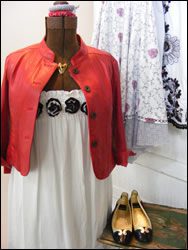 Haven recommends layering clothes and jewelry for a fresh late summer look. Investing in versatile bangles, neat baubles, and layered necklaces that can be year-round and mix and matched for different looks. During the summer months, jewelry and layers of necklaces particularly add a lot to a basic outfit.
The first outfit is a June red leather jacket layered with the sweeter Alice and Olivia white dress with black flower details. The dress is paired with black and gold Dolce Vita ballet flats. The look is completed with an M.E. Morre heart pendant necklace and various fabric bangles.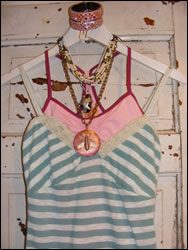 The second outfit is a Z-Brand blue and gray striped tank top, layered over a pink Free People racer back tank top. The basic tops are dressed up with an Avindy necklace, M.E. Moore necklace, and an awesome Lenora Dame bug gem pendant necklace. Amrita Singh mirrored bangles pull together the look.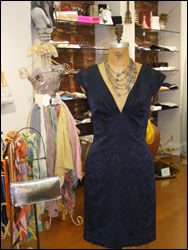 Ivey on Main has a great collection of classy cocktail dresses, playful jackets, and girly accessories. Coordinating handbags are an effortless way to add character to an outfit and are often versatile for any season. Looks are kept simple yet fun and perfect for late summer events.
The first dress pictured is an elegant Nicole Miller navy v-neck dress, a Julie Feldman silver purse, and a necklace with five layers.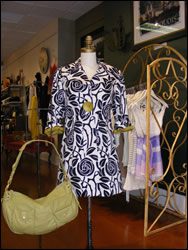 The second look is a cheerful Emil Rutenberg black and white jacket with a green button and green trim. It is paired with a coordinating clover green Hype handbag.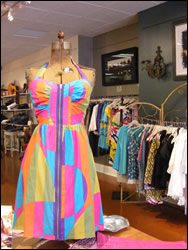 The third look pictured is a fabulously fun multi-colored Alice & Trixie dress paired with Tiffany jewelry.