IN FOCUS
LUXURY LIMO LUNCH HONORS SUPPORT STAFFS AT SCALES ELEMENTARY AND BRENTWOOD HIGH
The Luxury Limo Lunch rolled its way to Scales Elementary and Brentwood High this month to honor the often unsung heroes of our schools: secretaries and bookkeepers.
Each month, a limousine courtesy of Niles Limousine Service will pick up a group of school secretaries and bookkeepers selected at random by Schools Director Dr. Rebecca Sharber.  They will be driven to a free lunch and dessert at Sonic Drive-In.  Williamson County Schools central office staffers will help pitch in at each school's front office during their ride.
On February 21, the stretch pulled up to Scales Elementary to pick up Sandy Webster and Laura Sharber.  From there, it was on to Brentwood High to pick up Dee Burgess, Rita Chamberlain, Linda Hoehn, Mary Kivilaan, Molly Walker, and Lesa Pugh.  These queens for a day were then taken to Sonic where they were treated to lunch.
Look for a new profile and video of the Luxury Limo Lunch here in IN FOCUS, and on WC-TV!  Congratulations to this month's honorees!
CLICK HERE for a video of this month's Luxury Limo Lunch.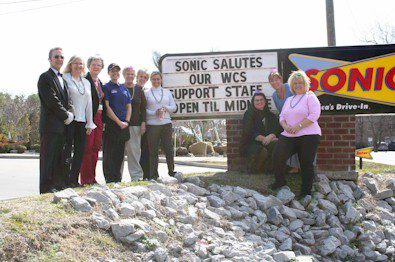 Like what you see here?  Then CLICK HERE TO SIGN UP FOR IN FOCUS – WILLIAMSON COUNTY SCHOOLS' EMAIL NEWSLETTER.   You'll get an email every other Thursday featuring all the great things going on inside our schools.  The newsletter is a full media experience including articles, video pieces, fundraiser information, a photo gallery, student artwork, and much much more!
Besides the piece featured above, here are the stories included in this latest issue:
Severe Weather Preparedness in Williamson County Schools (video included)
Read Across America in Williamson County Schools (video included)
Civil Rights History Takes Center Stage at Crockett Elementary (video included)
Heritage Middle School's A World in Motion Project (video included)
Career and Technical Education Registration Information
Kindergarten Registration Information
Reminder on Open Zoned Schools
Longview Elementary School Website Up and Running
2006 Career Fair Essay Award Winners
Williamson County Students Named Presidential Scholar Candidates
Walnut Grove Students Place in Photography Competition
Sign up today for IN FOCUS and stay on top of what's happening in Williamson County Schools.  You can email Matt Klitzke at mattk@wcs.edu with any question or comments.