Husband and Wife Country/Folk Duo Hemp & Denim Premieres Touching New Video
NASHVILLE, TENN. – The latest single from husband and wife country/folk duo

Hemp

& Denim titled Ride delves into more of the unspoken parts of relationships. Due to the overwhelming response from fans and media alike, an official music video has been released. With the premiere of this video, Ride will tug on your heartstrings as you let yourself feel your emotions. You can watch the official music video HERE and the song is currently available on all streaming platforms including Spotify, Apple Music, and more.

Shot in the gorgeous Latitude Studio South in Leipers Fork, the video for Ride is simply an ode to true love and loss, hurting and healing, and most importantly, looking towards the future. The lyrics "I don't want this ride to end," can mean many things for each individual listener, which is part of what makes it such an easy song to connect with. Hemp wrote this song from personal experiences and says if any message is taken from the song, it's that someone understands what you're going through. With videography and editing by Shawn Hudgins, Ride takes place in stunning candlelit rooms and in front of expansive outdoor views that draw you into the intimacy and warmth of the lyrics and mellow sound.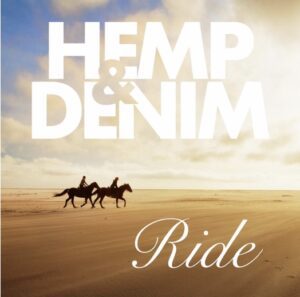 Ride follows the success of previous songs Holding On and Follow Your Heart, both of which have been received by fans and press alike with love. Hemp & Denim continue to work endlessly on new music and upcoming performances. Since pursing their music dream together, their debut release One Step Over The Line received a Grammy nomination-consideration for Best Americana Roots Song while their follow-up song, Stay, was considered as Pop Song of the Year nomination. The duo has been featured in numerous print and tv placements including Nashville's NBC and Fox affiliate stations, received national and international airplay in Scotland, Ireland and on the BBC Radio Network in the U.K., performed during CMA Music Festival and most importantly, grown a loving fan base – including over 34k+ monthly listeners just on Spotify.
You can keep up with Hemp & Denim by finding them on Facebook and by going to their website to see all their videos and sign up for their newsletter full of exclusive content.
About Hemp & Denim:
Hemp Meadows and Denim Skye are a husband and wife Americana Folk-Rock duo based in Nashville. If you love the sounds of the 60s and 70s, you'll love their signature blend of harmonies which join seamlessly with Hemp's melodies and lyrics. Filled with catchy melodies, strong vocals, provocative lyrics and innovative harmonies, their music is reminiscent of the days of peace and love, something they hope to bring to the modern music industry.
They believe in enjoying life, doing what you love, and chasing your dreams no matter what. The duo performs regularly in the Nashville area to dedicated fans. As a mainstream act within their generation, having just celebrated their 35th wedding Anniversary, Hemp & Denim want to encourage fans, young and old, to enjoy life and follow their dreams. With their motivation, dedication and great stage presence, this passionate duo cannot wait to continue sharing their talents with fans and fellow musicians far and wide.
# # #