HQ BEERCADE OFFERS WHIMSY & WONDER WITH "SEUSSVILLE ON 2ND"
Oh, The Places You'll Go! Nashville's First Interactive Journey Through the World of Dr. Seuss 
HQ Beercade invites you to enter the whimsical, weird and wonderful world of Dr. Seuss at its latest pop-up, Seussville on 2nd, beginning Friday, January 29. With magical installations created by a set designer from Seussical the Musical, the transformation of HQ allows guests to escape from the realities of adulthood and transport themselves to the fanciful and inventive stories of their childhood – an escape needed now more than ever. Marvel, play, laugh and smile your way through a dozen immersive scenes and photo ops, from The Cat in the Hat and his life-size Whatchamajigger car to the cherished character of the Lorax (and don't forget to look up, for a surprise on the ceiling!). You'll even find a forest of Truffula Trees in the front lounge, and Green Eggs & Ham atop the bar. Sip from a new menu of eccentric cocktails, from which HQ will donate 10 percent of select drinks sold to the Nashville Neighbors Fund, a relief effort organized by the Community Foundation of Middle Tennessee in response to the Christmas Day bombing of downtown Nashville.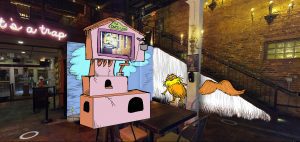 "I think everyone could use an escape from reality these days, and as Dr. Seuss himself said: 'Fantasy is a necessary ingredient in living.' We've always believed in that sentiment at HQ, which is why we are excited for guests to experience our Seussville on 2nd pop-up," shared HQ Beercade owner Brian Galati. "It has been a rough year and taking a journey through the fantasy world of Dr. Seuss is the perfect way to have a little fun while staying safe."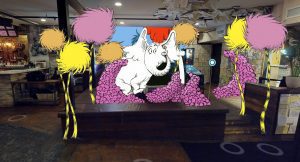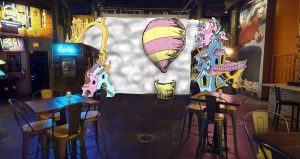 In honor of Dr. Seuss' birthday on March 2nd, the Seussville on 2nd  pop-up will run through early March. Following COVID-19 safety protocols, tables at HQ Beercade are socially distanced, extra hand sanitizing and wash stations are available throughout the restaurant, all employees are masked and temperature checked, and installations are regularly cleaned.

Seussville on 2nd  starts Friday, January 29 and will run through early March 2021. Walk-ins welcome. For parties of 8 or more, please email: lauren@machinehospitality.com. $5 admission; all ages welcome Monday through Friday from 4-6 p.m. and Saturday & Sunday from 11-1 p.m. HQ Beercade Nashville is located at 114 2nd Ave. S., Nashville, TN 37201. Visit https://www.hq-nashville.com/seussville/ for more information.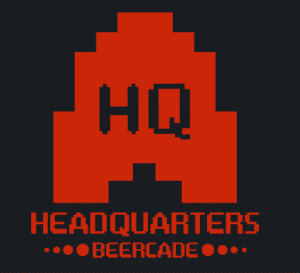 About Headquarters Beercade℠
Headquarters Beercade℠ located in Nashville, TN, is taking the traditional bar setting to the next level with an innovative concept that caters to character and fun. HQ offers a low maintenance night with high-energy entertainment that separates itself from the typical nightlife scene in the area.