Historic Franklin License Plate Unveiled
Franklin Tomorrow is proud to announce the new "Historic Franklin" specialty license plate, selected through on-line and event voting by the public, following a community design competition that elicited nearly 100 entries. The winning license plate by artist Michael Swanson, depicts an artistic rendering of the historic Carnton Plantation and a field of sunflowers.
Williamson County Mayor Rogers Anderson and newly elected Franklin Mayor John Schroer unveiled the license plate in a ceremony on the Eastern Flank of the city's Civil War battlefield today, on the 143rd anniversary of the Battle of Franklin. Representative Charles Sargent and Senator Jack Johnson were recognized there for sponsoring the historic Franklin license plate in the Tennessee legislature.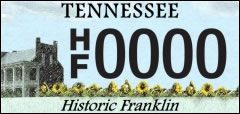 Franklin is the first city in Tennessee to have its own license plate and one of the few cities in the nation. "The license plate exhibits our community's pride in Franklin and will serve as traveling billboards on thousands of vehicles in middle Tennessee and beyond, attesting to the quality of life in Franklin," said Patrice Mayo, executive director of Franklin Tomorrow. "The winning design is a perfect representation of our city's rich history and unique beauty."
The "Historic Franklin" specialty plates are now on sale online at www.franklinplate.com and at special Franklin events, including tomorrow's Christmas parade and at Dickens of a Christmas, Dec. 8-9. For more information, visit www.franklinplate.com.