Historic Carnton Plantation News
2008 brought more visitors than ever to Carnton. Every state and many foreign countries, including France, England, Ireland, Canada, Lithuania, Czech Republic, Scotland, Israel, South Africa, Australia, Germany and New Zealand were represented among Carnton's visitors.
Two exhibits, one displaying the kepi and pistol belonging to General Patrick Cleburne and the other entitled "An Uncommon Experience for the Common Man," brought hundreds more to view artifacts from the Civil War.
1,200 students experienced life in the Civil War during Blue and Gray Days, and thousands more came on field trips throughout the year.
A new expanded grounds tour and map enhances visitors' understanding of Carnton.
Carnton's first cookbook View from the Porch arrived just in time for Christmas.
A complete set of shutters hangs on the house for the first time in many years.
The Civil War Trails program arrived in Tennessee, with markers at Carnton, the cemetery and the Eastern Flank of the Battlefield.
The Sunset Concert series was the best-attended ever, with over 4,000 attendees enjoying music on the lawn.
The long-awaited Fleming Center will soon become a reality as ground was broken late in the year.
2009 promises to be even better, with events, programs and promotions throughout the year!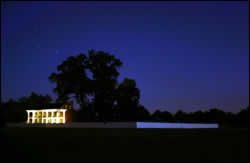 January
TENNESSEAN WEEKENDS
What are you waiting for? It's time to visit Carnton!
Admissions are buy one, get one free on Saturdays and Sundays in January for all Tennesseans with valid i.d. Includes all categories of admission, plus 10% off in the gift shop.
February
THE ROAD TO EMANCIPATION, February 7, 14, 21, 28
Take a tour interpreting the African-American experience at Carnton, in conjunction with tours of the African-American Heritage Society's McLemore House Museum. Tour at Carnton is at 1 p.m. on Saturdays in February. Tour at McLemore House is Saturday anytime between 11 a.m. and 4 p.m. Cost: $15. For reservation for Carnton portion of the tour, email Eric@carnton.org. For McLemore House information, call 794-6029.
March
TWILIGHT THURSDAYS
Your opportunity to see Carnton the way the McGavocks saw it, in the soft glow of candlelight.
Carnton will offer guided candlelight  tours of the historic house every Thursday evening at 6 p.m. $15 per person. Space is limited.  Reservations: eric@carnton.org.
May
RANDAL MCGAVOCK SOCIETY DINNER, May 8
An elegant seated dinner in the garden, plus champagne reception for RMS members in the historic house.
GRADUATION SPECIAL
Something for those out-of-town guests to do while they're here for the festivities.  Bring your graduation invitation or program for $2 off adults and senior admissions.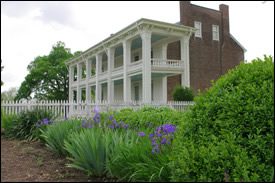 June
CAMP CARNTON, June 8-12
Children ages 8-12 will love learning history at Camp Carnton. Hands-on and interactive, the trolley tour to other Civil War sites is a highlight of the week, along with dressing in period clothing and hearing cannons fire. Email Tara@carnton.org or call 794-0903 for more information.
CMA MUSIC FESTIVAL, June 10-14
Need a break from all the hoopla at the festival? Bring your program or ticket anytime during, or the day before or after the festival, for $2 off admission for adults and seniors.
1ST SUNSET CONCERT, June 28
Pop music on the lawn at Carnton from 6-8 p.m.
July
2ND SUNSET CONCERT, July 26
Pop music on the lawn at Carnton from 6-8 p.m.
August
3RD SUNSET CONCERT, August 30
Pop music on the lawn at Carnton from 6-8 p.m.

September
PENCIL IN A TOUR OF CARNTON
Elementary school students visiting on a field trip receive a pencil and junior tour guide booklet.  Throughout the year, the students may bring in their Carnton pencil and receive free admission with a parent's paid admission.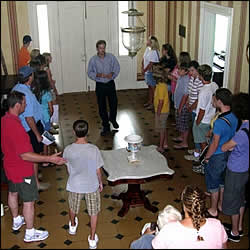 October
CIVIL WAR LECTURE SERIES
Topics such as Myths of Civil War Medicine, Arms and the Men: Civil War Weapons, and What was the Civil War Really About? are among the topics to be explored in the series.
HAUNTED HALLOWEEN, October 30
Costumed reenactors, ghost tours and a period magic show all add up to a spooky All Hallows Eve.
November
BLUE AND GRAY DAYS, November 20-21
Living history reenactors and guided house and cemetery tours make this a must for Civil War buffs. Artillery demonstrations, storytelling and Civil War medicine are topics; even Abe Lincoln makes an annual appearance. *Friday is reserved for students; Saturday is open to the public
145th ANNIVERSARY OF THE BATTLE OF FRANKLIN, November 30
December
CHRISTMAS OPEN HOUSE, December 21-22
Costumed docents will talk about Christmas customs as you view the house by candlelight and decorated for Christmas in the style of the mid-19th century. Youngsters will enjoy seeing the "spider web" in the children's area. Enjoy wassail and Christmas goodies in the Fleming Center before and after.

Dear Visitors,
If you've never visited Carnton, now is the time! And make this the year you take advantage of all Tennessee has to offer: from its historic sites (three presidential homes, two in Middle Tennessee) to its Civil War battlefields (Stones River, Shiloh, Chattanooga and Franklin) to its diverse music scene (Grand Ole Opry, Graceland, Beale Street) to its natural beauty (The Smokies, Natchez Trace parkway, State Parks that are second to none).
Tennessee has a rich history and culture that draws in visitors from all over the world. They know what you're missing!
I want to see you at Carnton!
Margie Thessin
Executive Director (Interim)
Open Monday through Saturday 9 a.m.-5 p.m., Sunday 1-5 p.m.
Last tour of the day is 4 p.m. Adults: $12, Seniors 65+: $10, Children 6-12: $5, under 5 free.
1345 Carnton Lane | Franklin, TN 37064
info@Carnton.org | 615-794-0903 | www.Carnton.org