Goo Goo Cluster and Flowers Creamery Launch New Goo Goo Milk Sold Exclusively at Twice Daily
Notable Tennessee brands collaborate to create new offering
FRANKLIN & NASHVILLE, Tenn (Nov. 15, 2022) – Southern staples Goo Goo Cluster and Flowers Creamery today launched their Goo Goo Milk collaboration to be sold exclusively at Twice Daily convenience stores through the end of December.
Flowers Creamery, in conjunction with the Twice Daily and Goo Goo Cluster brands, crafted the flavored chocolate milk to embody the nostalgic nuances of the original Goo Goo Cluster flavor, focusing on notes of rich caramel, sweet marshmallow and salty peanuts.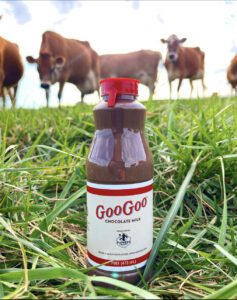 "We are excited to partner with Goo Goo and bring this delicious new flavored milk to consumers," said Morgan Flowers, dairy farmer and owner of Flowers Creamery. "With Goo Goo milk being sold in Twice Daily, more people will now have the opportunity to enjoy local Tennessee milk fresh from our farm."
The partnership was initiated by The Dairy Alliance, a nonprofit funded by southeast dairy farmers working to promote dairy foods, increase knowledge of the dairy industry and grow dairy in the southeast. The Goo Goo Milk project was also supported by a grant from the Tennessee Dairy Producers Committee (TDPC) to further assist in promoting Tennessee dairy innovation.
"Being able to support like-minded Tennessee brands and provide local products to our customers is always top priority," said Steve Hostetter CEO of Twice Daily's parent company, Tri Star Energy. "Not only are we offering the Goo Goo Milk in our Tennessee stores, but our Alabama and Kentucky customers will be able to enjoy it as well, further expanding this great partnership."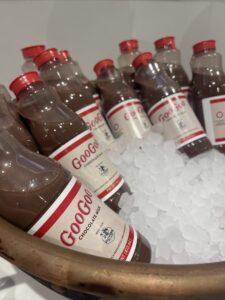 Nashville-founded Goo Goo Cluster, famous for creating the first combination candy bar, has launched the inaugural Goo Goo Milk at all 65 Twice Daily convenience stores, with expansion into additional retailers in the new year. Each bottle boasts the highest-quality, local ingredients to create an indulgent "farm-to-table" experience and will be sold for $2.29 per pint.
"The Goo Goo Cluster flavor, made up of real milk chocolate, caramel, marshmallow nougat and freshly roasted peanuts, has been known and loved for 110 years," said Beth Sachan, vice president of sales & marketing at Goo Goo Cluster. "We are thrilled to collaborate with Flowers Creamery and Twice Daily to create the iconic taste in the form of locally fresh milk."
A list of Twice Daily locations can be found here.
###
About Twice Daily:
Twice Daily is dedicated to delivering fast, friendly service, a fresh all-day menu and quality convenience products to busy people on the go. Locally owned and operated by Tri Star Energy, Twice Daily has been serving Middle Tennessee communities since 2011 and expanded to the North Alabama market in 2019. Twice Daily was ranked #3 in GasBuddy's Q2 2019 Top 101 Fuel and Convenience Brands survey.
About Goo Goo Cluster:
In 1912, in a copper kettle at the Standard Candy Company in Nashville, Tenn., America's first combination candy bar was invented: A roundish mound of luscious caramel, smooth creamy marshmallow nougat, and fresh roasted peanuts all covered with a thick coating of real milk chocolate. Additional products have been added to the lineup throughout the years much to the delight of Goo Goo enthusiasts, including Pecan, Peanut Butter, Lil' Goos and chef curated Premium Goo Goos. Creative candy lovers can also Design Your Own Premium Goo Goo online and chocolate classes. The Goo Goo Shop in downtown Nashville finalized a $2 million transformation and reopened in fall 2021 as the Goo Goo Chocolate Co. offering interactive classes, a full-service chocolate bar serving premium chocolate, wine and whiskey pairings, boozy milkshakes and seasonal treats and a retail shop.
About Flowers Creamery:
Family-run by the Flowers Family in Giles County, Tennessee, Flowers Creamery has been the producer of Grade A Dairy for almost 25 years, utilizing state of the art, USDA permitted and inspected processing facilities. The family ensures only the highest quality products by taking a hands-on approach from growing feed, cow care and comfort and offering a finished product on the property.
About The Dairy Alliance:
The Dairy Alliance is a nonprofit funded by dairy farm families in the Southeast. They work diligently with dairy farmers, schools, sports teams, health professionals, state leaders and local organizations to promote dairy foods and knowledge about the industry. Their efforts currently center eight states: Alabama, Georgia, Kentucky, Mississippi, North Carolina, South Carolina, Tennessee and Virginia